Biden's Israel stance could hurt him in Michigan, Arab American voters warn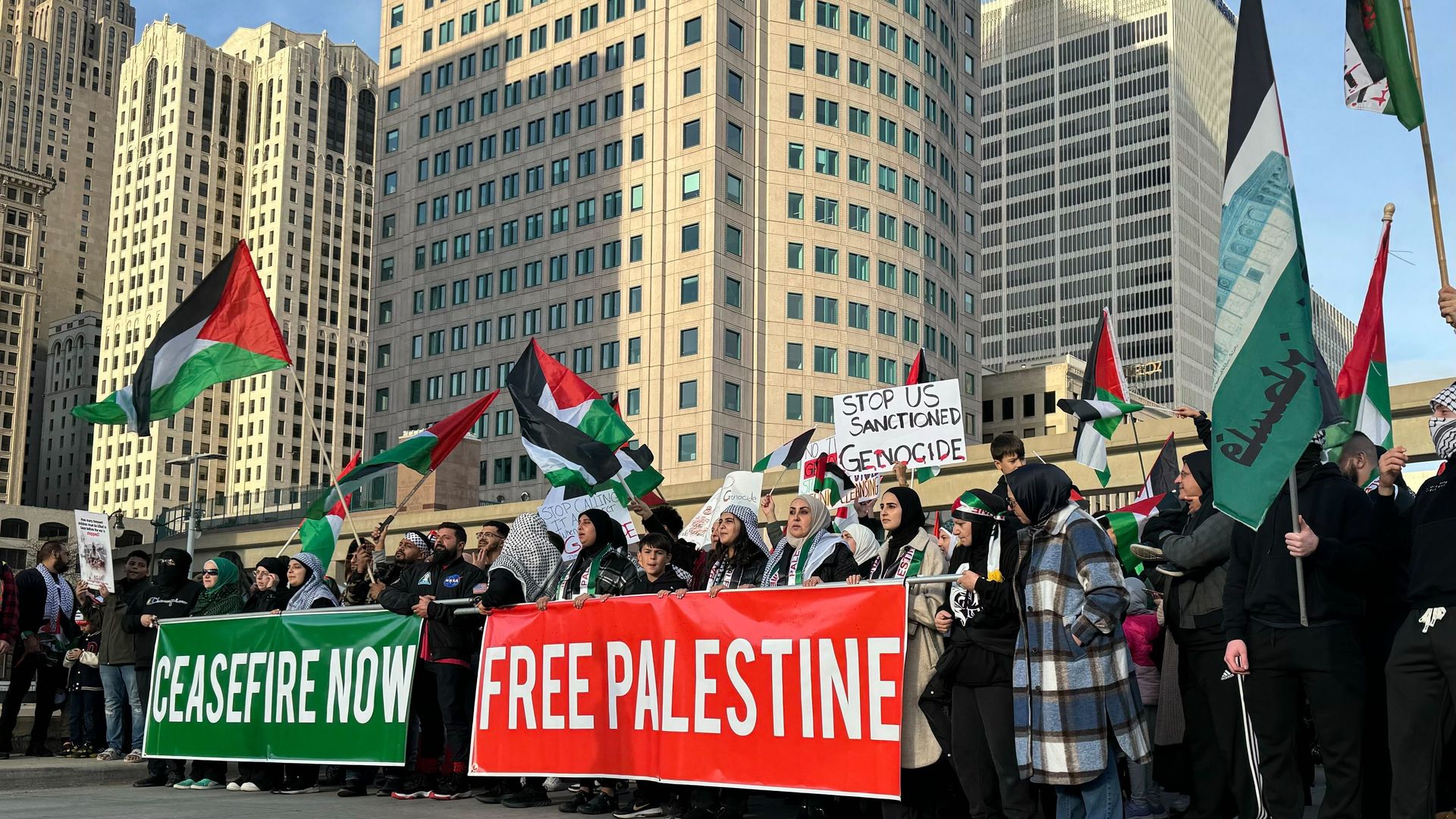 Many Arab American voters feel betrayed by President Biden's unequivocal support for Israel, and community leaders in Metro Detroit say there's nothing he can do to win them back.
Why it matters: Michigan is a central piece of the Midwestern "Blue Wall" that flipped in Biden's favor in 2020. The state's large Arab American population could be crucial to the outcome in what will be a pivotal swing state again in 2024.
The big picture: The president's decision to firmly stand by Israel during the Israel-Hamas war appears to be hurting him with progressives in Michigan and across the country.
Biden's approval rating among Democrats has plummeted to a new low of 75% — down 11% over just the last month, according to a Gallup poll conducted between Oct. 2 and Oct. 23.
The first national poll of Arab Americans since the war began showed a massive drop: just 17% of Arab American voters said they would vote for Biden in 2024, down from 59% in 2020. That poll, from the Arab American Institute, had 500 respondents and a margin of error of +/- 4.9 percentage points.
By the numbers: More than 300,ooo Arab Americans live in Metro Detroit — about 13% of all Arabic speakers in the country.
Around 25 minutes drive west of downtown Detroit, Dearborn is the state's fastest growing city and the heart of the region's Arab American community — the largest in the world outside of the Middle East.
"It's very possible that Arab Americans could be the reason why Biden loses Michigan and possibly the presidency," Adam Abusalah, a Palestinian American and Dearborn native who's part of the grassroots New Generation for Palestine, which organized a massive rally last week in downtown Detroit rally, tells Axios.
"Trump won Michigan by around 10,000 votes in 2016 and in 2020, 145,000 Muslim voters voted in Michigan. Seventy percent of them voted for Biden, so if half of them vote another way, Biden could be in trouble."
Zoom in: Abusalah, a 22-year-old former congressional staffer with U.S. Rep. Shri Thanedar (D-Detroit) who worked on Biden's campaign in 2020, says because of the president's position on Israel, he will leave the top of the ticket blank in 2024.
"My community helped get Biden elected in Michigan. We thought he would lead with compassion and humanity and clearly I was wrong," Abusalah said.
Catch up quick: Democrats, including Biden and Michigan Gov. Gretchen Whitmer, have been calling for more humanitarian aid to the Gaza Strip.
More than 9,000 Palestinians have been killed there during the Israeli air and ground operation. Israel launched that operation after at least 1,400 people were killed in the Oct. 7 terrorist attack by Hamas.
Biden and Secretary of State Antony Blinken have called for a humanitarian "pause." Israel has rejected those calls thus far.
Yes, but: The calls for more humanitarian support haven't been enough to quell anger from supporters of the Palestinian cause, who want the White House to demand a ceasefire.
Several marchers at the downtown Detroit rally told Axios they could not vote for Biden after he cast doubt on the number of civilians killed.
Biden last month said he had "no confidence in the number that the Palestinians are using" for the death toll in the Gaza strip. Those numbers come from the Hamas-controlled Palestinian Health Ministry.
Zoom in: Thousands of students at the University of Michigan in Ann Arbor and Fordson High School in Dearborn have staged walk-out demonstrations in recent weeks in support of Palestinian civilians.
Elected Democrats are joining demonstrations too: Abraham Aiyash, the third-ranking Democrat in the state House of Representatives and Gabriela Santiago-Romero, a Detroit City Council member, both called for a ceasefire during last weekend's downtown rally, arguing Israel's actions in Gaza amount to "genocide."
A number of Detroit area lawmakers, such as Alabas Farhatt (D-Dearborn), Erin Byrnes (D-Detroit) and Karen Whitsett (D-Detroit) have spoken at anti-Israel events over the past month.
What they're saying: "This happened so quickly and the attitudes shifted so fast," Jim Zogby, president of the Arab American Institute, told reporters during a Zoom call last week.
"It would be difficult in this state of mind to mobilize support," Zogby said. "Something will need to be done to win them back and it may be a more difficult call than just doing a White House meeting or something."
Between the lines: The images from Gaza have particularly affected younger Arab Americans who are seeing the carnage on social media in real time, Lexis Zeidan, a Palestinian AmericanF activist told Axios after speaking on stage at the downtown rally last weekend.
"People are watching this unfold in HD on their phones and I know that's going to impact how they choose to show up in 2024," Zeidan said.
Democrats in Michigan haven't been immune to the blowback.
The day after thousands gathered in downtown Detroit, Gov. Gretchen Whitmer canceled a scheduled visit to an Arab American cultural center in Dearborn, following calls from pro-Palestinian activists for protests.
"Unfortunately, my attendance tonight would have distracted from the clinic's fundraiser," Whitmer said in a statement, adding that she would use the time instead to coordinate with members of Congress on efforts "to bring families stuck in Gaza back home to Michigan."
The governor also sent a letter, obtained by Axios, to Blinken on Tuesday, seeking information about the hundreds of Americans stuck in Gaza and how many have Michigan ties.
U.S. Rep. Elissa Slotkin, a staunch supporter of Israel, said Friday she's urging the White House to meet with Arab and Muslim Americans, saying she understands how some could "feel like you're not a first-class citizen in your own country because of the administration."
The bottom line: Arab Americans "were as traumatized by this... as they were with Donald Trump's behavior or the Iraq war," Zogby said.
Go deeper