"Reducetarians" eat less meat without going cold — or no — turkey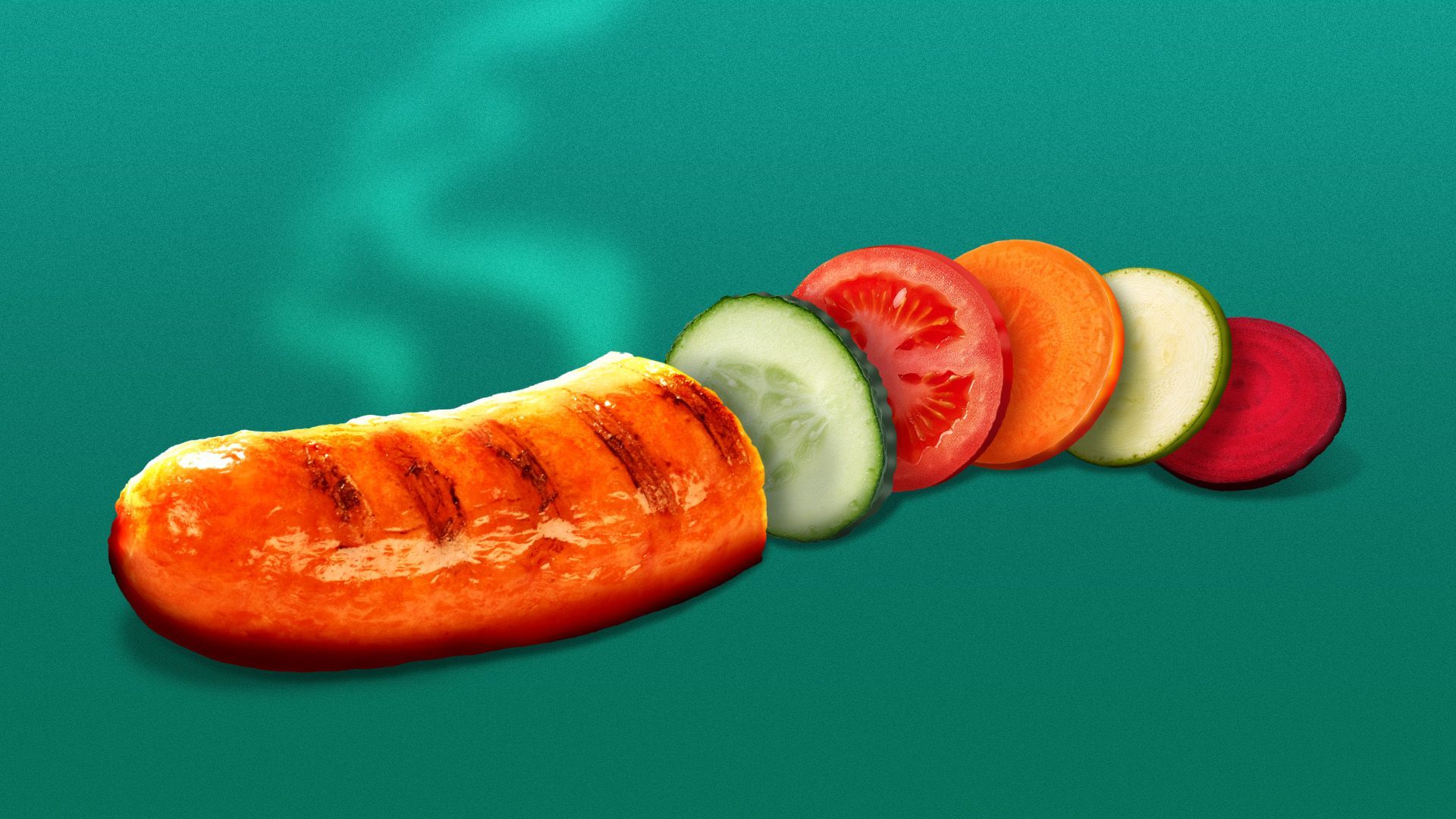 A conference for "Reducetarians" — people who want to reduce meat and dairy consumption — drew 600 people to Denver this week, but theirs is an uphill battle.
Why it matters: While there are health and environmental benefits to paring back our meat and dairy intake, getting people to switch to plant-based alternatives has been a tough sell — and meat consumption is higher than ever.
The Reducetarian message is that you don't have to go full vegetarian or vegan to make a difference.
Driving the news: The Reducetarian Foundation's 5th annual conference reflected society's growing interest in adopting diets that account for climate change and animal cruelty.
The organization, which aims to eliminate factory farming, is trying to build a movement of people who want meat consumption curtailed worldwide — no matter their personal motives.
The agenda focused on everything from regenerative agriculture and cell-cultivated meat to advances in plant-based foods.
"There's environmentalists, there's animal advocates, there's health advocates, there's food justice advocates," Brian Kateman, head of the Reducetarian Foundation, told Axios. "And then there are the folks who are engaging in lobbying or policy."
What they're saying: "Would you like a copy of the Constitution with a picture of a chicken on it?" Alene Anello, founder of Legal Impact for Chickens, which sues large chicken-farming companies over their treatment of the birds, asked me.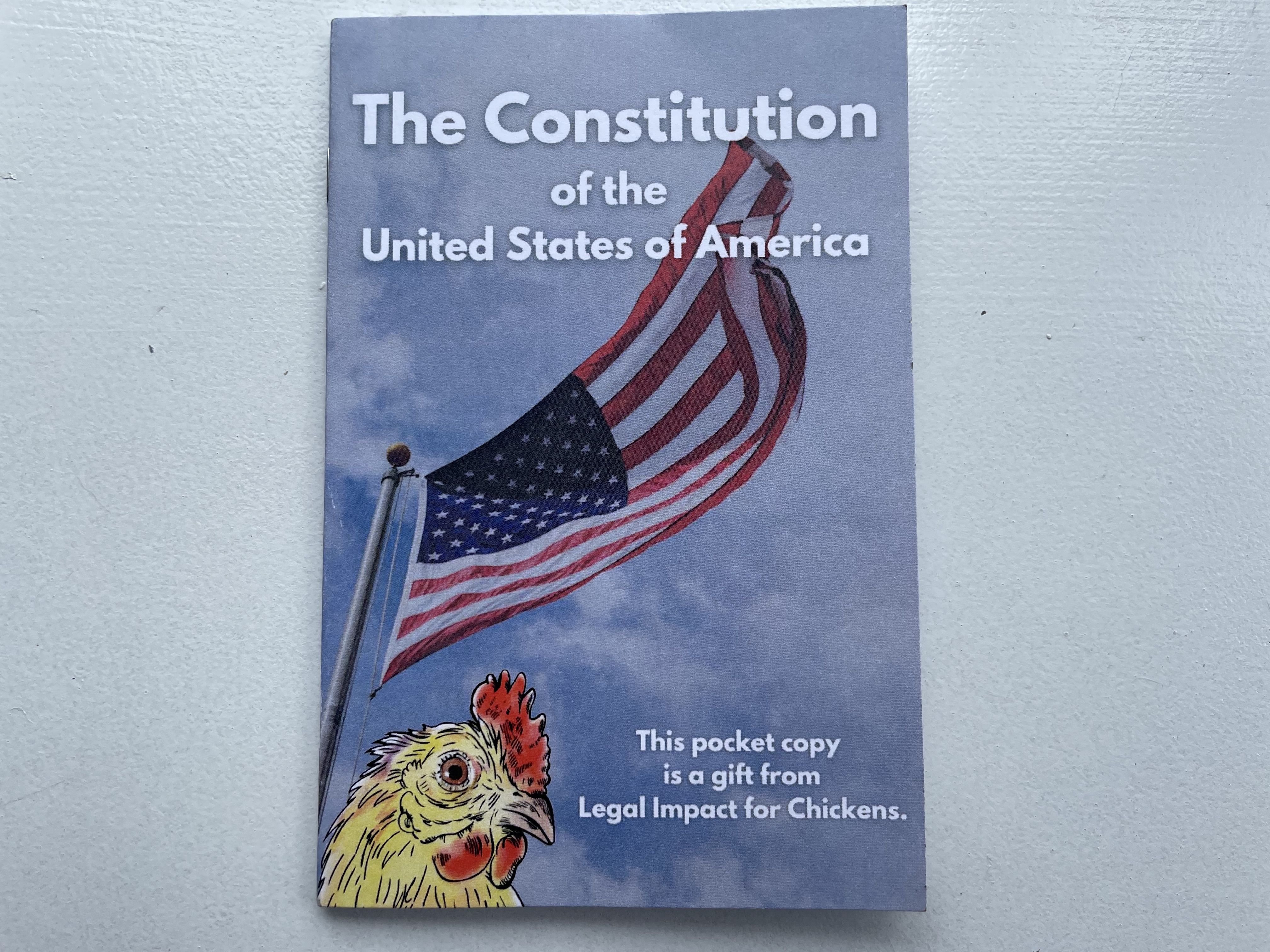 Zoom in: The trade show floor featured an offbeat mélange of food companies, whose wares were browsed by everyone from vegan venture capitalists to animal rights lawyers.
Exhibitors included Bored Cow, which makes a milk alternative from "animal-free whey protein" and "upcycled citrus fiber," and Meati, which uses mushroom root to make cutlets that mimic chicken and beef.
A chocolate company called TCHO, based in Berkeley, California, showed off how it had recently ditched milk chocolate for all-plant formulations.
"We were able to drop our carbon footprint by like 75%," said Brad Kintzer, chief chocolate maker at TCHO. "We got a little bit of hate mail, but overall we're feeling really psyched about it."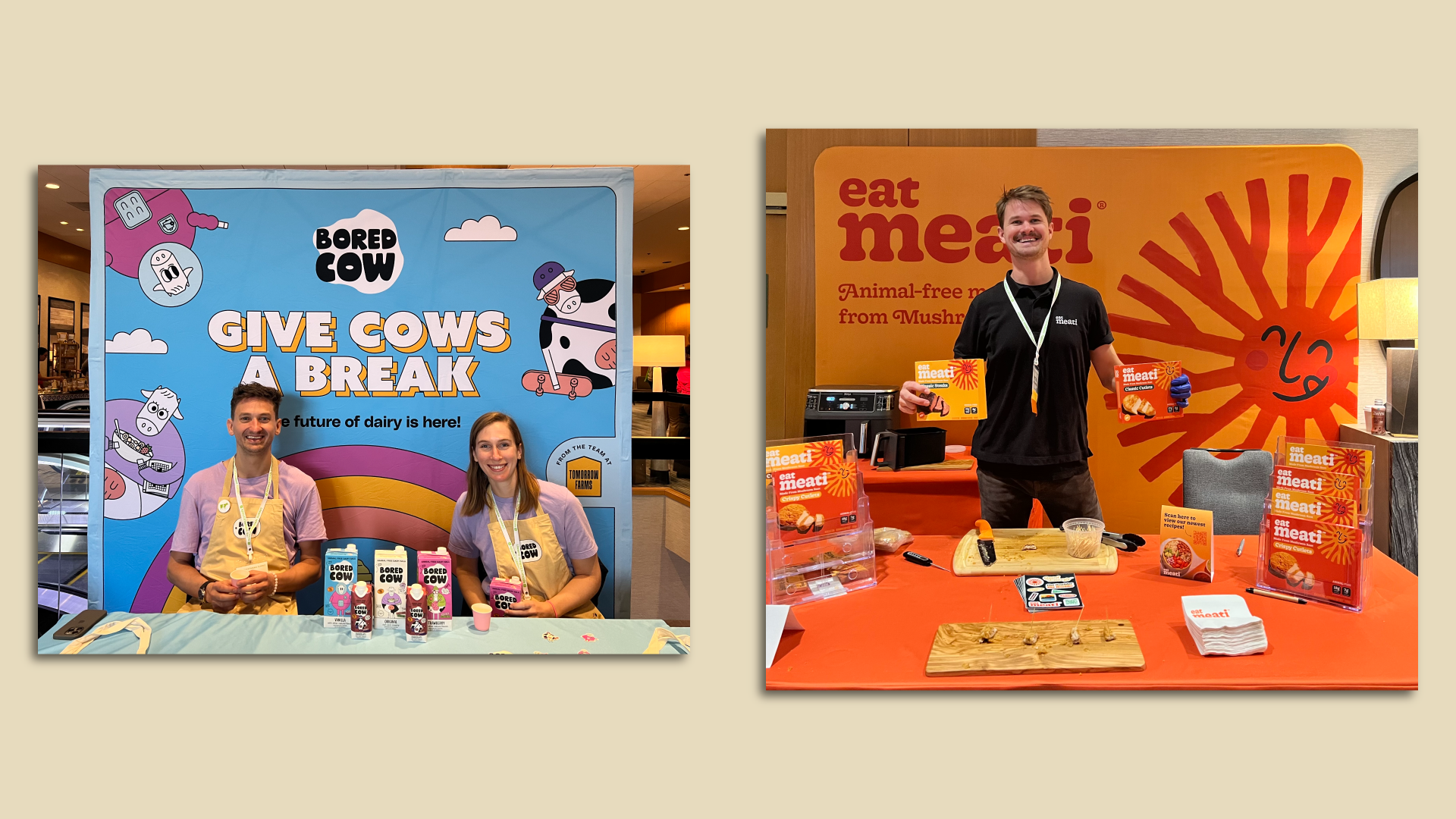 The big picture: The topic of meat-eating is an ongoing battleground, with strong feelings on all sides.
"Vegan" has become such a dirty word that companies now deliberately use the term "plant-based" instead.
Despite the evidence and arguments in favor of reducing meat consumption — health, environmental, animal welfare — the fact remains that meat tends to be cheaper and tastier than its imitators.
While plant-based foods have proliferated in supermarkets and restaurants, the sector appears to be in trouble — and cell-cultivated meat, which is grown in steel vessels called bioreactors, is still a long way from commercial reality.
Where it stands: Kateman, who co-founded the Reducetarian Foundation nearly a decade ago, knows it's not realistic to ask people to give up meat entirely, and instead focuses on coaxing them to pare back their consumption — however much, and for whatever reasons they choose.
The light bulb went off at a long-ago Thanksgiving dinner, when, despite being a longtime vegetarian, he succumbed to a slice of turkey (despite the ribbing of his family).
He realized that "it was not about being perfect or pure," he said. "It was about just trying to be a better person and do the best that you reasonably can."
For him, he said, the answer was "to be 95% plant-based," but for "everyone at my table — my aunt, my uncle, my sister, my parents — they could be people who cut back 10% or 20%" on meat consumption.
"If we could get a lot of people to cut back a small amount, that would arguably — just pure math — make a much greater difference than getting a small number of highly committed people to go vegetarian or vegan," added Kateman, who published a book last year called "Meat Me Halfway."
His priority is to try to end factory farming, an issue he thinks doesn't get enough attention.
"If you think about ending fossil fuels, if you think about cancer research — there's so many people working on them, but this is such a neglected space," Kateman said.
To drum up interest among young people, the Reducetarian Foundation awards 30 fellowships a year to undergraduates, who get a year of mentoring and $7,500 for a summer internship at one of the foundation's partner organizations.
By the numbers: Meat consumption has been rising globally and in the U.S. — including among young people, who consistently tell pollsters they want to eat less for environmental reasons.
The average American ate nearly 227 pounds of red meat and poultry in 2022, per USDA figures — up from 225 in 2021.
That was the most since the agency started keeping track.
The figure in 1960 was 167 pounds — 60 pounds less than today. "Every year it basically goes up," Kateman said.
Yes, but: The USDA projects that the figure is declining this year, and will do so again in 2024.
What's next: Next year's Reducetarian Summit will be in Dallas — the better to attract people who aren't the usual-suspect coastal liberals.
Go deeper