Lab-grown meat companies want a world of steak without slaughter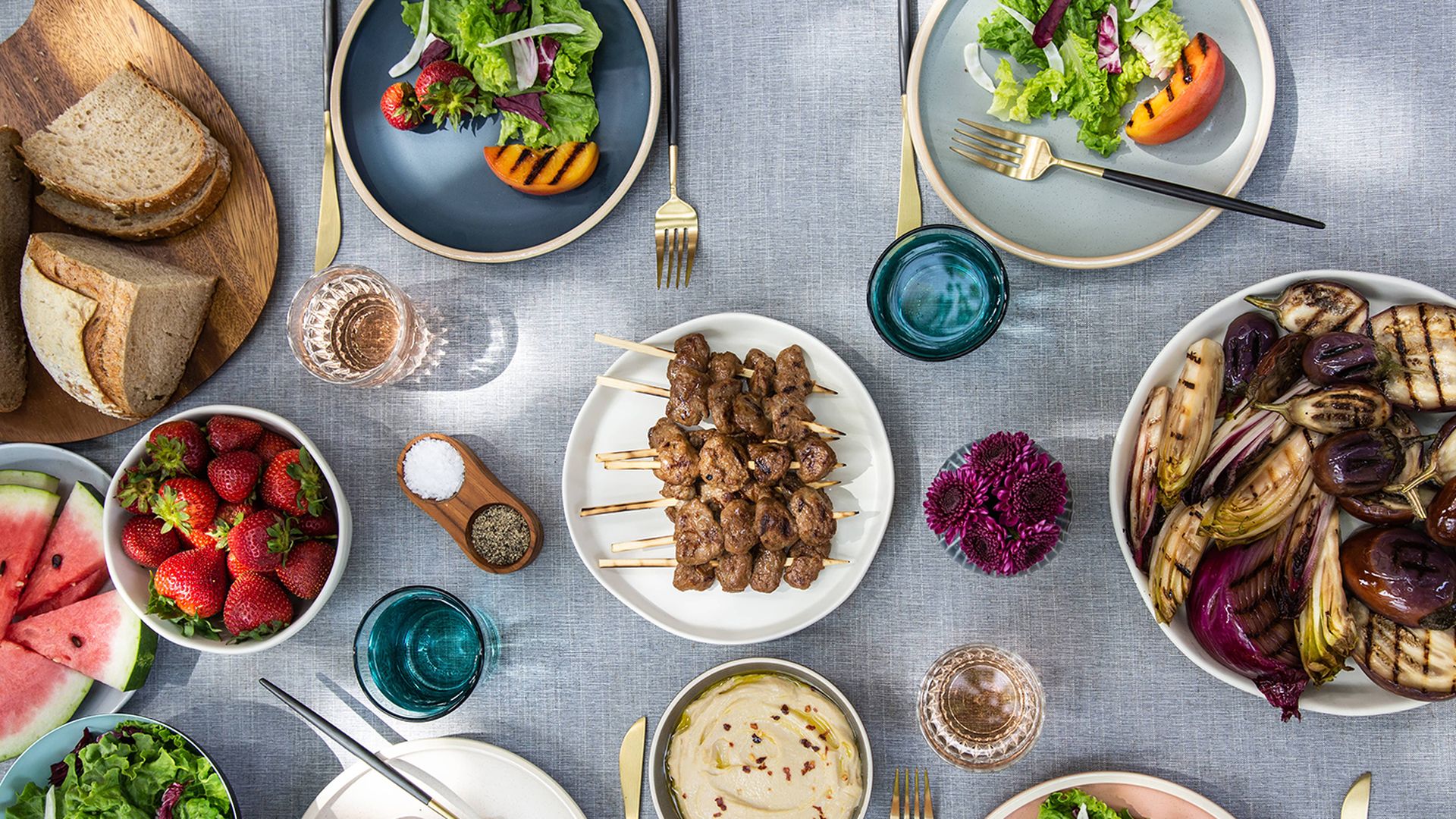 Purveyors of lab-grown meat — who prefer the term "cell-cultivated," to avoid the mad-scientist-with-a-test-tube image — foresee a world where our plates are full of steak but animal slaughter is largely a thing of the past.
Why it matters: Investors are pouring money into the sector and its promise of cruelty-free meals that are (maybe) better for the environment, but many unknowns remain.
For now, meat grown from animal cells is only available in the U.S. in very limited quantities at two high-end restaurants.
Chicken is the first proof-of-concept product, and while the taste is familiar, the texture is a work in progress.
It remains to be seen if the technology to "grow" meat at scale will prove economical — and if consumers will welcome the results.
Of note: The products are not to be confused with plant-based meat, which has lately had rocky prospects.
"It is unmistakable that this is chicken or beef," said Uma Valeti, the CEO of Upside Foods, which made some of the first cultivated meatballs, chicken and duck.
"All the fundamental building blocks come from cells," he told Axios. "We get cells from the animal or eggs — all we need is a drop."
Where it stands: Two Bay Area companies — Upside Foods and Good Meat — have gained regulatory approval to sell their first product, cultivated chicken.
Chef Dominique Crenn is serving tiny quantities of Upside's chicken at Bar Crenn in San Francisco as part of a monthly $150 tasting menu.
Chef José Andrés is serving Good Meat's version at his China Chilcano restaurant in Washington, D.C. — if you can get a reservation.
The sold-out $70 tasting menu includes "Anticuchos de Pollo, cultivated chicken marinated with anticucho sauce, native potatoes and ají amarillo chimichurri."
Yes, but: If you want to buy it in a retail store, you'll have to go to Singapore. Good Meat's chicken went on sale in December at Huber's Butchery there after Singapore became the first country to approve cultivated meat.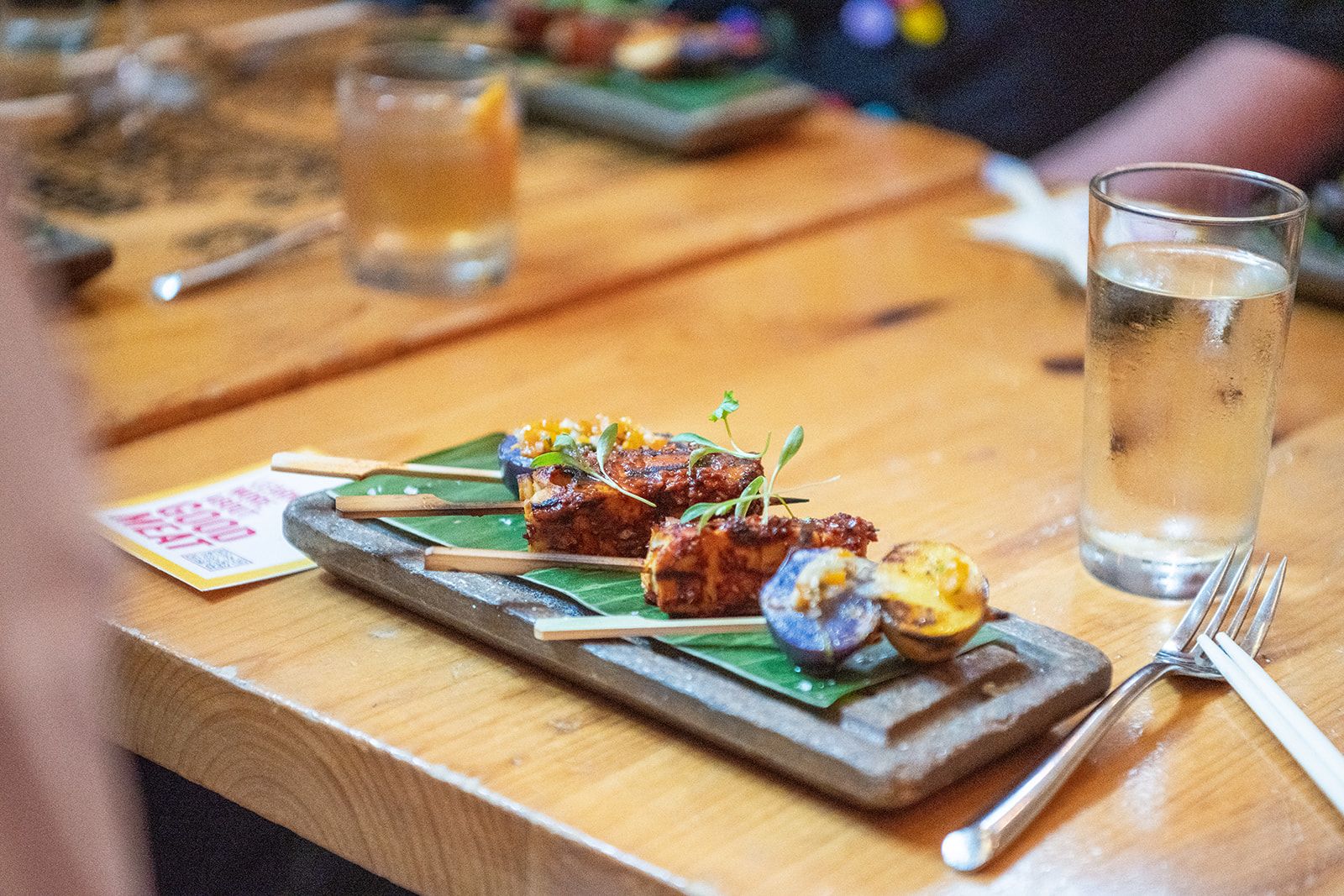 How it works: To make cultivated meat, animal cells are placed in a large steel vessel called a bioreactor — or "cultivator" — and fed for at least two weeks with a variety of nutrients, which help the cells grow and differentiate similarly to how they would in a living animal.
Depending on how the cells are nurtured, the product can emerge in the consistency of soup or pancake batter — to be formed into a sausage or nugget — or in a filet-like sliver of meat.
"Instead of raising a chicken, we are raising chicken cells, letting the cells do what they naturally do, which is grow," said Valeti, a cardiologist who founded Upside Foods in 2015.
Unlike at a farm, "we don't have fecal matter; we do not have the skin and the hair and the bones" of the animal. It's "significantly more efficient than growing an entire animal and eating only a part" of it, said Valeti.
For now, Upside has a modest production facility in Emeryville, Calif. But it's planning to build a much bigger one over the next year or two to ramp up production.
Watching the meat-making "is an unforgettable experience that will leave you incredibly motivated, versus walking into a slaughterhouse and walking out incredibly scarred for the rest of your life," Valeti said.
Josh Tetrick, the CEO of Eat Just — the parent company of Good Meat — described the same cultivation process, noting that it's "very different from conventional meat production, which today requires about a third of the planet to plant soy and corn just to feed the animals."
While the mental image of meat being grown in a petri dish or brewery vat is a turnoff, the ability to get tasty animal protein without killing animals is a big selling point, particularly for younger consumers, Tetrick told Axios.
"Some people still think chicken and beef and pork comes from this farm with the sun setting, with the red barn, with the little girl walking around catching butterflies and her dad in a farmer hat," he said. "Reality-land is warehouses with animals packed body-to-body."
The big picture: The two CEOs laid out similar visions for Axios of an industry in its infancy that will escalate — gradually — and supplant the existing factory-farm meat production system.
Under this paradigm, fewer animals will be raised for slaughter (releasing less methane into the atmosphere) and a lot more land can be dedicated to other purposes — like growing food for humans.
There'll be fewer food-borne illnesses and zoonotic diseases — such as avian flu and mad cow disease — and fewer antibiotics in our food.
"The vision here is for cultivated meat to be the primary source of meat that human beings consume over the next 100 years," Tetrick said. "I think the single biggest challenge is, we just have to make more of it."
He predicts it'll be "a minimum of three years" for full national distribution of cultivated meat across the U.S.
So far, about 150 companies are in the cell-cultivated meat space, all raising capital on the promise that this will be the next big thing, said Elliot Swartz, principal scientist on cultivated meat for the Good Food Institute, a nonprofit think tank working to advance alternative proteins.
Cultivated meat is "not a silver bullet to all of the problems in the food system" but will likely play a growing role over time, Swartz said.
He likens the possible trajectory to that of renewable energy or electric vehicles.
Yes, but: There are lots of limiting factors, include the cost and difficulty of scaling up production of cultivated meat — and the fact that the product is still the equivalent of an iPhone 1.0.
"While we do know how to grow animal cells at some degree of scale, we've never done it for the purposes of food production," Swartz told Axios. "Everyone has to grow a larger number of cells than we've ever grown before."
Plus, while the companies have no problem making chicken nuggets, more sophisticated cuts of meat — including anything with a bone — will be a challenge.
On the environmental front, the jury's still out over whether cultivated meat is ultimately "better."
"There are still many unknowns around how production will work at commercial scales," notes a seminal article on the topic in MIT Technology Review. "Cultivated meat will still produce emissions, since energy is required to run the reactors that house the cells as they grow."
To go below the existing carbon footprint of the meat industry, cultivators will have to run on renewable energy, Swartz said.
But: "On animal welfare issues, this is a slam-dunk win," he said.
What they're saying: "We want to live in a world where the vast majority of meat does not require the slaughter of an animal," said Tetrick of Good Meat.
"Because you need to slaughter an animal, you need billions of them to feed billions of people. That then necessitates all of this land and all of this water and all of these inputs."
So, how's the taste? "It tasted like chicken and I'd eat it again," says Axios San Francisco's Megan Rose Dickey.
"But it could definitely be juicier and more tender, something the company said it's working on addressing."
Tetrick and Valeti said their products often win praise for their bounce, chew, aroma and flavor.
"Far and away the most effective thing we've done to get over that 'ick factor' is put some skewers in front of people — maybe some red wine to make it even better — and have them enjoy the chicken," Tetrick said.
(Watch a video of Axios' Ina Fried tasting cultivated chicken with Uma Valeti of Upside Foods.)
What's next: While it'll be a long time before most of us can sample cultivated meat, the companies are working to expand production, raising money, and engaging in conversations with government regulators, academics and the public about the merits of their products.
"This is going to be a long-term journey," Tetrick said. "One day, we will think it was really strange that we needed billions of animals to be slaughtered — and a third of the world to feed them — just to enjoy a nice chicken dinner."
Go deeper