Good Meat's no-kill chicken tastes like … chicken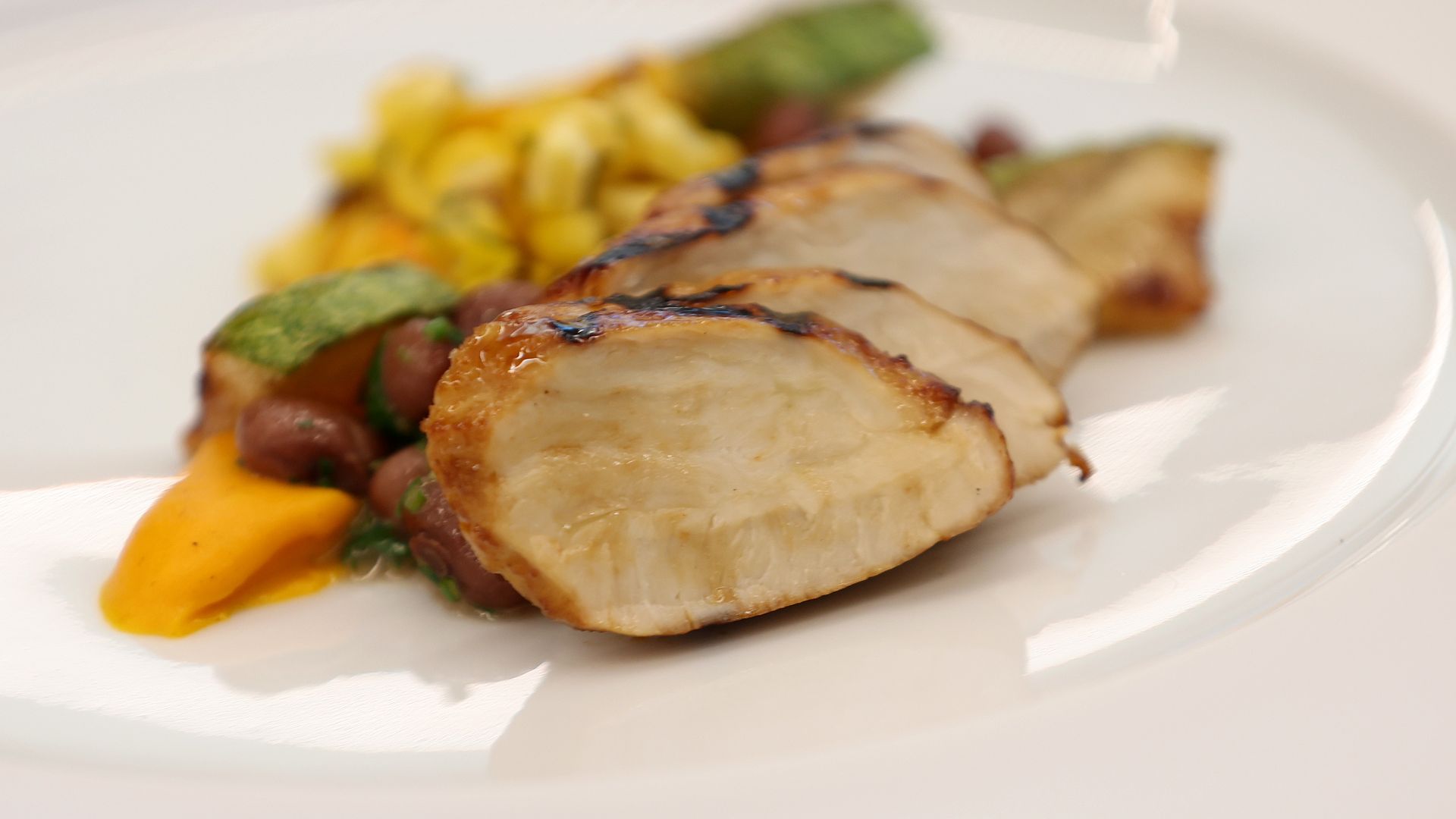 Alameda-based Good Meat is getting closer to bringing its cell-cultivated chicken to the masses.
Why it matters: Proponents of cultivated meat argue it's better for the environment, but acknowledge more work needs to be done to make it more cost-effective.
Driving the news: Last month, Good Meat received approval from the U.S. Department of Agriculture to sell its slaughter-free chicken to consumers.
This month, the company began selling its meat to the public via a $70 tasting menu in Washington, D.C.
💭 Thought bubble: I had a chance to taste Good Meat's chicken at its facility in Alameda last week.
It tasted like chicken and I'd eat it again! But it could definitely be juicier and more tender, something the company said it's working on addressing.
What they're saying: "There's a confluence of science and art that needs to happen" to get to that perfect version, Nate Park, a former chef and director of product development for Good Meat, told Axios San Francisco during the tasting.
How it works: Good Meat makes its chicken by first extracting cells from fertilized chicken eggs, Vítor Espírito Santo, a senior director of research and development at Good Meat, told Axios San Francisco.
The cells grow and divide in a bioreactor — similar to a beer tank — fed by a broth of nutrients that mimic an animal's diet.
After about four to six weeks, the meaty cell formations — essentially ground chicken, Santo explains — are molded into a final product.
Of note: Good Meat pushes against the "lab-grown" descriptor because only a small part of the process happens in a lab and the rest in a food facility, Santo said.
The big picture: Both Good Meat and competitor Upside Foods envision cultivated meats supplanting the existing factory-farm meat production system, Axios' Jennifer Kingson reports.
Under this paradigm, fewer animals will be raised for slaughter (releasing less methane into the atmosphere) and more land can be dedicated to other purposes — like growing food for humans, Kingson writes.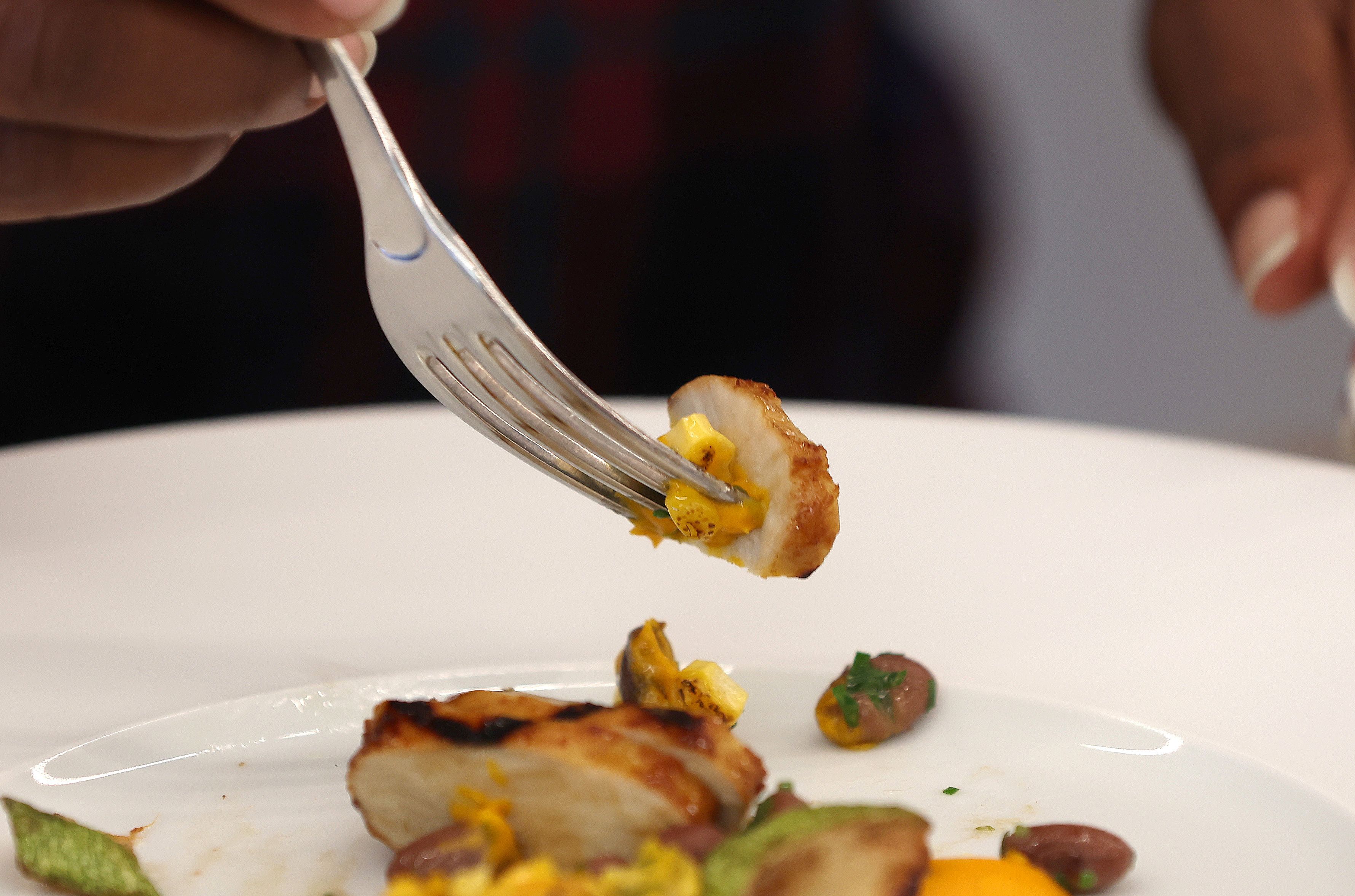 The other side: On the environmental front, the jury's still out over whether cultivated meat is ultimately "better."
"Cultivated meat will still produce emissions, since energy is required to run the reactors that house the cells as they grow," notes an article on the topic in MIT Technology Review.
Meanwhile, creating cultivated chicken is "still expensive," Santo told Axios San Francisco, because "we just don't have the scale to produce this in the quantities that would make the cost go down significantly."
Yes, but: Good Meat expects to get there within the next decade, he said.
What to watch: Good Meat expects to offer its meat in the Bay Area soon, Santo said, through restaurant partnerships.
Down the road, the hope is to sell cell-cultivated chicken in grocery stores, he said.
Until then, folks in the Bay Area can try out Upside Food's chicken at Bar Crenn in San Francisco.
Or, you can try to win a trip to D.C. to try the chicken from Good Meat.
More San Francisco stories
No stories could be found
Get a free daily digest of the most important news in your backyard with Axios San Francisco.