The future of meat needs a name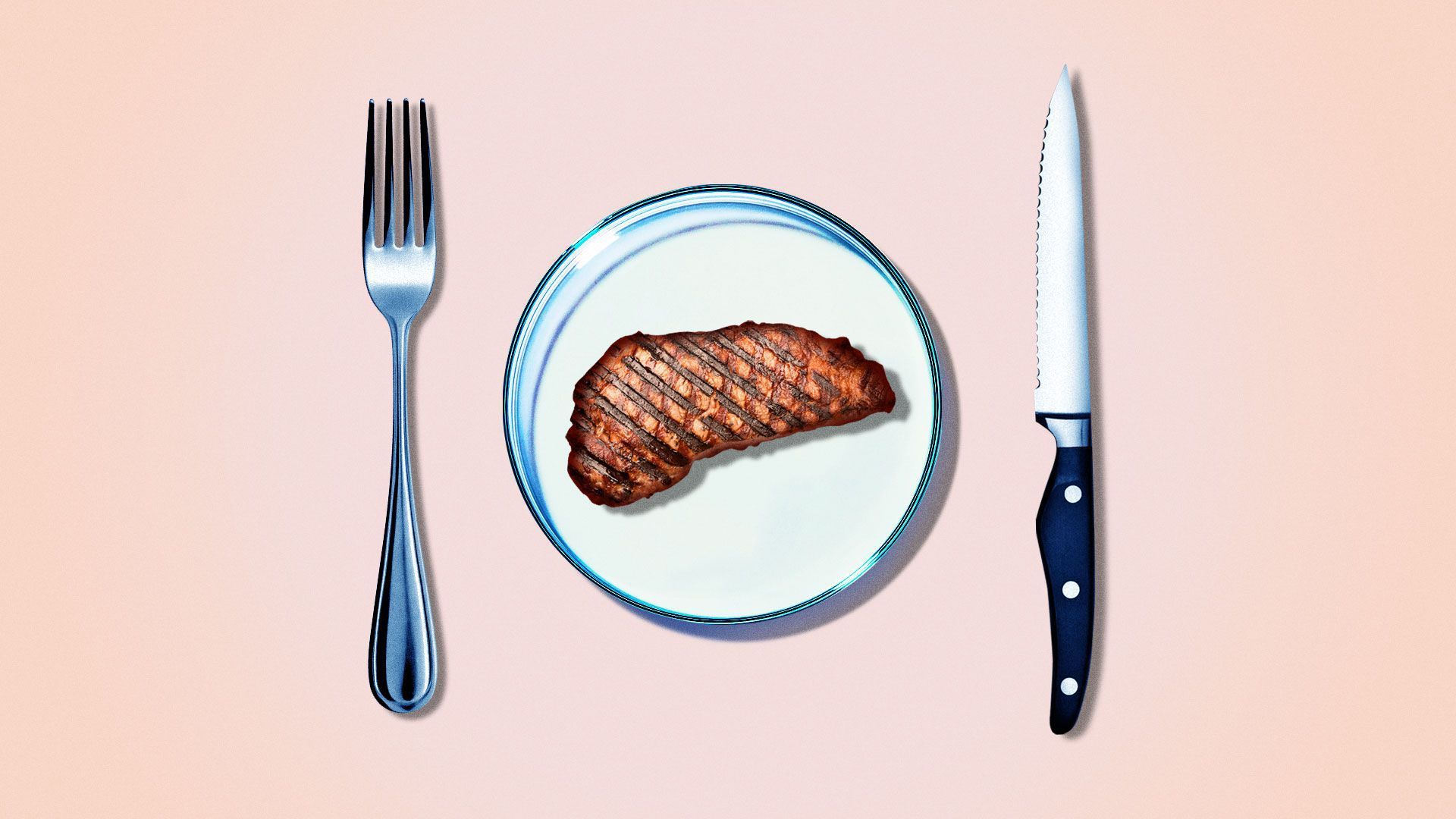 The federal government is delving into one of the biggest questions around meat that is grown from cells, rather than harvested from slaughtered animals: What should we call it?
Why it matters: Meat grown from cells promises to be a sustainable and slaughter-free source of protein, but beyond reducing costs, companies in the space need to earn consumer acceptance — and what we call it will matter.
The labeling question is an important one, as demonstrated by the years-long struggle over what foods that include genetically modified ingredients should be called, and the ongoing legal battles over labeling for plant-based alternative protein products.
What's happening: Earlier this month, the USDA issued an advanced notice of proposed rulemaking (ANPR) to "request comments pertaining to the labeling of meat and poultry products comprised of or containing cultured cells derived from animals."
The comment period is part of the USDA's and FDA's work to solidify regulations around the nascent future meat space before the first products can be fully sold to consumers. (The USDA oversees cultured meat and poultry products, while the FDA covers cultured seafood — with the exception, for confusing reasons, of catfish, which the USDA handles.)
The possibilities for labels are almost endless: "cell-cultured," "cultivated," "slaughter-free," "cell-based," "clean," "lab-grown," "synthetic," even "fake meat."
Between the lines: What you want to call meat or fish grown from cells largely depends on how you view the new technology — and whether you stand to benefit from its development.
Startups in the space generally prefer a label that, as the Alliance for Meat, Poultry, and Seafood Innovation put it in a statement, fosters "consumer confidence and a level playing field" with conventional meat producers and companies that make plant-based alternative protein.
That generally means labels like "cell-cultured" or "cultivated," which combine a sense of high tech without the overly synthetic, sci-fi connotations of "lab-grown."
The U.S. Cattlemen's Association, by contrast, has petitioned the USDA that "the terms 'beef' and 'meat' should be retained exclusively for products derived from the flesh of a [bovine] animal, harvested in the traditional manner."
The bottom line: When it comes to what's on our plate, a name isn't just a name.
Go deeper