House leaves town as GOP again fails to find a speaker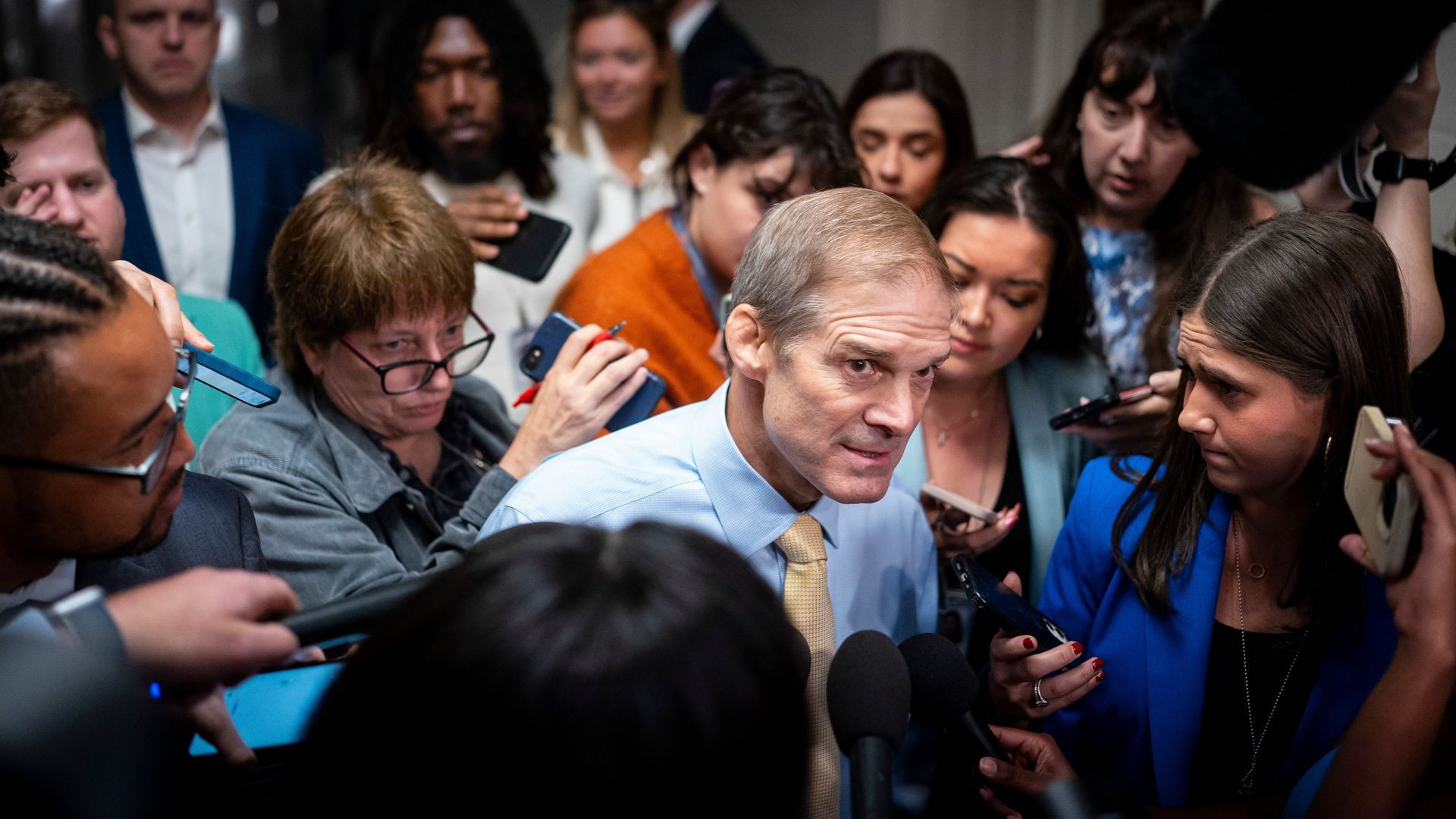 The House is capping off its second week without a speaker and no clear path forward as lawmakers leave Washington, D.C. for the weekend.
Why it matters: The Nov. 17 deadline to head off a government shutdown is fast approaching and many lawmakers want to pass emergency spending to support Israel against Hamas and other key legislation.
"This chaos has consequences," said Rep. Hillary Scholten (D-Mich.). "Ten days without a speaker means ten days we are not working on the farm bill ... border security and comprehensive immigration reform."
What they're saying: No House votes are expected until Monday night at the earliest, House Majority Whip Tom Emmer (R-Minn.) said in a notice to lawmakers on Friday afternoon.
Driving the news: Republicans voted to nominate House Judiciary Committee Chair Jim Jordan (R-Ohio) for speaker, defeating Rep. Austin Scott (R-Ga.) 124-81.
In addition to his surprising squeaker against a low-profile member, Jordan's mandate was made even murkier when a subsequent vote showed 55 Republicans won't support him on the floor.
One of those detractors, Rep. Mario Diaz-Balart (R-Fla.), said "the math is not good" for Jordan and "ultimately, we're going to have to find someone to truly unify us and truly lead us."
Jordan will spend the weekend calling holdouts to try to shore up the support he needs to get 217 votes on the House floor, according to his allies.
"I think giving everybody the weekend to try to figure this out is a perfectly good plan," said Rep. Kelly Armstrong (R-N.D.). "We don't need to be in a room yelling and screaming at each other."
Between the lines: "He needs to earn it," said one House Republican. "Two days is sufficient time but 50 votes is a lot."
The other side: Centrist Democrats are reiterating they're ready to make a bipartisan deal to elect a speaker when Republicans come around.
"I have been clear since the very first time a motion to vacate was floated that we are absolutely willing to work across the aisle," said Scholten. "We can't do it all for them. They're going to have to come to the table and be willing to negotiate."
"The bottom line is: Let's have a conversation," said Rep. Abigail Spanberger (D-Va.).
Zoom in: In the meantime, moderates in both parties say empowering Speaker Pro Tempore Patrick McHenry (R-N.C.) might be necessary to pass critical legislation.
Reps. Josh Gottheimer (D-N.J.), Ed Case (D-Hawaii), Susie Lee (D-Nev.) and Jared Golden (D-Maine) "strongly support an immediate vote to expand the Speaker Pro Tempore's authories" in 15-day increments, they wrote in a letter to McHenry, a copy of which was obtained by Axios.
The deal would direct McHenry to hold votes on emergency aid to Israel and Ukraine, a short-term measure to keep the government funded through Jan. 11 and annual appropriations bills.
The proposal is getting qualified support from some other Democrats, with Spanberger saying it's "worth considering."
Rep. Dave Joyce (R-Ohio), the chair of the moderate Republican Governance Group, is also spearheading a legislative effort to empower McHenry that his spokesperson told Axios is "gaining support across the political spectrum."
Details are currently sparse on the Joyce proposal.
The bottom line: One snag on any plan to empower McHenry is the interim speaker views his role as purely ministerial, with a House Republican telling Axios the proposal is gaining steam with "everyone but McHenry."
Go deeper