House GOP fails to pass stopgap spending bill one day before shutdown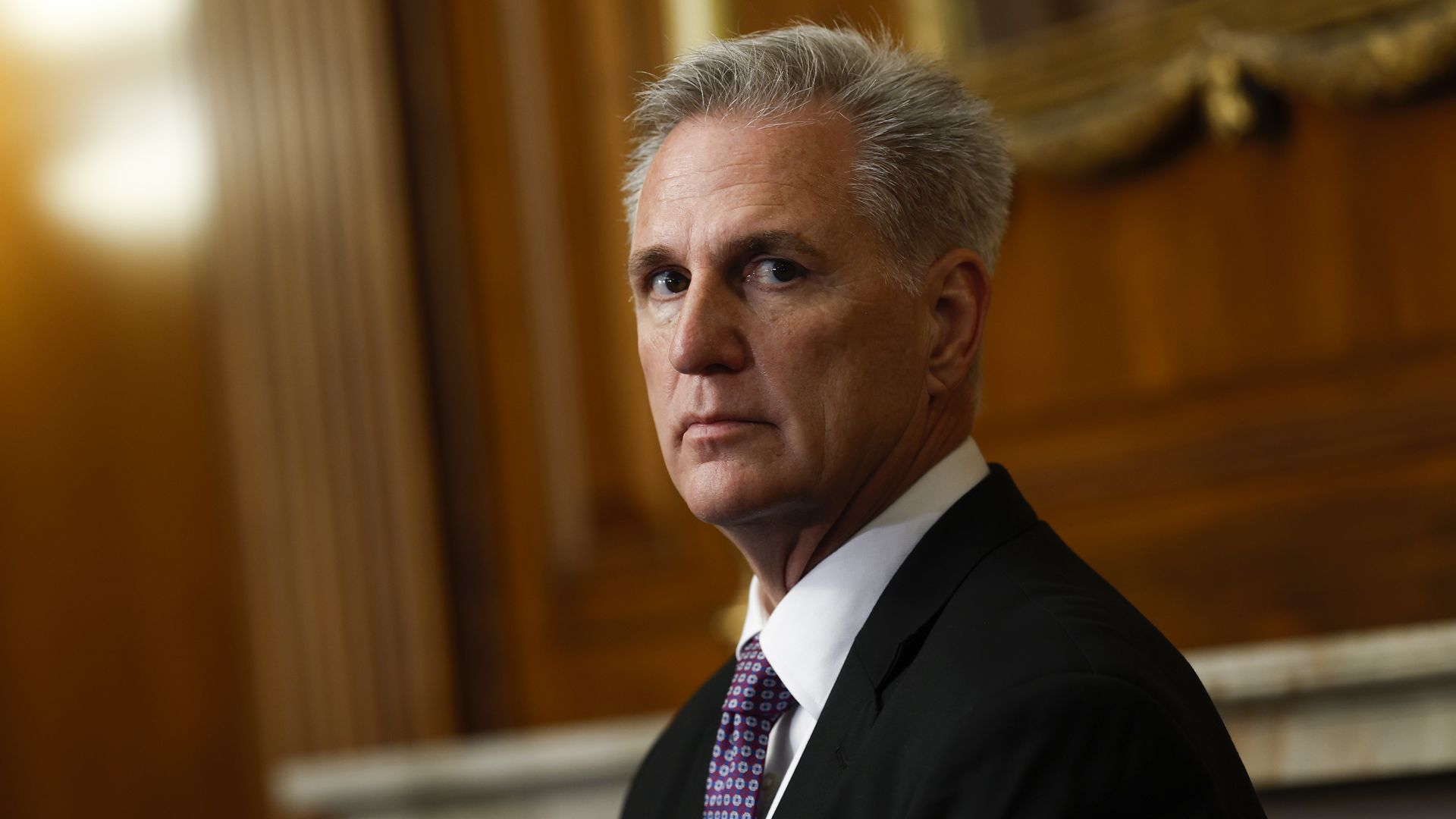 The Republican-controlled House on Friday voted down a measure to temporarily avert a government shutdown just one day before federal funding is set to expire.
Why it matters: It's a setback for House Speaker Kevin McCarthy (R-Calif.) as he tries to position himself to make a deal with the Senate on a stopgap bill and save his speakership from hardliners in his conference.
What happened: The bill, called a continuing resolution, failed 198-232 after 21 Republicans voted with Democrats against it.
Most GOP "no" votes were right-wingers who objected to the very idea of a continuing resolution.
Some pushed for specific policy additions or lower spending levels – Rep. Troy Nehls (R-Texas), for instance, wanted to include a mandate for companies to verify their workers' legal status.
The details: The measure would have kept the government funded for 30 days while cutting funding by 30% for all agencies except the Departments of Defense, Homeland Security and Veterans Affairs.
It also includes H.R. 2, a Republican measure to codify controversial Trump-era border policies.
These were non-starters for the Democrat-controlled Senate and White House, but Republicans hoped to strengthen their hand in eventual cross-chamber negotiations to hammer out a bipartisan deal.
What's next: The government is hurtling towards a shutdown come midnight on Saturday.
The Senate is having trouble advancing its own continuing resolution: "I think if Rand Paul continues to block the vote, it won't be until [Saturday]," Sen. Susan Collins (R-Maine), the vice chair of the Senate Appropriations Committee, told Axios.
"It's certainly not a good sign" for avoiding a shutdown, Collins added.
What they're saying: "I personally think what will happen is [the shutdown] will span a few days, and ... the heat will turn up and the Senate version will come our way and there will be a discharge petition," said Rep. Steve Womack (R-Ark.).
A discharge petition – a tool to force a vote on a bill opposed by majority leadership – was floated by several centrists ahead of the vote on Friday.
"We have a number of [Republicans] ... that are willing to discharge or take another option to ultimately get something that's a two-party solution on the floor," said Rep. Brian Fitzpatrick (R-Pa.).
Go deeper