Bipartisan talk grows as GOP fails to find a speaker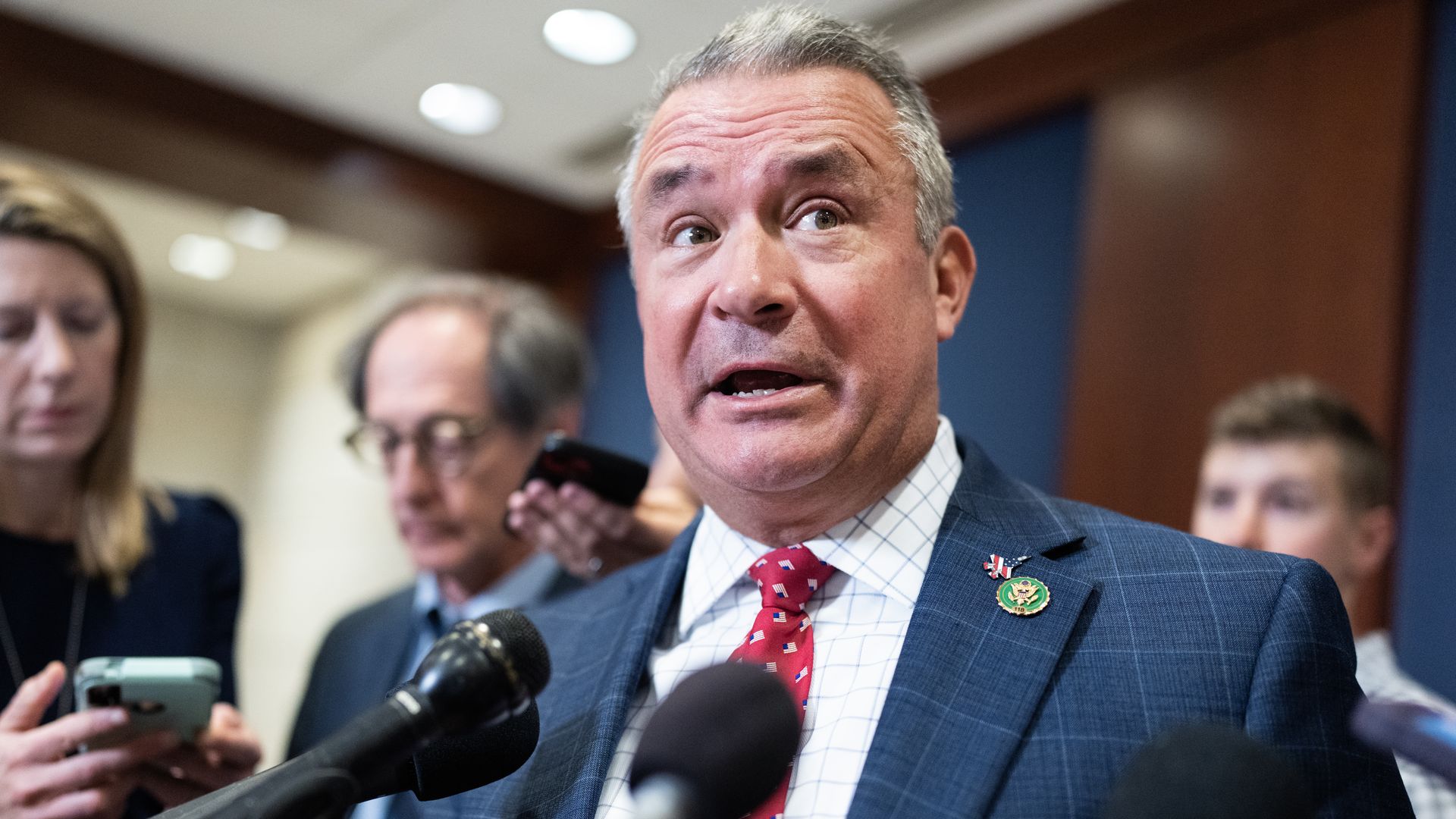 Lawmakers in both parties are expressing growing openness, both in public and in private, to a bipartisan deal to elect a House speaker as Republicans are continually thwarted in their efforts to do it alone.
Why it matters: With House Majority Leader Steve Scalise (R-La.) withdrawing despite winning his party's nomination, some Republicans are concerned nobody can win the job with just GOP votes.
What they're saying: "There's a sentiment building around [a bipartisan deal] among Democrats and Republicans," Rep. Dan Kildee (D-Mich.), a member of Democratic leadership who represents a swing district, told Axios.
"We're open to anything that's reasonable," said Rep. Maria Salazar (R-Fla.), a member of the moderate Republican Governance Group. "Bipartisanship is not a sin."
Rep. Don Bacon (R-Neb.), a perennial bipartisan dealmaker, said "at this point, there are enough Republican and Democrats saying we've got to get this fixed."
Rep. Greg Landsman (D-Ohio) said, as the situation devolves, he sees Republicans "absolutely" getting more open to a deal: "Yes, I mean you're seeing that."
State of play: With Scalise out of the running, all eyes now turn to Judiciary Committee Chair Jim Jordan (R-Ohio), a co-founder of the right-wing Freedom Caucus.
But some of Jordan's GOP colleagues are already predicting he'll suffer the same fate as Scalise. "I think he's gonna have a math problem as well," said Mike Garcia (R-Calif.).
Rep. Greg Murphy (R-N.C.) said "it's going to be hard" for Jordan to win.
What we're hearing: A bipartisan group of roughly ten House lawmakers is quietly holding "very" serious discussions, a moderate Republican involved in the discussions told Axios on the condition of anonymity.
"The question is who gets you to the largest minority of the majority," the GOP lawmaker said. "Is it Don Bacon, who gets 20 [GOP] votes and 200 Democrats? Is it French Hill who gets 100 votes from Republicans? And the fewer Republicans, the more dangerous this is – not just politically, but structurally."
Another question, the Republican said, is how many speaker candidates need to fail before people soften on the idea: "Kevin, Steve, Jordan, Emmer … how many losses do you have to have to make that an acceptable outcome?"
Between the lines: Congress is unfamiliar with bipartisan coalition governments in the vein of state legislatures and foreign governments – but the House had also never voted to oust a speaker until last Tuesday.
"We are setting precedent every day," said the moderate Republican. "Whatever solution we have will be unprecedented."
Democrats say their position hasn't changed from before former Speaker Kevin McCarthy (R-Calif.) was ousted – they want "institutional reforms, rules changes that allow for bipartisan votes ... not every couple months but every day," said Landsman.
Reality check: Cross-party tensions are still raw after Democrats voted uniformly to remove McCarthy.
"There was no sense of [bipartisanship] when it was the motion to vacate a week and a half ago," said Rep. Blake Moore (R-Utah), "so I don't think anything is credible that could be realistic at the moment."
Rep. Nick LaLota (R-N.Y.) expressed skepticism as well: "Has a Democrat come out and said they would support a Republican nominee?"
The bottom line: Just before Scalise dropped out, Bacon said of Republicans, "At some point we're going to be exasperated [and say], 'Okay, this is not working.'"
Asked after Scalise announced if lawmakers are getting closer to that point, he told Axios: "I think we are ... It's going to be a sort of consensus opinion between a group of us."
"If this goes on forever, we've got to get the country back going," said Rep. Dan Newhouse (R-Wash.).
Go deeper