Updated Oct 8, 2023 -

World
Biden tells Netanyahu military aid "now on its way" to Israel with more to come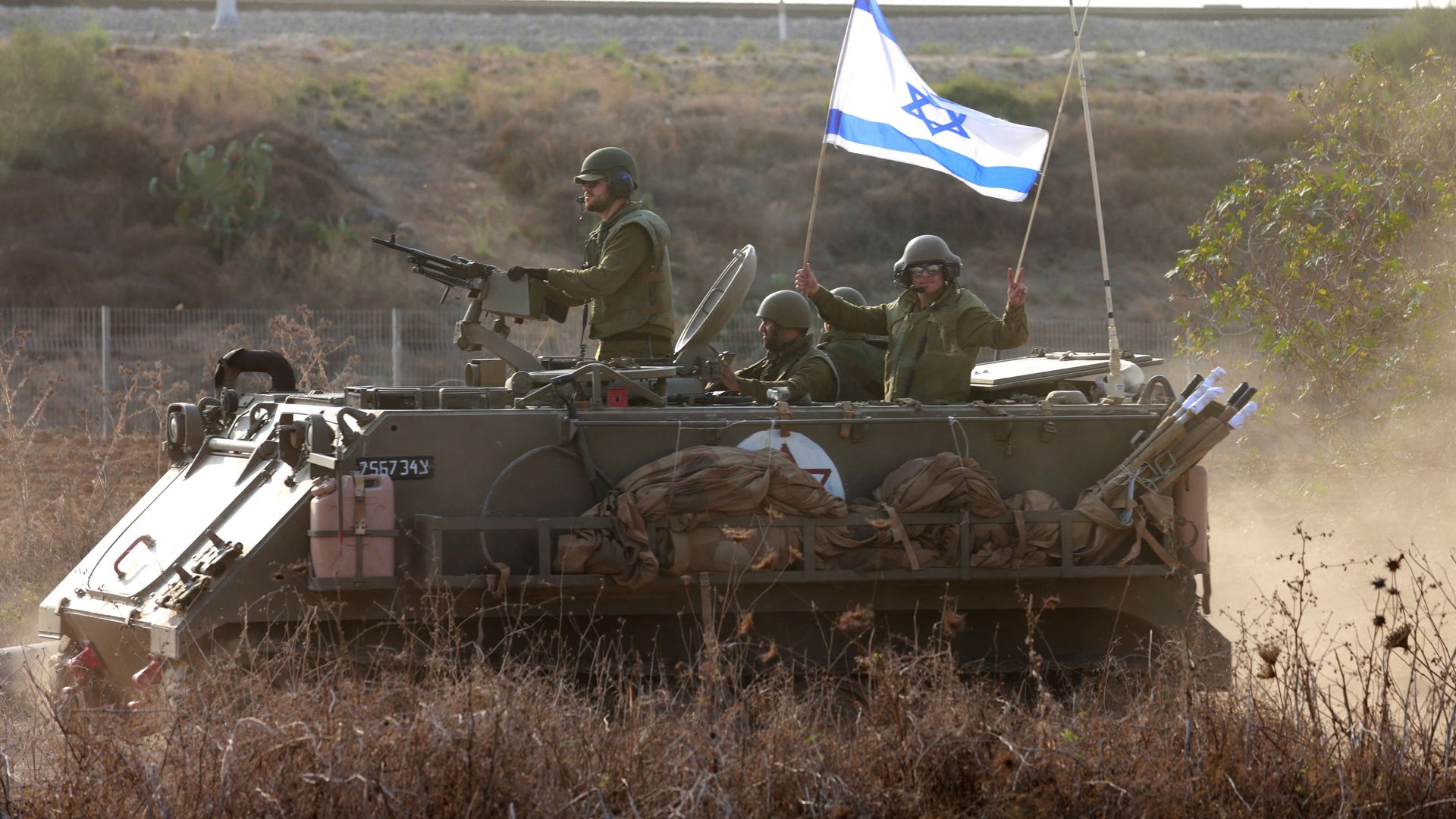 President Biden told Israeli Prime Minister Benjamin Netanyahu in a call on Sunday that additional military assistance is "now on its way to Israel with more to follow over the coming days," according to the White House.
Why it matters: Israel is preparing for a wide-ranging offensive against Hamas, which launched an unprecedented invasion of Israeli territory on Saturday. The Israeli operation could lead to a ground operation in Gaza that would likely take many weeks and could lead to an escalation in other parts of the region.
Israel's request for aid on the first day of the war signals how much firepower it expects to need as the conflict unfolds.
Details: Secretary of Defense Lloyd Austin said in a statement that the U.S. "will be rapidly providing the Israel Defense Forces with additional equipment and resources, including munitions."
"The first security assistance will begin moving today and arriving in the coming days," he added.
Two U.S. officials said the Israeli Ministry of Defense had already given the Pentagon an initial list of weapons they needed, which included munitions for fighter jets.
Austin also said that he has "directed several steps to strengthen Department of Defense posture in the region to bolster regional deterrence efforts." This includes the movement of the USS Gerald R. Ford Carrier Strike Group to the Eastern Mediterranean.
"The U.S. maintains ready forces globally to further reinforce this deterrence posture if required," Austin said.
What they're saying: Biden's call with Netanyahu on Sunday was the two leaders' second call since the Hamas invasion began.
"President Biden updated the prime minister on the intensive diplomatic engagement undertaken by the United States over the last 24 hours in support of Israel," the White House said in a readout of the call.
"The leaders also discussed ongoing efforts to ensure that no enemies of Israel believe they can or should seek advantage from the current situation," it added. "The two leaders committed to stay in regular contact over the coming days."
Zoom in: The initial assistance package doesn't need Congress' signoff, a U.S. official said, but the Biden administration is concerned that the chaos among House Republicans could hamper approval of more aid, a senior U.S. official told reporters Saturday.
Most business in the House has been at a standstill since Kevin McCarthy (R-Calif.) was ousted as speaker last week in a move led by far-right Republicans.
"Congress will definitely have a role (in approving aid to Israel), and without a speaker, this could be a problem," the U.S. official said.
What to watch: A senior Israeli official said Secretary of Defense Lloyd Austin is expected to speak to his Israeli counterpart Yoav Gallant later Sunday for the second time since the war broke out.
Go deeper: Biden warns Israel's enemies against taking advantage of fighting in Israel, Gaza
Editor's note: This story has been updated with additional details throughout.
Go deeper