Kyrsten Sinema betting big on independent vote, donor pitch shows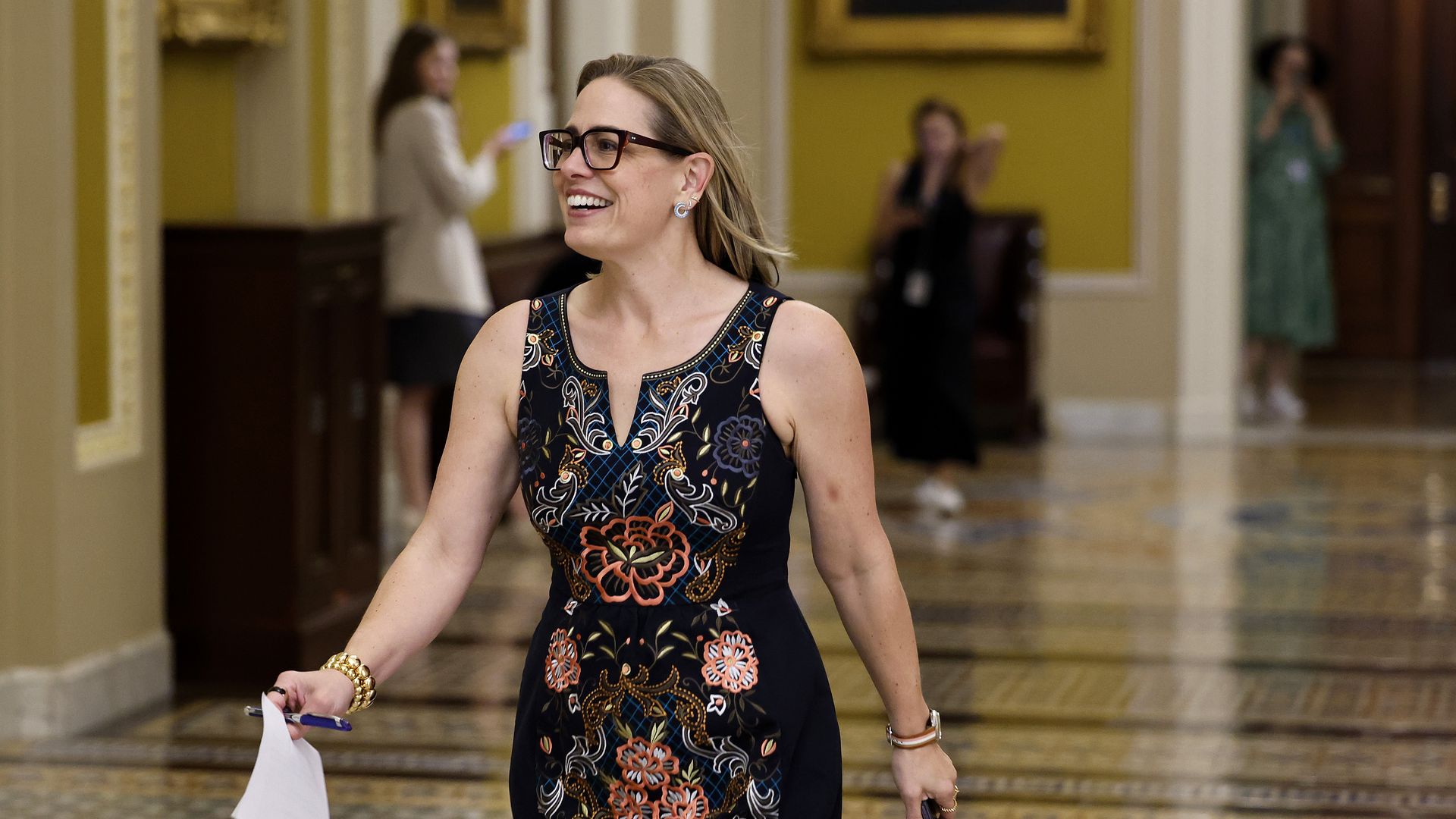 Sen. Kyrsten Sinema (I-Ariz.) is counting on winning more Republicans than Democrats in a likely re-election bid next year — but sees the vast majority of her support coming from independents, according to a new pitch to donors.
Why it matters: Team Sinema's bold strategy to prevail in a potential three-way race is the clearest indication yet that she plans to run for re-election in 2024.
Rep. Ruben Gallego (D-Ariz.) launched his campaign earlier this year, while Kari Lake, the GOP's failed candidate for Arizona governor in 2022, is eyeing an October launch.
"If the parties nominate extremists, as expected, Kyrsten will win a majority of IND and at least a third of REP and a percentage of DEM voters — making her the first Independent to win a three-way statewide race in American history," Sinema's team wrote in a two-page pitch first reported by NBC News.
Between the lines: Sinema's perceived base of support — independents — explains much of her voting behavior since she won in 2018.
It also offers a glimpse of how she'll vote for the next 14 months.
Since 2018, Sinema has supported former President Trump's nominee for attorney general, Bill Barr, railed against changing the Senate filibuster rules, helped pass the bipartisan infrastructure bill and pared down President Biden's initial $3.5 trillion Build Back Better proposal.
Along the way, she has earned the enmity of progressives.
Late last year, Sinema formalized her new centrist identity by declaring herself an independent, although she formally caucuses with the Democrats.
By the numbers: In a potential 2024 contest, Sinema is expecting to claim between 25%-35% of Republicans and only 10-20% of the Democrats.
But it's among independent voters, who represent more than a third of the Arizona electorate, where Sinema hopes to run up the score — eyeing 60%-70% of the vote.
Reality check: Sinema's path is a narrow one, given her low approval rating across both parties and the high support she needs from independents, which typically includes closeted partisans.
Flashback: In 2018, Sinema won 12% of GOP voters in her 50%-47.6% victory over Republican Martha McSally, according to exit polls.
Sinema captured 97% percent of the Democratic vote and 50% of independents.
What we're watching: If Sinema officially enters the race, it will be one of the most expensive — and dynamic — races in the country.
Gallego raised more than Sinema in the second quarter, hauling in $3.1 million compared to the incumbent senator's $1.7 million. But Sinema has almost $11 million cash-on-hand, compared to $3.8 for Gallego.
Lake, who has teased a run but has yet to make an official announcement, has not filed any FEC disclosure reports.
Go deeper