Tim Scott praises Reagan firing strikers when asked about historic auto walkout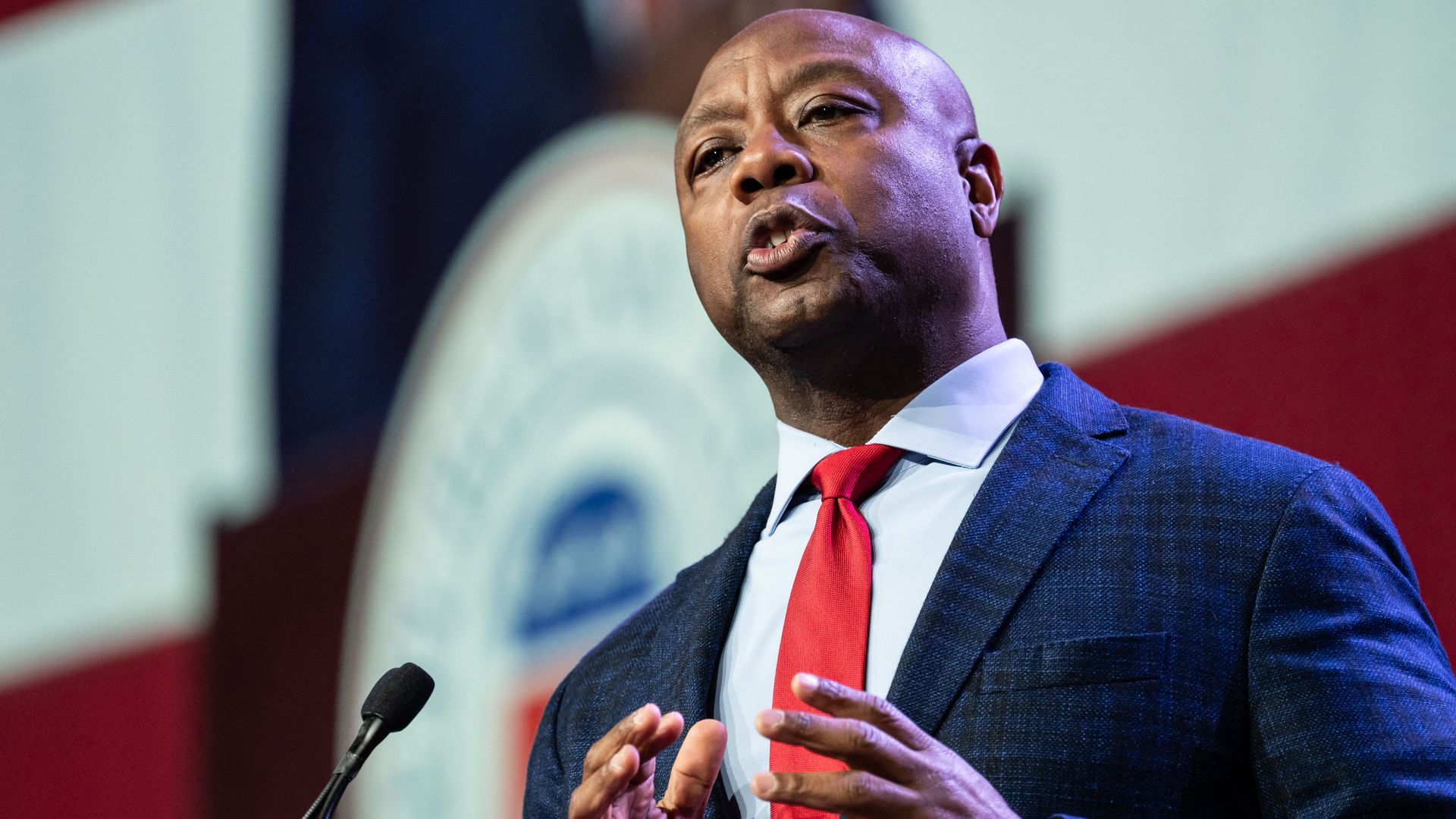 Sen. Tim Scott (R-S.C.) praised then-President Reagan's firing of thousands of striking federal workers when asked Monday about the ongoing United Auto Workers strike.
Why it matters: The 2024 GOP presidential candidate offered some of the harshest criticism of any Republican White House hopeful so far when asked about the historic strike.
"I think Ronald Reagan gave us a great example when federal employees decided they were going to strike," Scott said Monday in Iowa during a campaign event.
"He said, you strike, you're fired. Simple concept to me to the extent that we can use that once again."
Flashback: In 1981, Reagan fired over 11,000 air traffic controllers who went on strike. Those were federal employees, whom the president has the power to fire.
Catch up quick: Thousands of UAW workers went on strike beginning this past week in Missouri, Ohio and Michigan.
This is the first time in history the UAW is targeting General Motors, Ford and Stellantis all at once.
Among the UAW's demands are higher wages, better benefits and certain protections regarding automakers shifting to electric vehicles.
Of note: Federal law, according to the National Labor Relations Board, prohibits workers from being fired for "participating in a protected strike or picketing against" one's employer, though not all strikes are protected.
What they're saying: Scott's campaign said his comments dealt entirely with federal workers rather than the UAW strike. The UAW comprises non-federal workers.
"Senator Scott has repeatedly made clear that Joe Biden shouldn't leave taxpayers on the hook for any labor deal," Matt Gorman, a campaign spokesperson for Scott, told Axios.
Scott criticized President Biden, who has dubbed himself as the "most pro-union president ever."
"I'm not sure if the words are bought and paid for, but certainly [Biden] has been leased by the unions," Scott said.
Biden last Friday urged U.S. automakers to share more of their "record profits" with striking union workers.
Meanwhile, former President Trump, a 2024 Republican presidential frontrunner, plans to deliver a speech in Detroit next week among union workers on strike instead of attending the second GOP debate.
The big picture: The percentage of American workers who are members of a union fell to a new low in 2022 despite the total number of unionized workers increasing.
71% of Americans approved of labor unions in 2022, the highest mark recorded by Gallup since 1965.
More from Axios:
Go deeper