Scoop: Tim Scott pushing RNC to change debate rules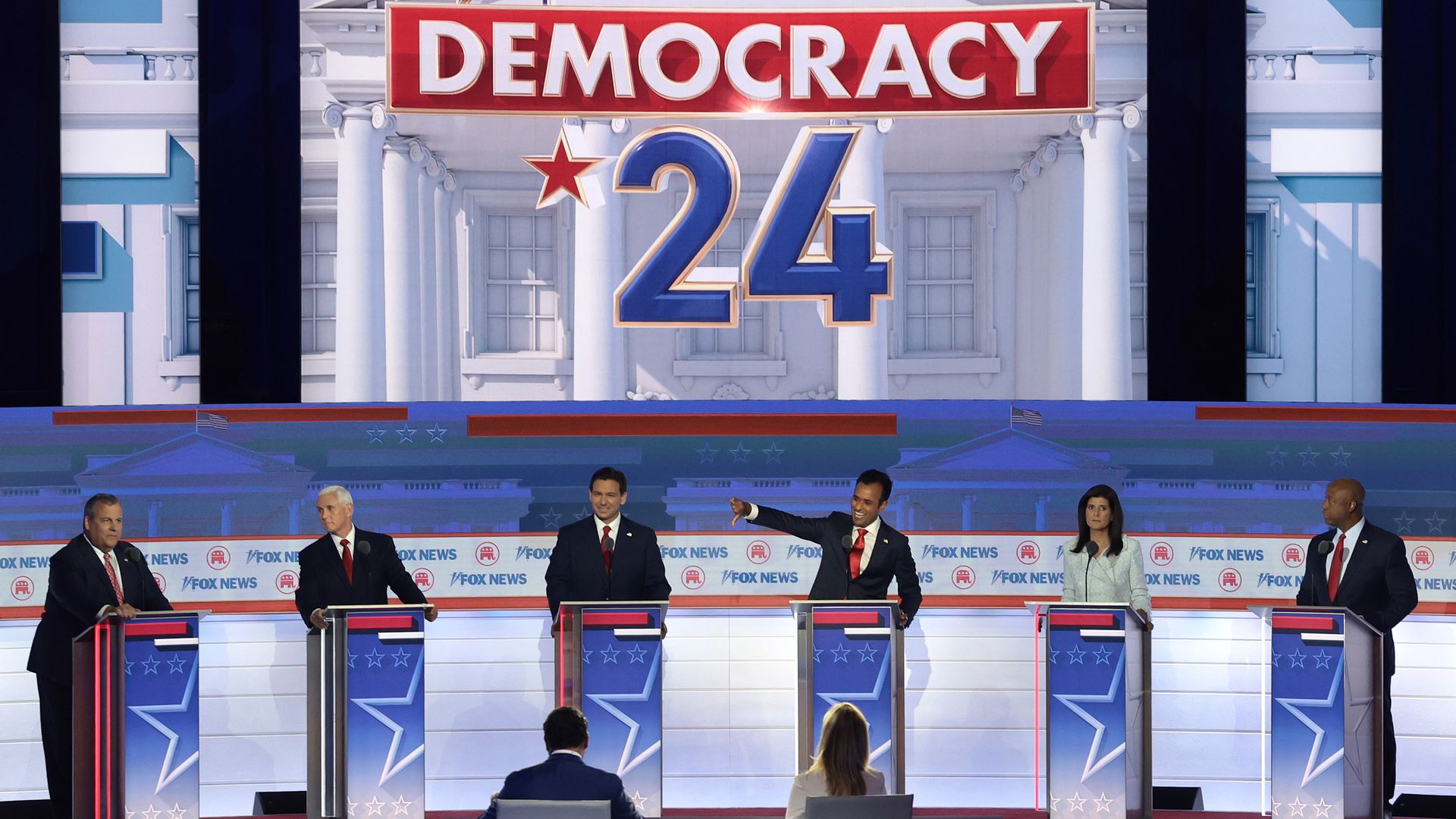 Sen. Tim Scott's campaign is pushing the Republican Party to change the qualifying and podium placement rules for the upcoming GOP presidential debates, calling for more emphasis on polls in early voting states rather than national polls.
Why it matters: Qualifying for the third debate will be critical for every campaign — and being closer to the center of the stage often correlates with more speaking time, as it largely did in the first debate last month.
In that debate, Scott — who's polling better in Iowa, New Hampshire and his home state of South Carolina than he is nationally — was positioned further to one side of the stage and spoke for only 8 minutes and 15 seconds, the third-least of the eight candidates.
His campaign's proposed criteria for the second debate, scheduled for Sept. 27 on Fox Business Network, likely would put him closer to center stage with a better chance to get in the mix.
Scott's team also is trying to influence the criteria to qualify for the third debate; the RNC has not announced where or when that will be.
Driving the news: In two letters to RNC Chair Ronna McDaniel late Tuesday, Scott's campaign manager Jennifer DeCasper pushed for polling in Iowa, New Hampshire, Nevada and South Carolina to matter more than national polling in determining candidates' places on the debate stage Sept. 27 in Simi Valley, Calif.
Candidates need good showings in both early states and nationwide to qualify for the debate, but DeCasper noted that the RNC did not specify "which polling will be considered in deciding the podium placement."
"Relying on national polling results for the podium placement simply would not represent where the candidates actually stand in relation to where we are in the process with the voters," she wrote, referring to the candidates' focus on early voting states.
She added that because Iowa is the first contest of the primary season, in January, "polling results from Iowa should be the primary consideration for podium placement at the September debate."
In a separate letter, DeCasper proposed potential criteria for candidates to qualify for the unscheduled third debate that also would give more weight to the first four states in the GOP primary season.
DeCasper proposed that candidates qualify for the debate if they poll at 7% in two of the four early states or reach a to-be-determined national polling level in two surveys.
She also proposed that candidates must have attended at least one state party event in the first four states and have a minimum number of unique donors from each of those states.
For the second debate, the RNC asked for candidates to have a minimum of 200 unique donors in at least 20 states and/or territories.
What they're saying: "The debate committee has had a very thoughtful approach to the entire process, and we continue to welcome input from all candidates, partners and stakeholders," RNC spokesperson Emma Vaughn told Axios.
"We look forward to hosting another fair and transparent debate stage in Simi Valley."
Former New Hampshire Sen. Scott Brown, who has not endorsed in the race, told Axios that he "thinks it's mistake to give preference to these national polls."
"I think you should have a bit more emphasis to the early primary states because that's where everyone is focusing their time."
Between the lines: Scott's proposed changes likely would benefit him and candidates such as Chris Christie, who is polling better in New Hampshire than he is nationally.
It's unclear which candidates would be hurt the most because of the limited public polling in the early states — particularly Nevada and South Carolina.
Go deeper