Sanders backs UAW, calls on U.S. to stand up against "corporate greed"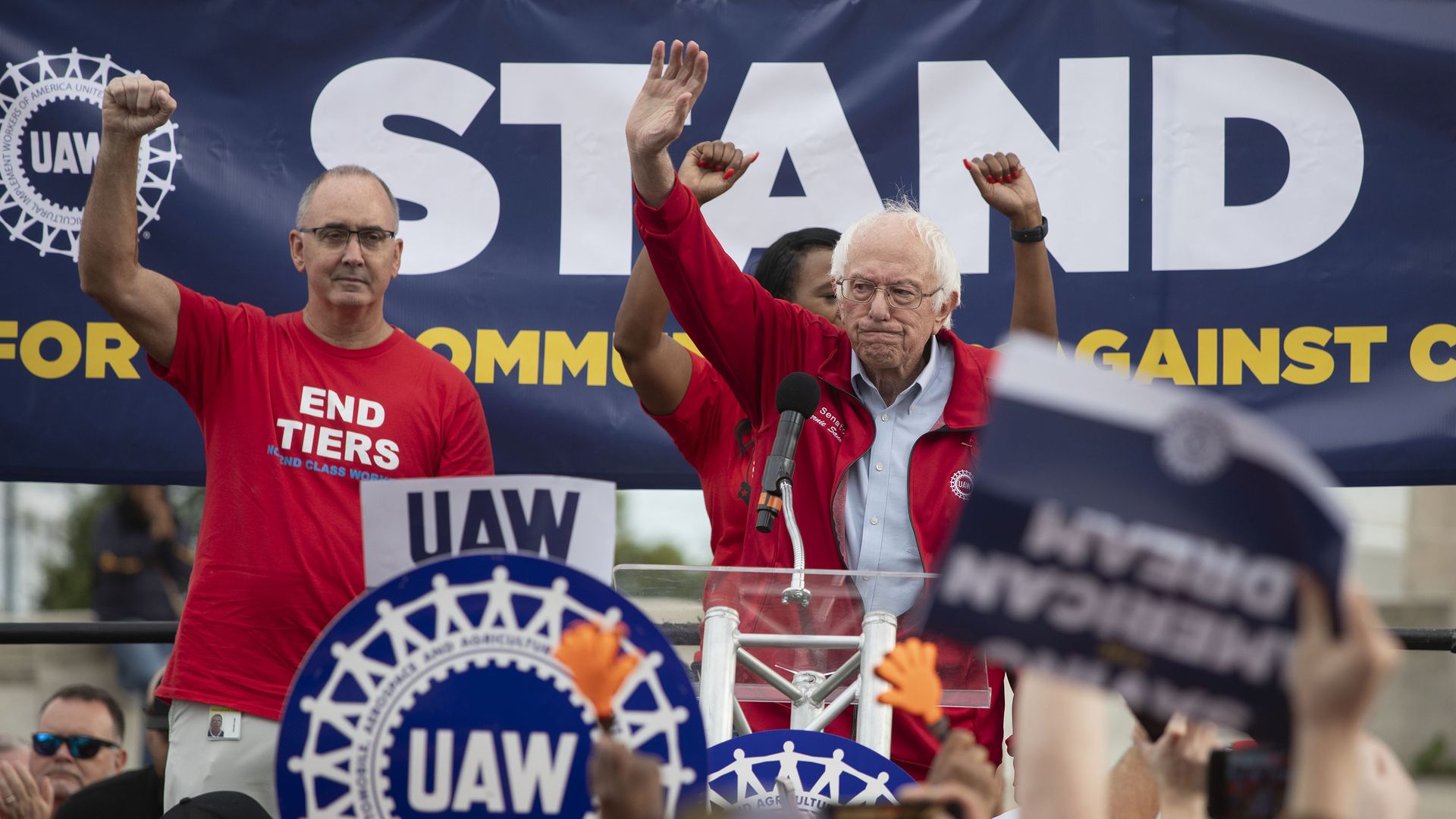 Sen. Bernie Sanders (I-Vt.) stood behind the United Auto Workers strike Sunday and said thousands of UAW employees are standing up to America's "corporate greed."
What he's saying: "What you're seeing in the automobile industry, in my view, is what we're seeing all over this economy — greed on the top, suffering on the part of the working class — and people are tired of it," Sanders told CNN's Jake Tapper on "State of the Union".
Sanders, who rallied with automobile workers Friday in Detroit, called on the country to "stand with the UAW now."
Sanders said UAW workers are standing up to a kind of "corporate greed" that is "impacting tens and tens of millions of Americans" in addition to fighting for "decent wages and benefits" for automobile workers.
Catch up quick: The strike began Friday at factories in Michigan, Ohio and Missouri.
This is the first time the UAW has targeted General Motors, Ford and Stellantis at once.
A 36% wage increase over four years, better benefits and certain protections as automakers shift toward electric vehicles are among the demands workers have made.
According to the UAW, wages haven't kept up with inflation. Starting pay at the three automakers ranges between $18 and $32 dollars an hour, depending on seniority, for full-time workers, according to the Washington Post. That range, the union says, is around $10 lower than what it should be given the inflation rate since 2007.
Flashback: Wage increases have only recently started to beat inflation.
Real wage growth turned positive as inflation eased slightly, revealing the narrowing gap between the two.
Auto companies are also making huge profits despite a decrease in new car sales.
"You have profits there, $21 billion in profits in the first half of this year," Sanders said Sunday in reference to the combined profits of General Motors, Ford and Stellantis.
"You people on top, you've never had it so good," Sanders added, noting that there is more wealth inequality today than ever before in U.S. history.
Go deeper: UAW launches unprecedented strike against GM, Ford and Stellantis
Go deeper