Musk, other tech giants agree legislation needed to regulate AI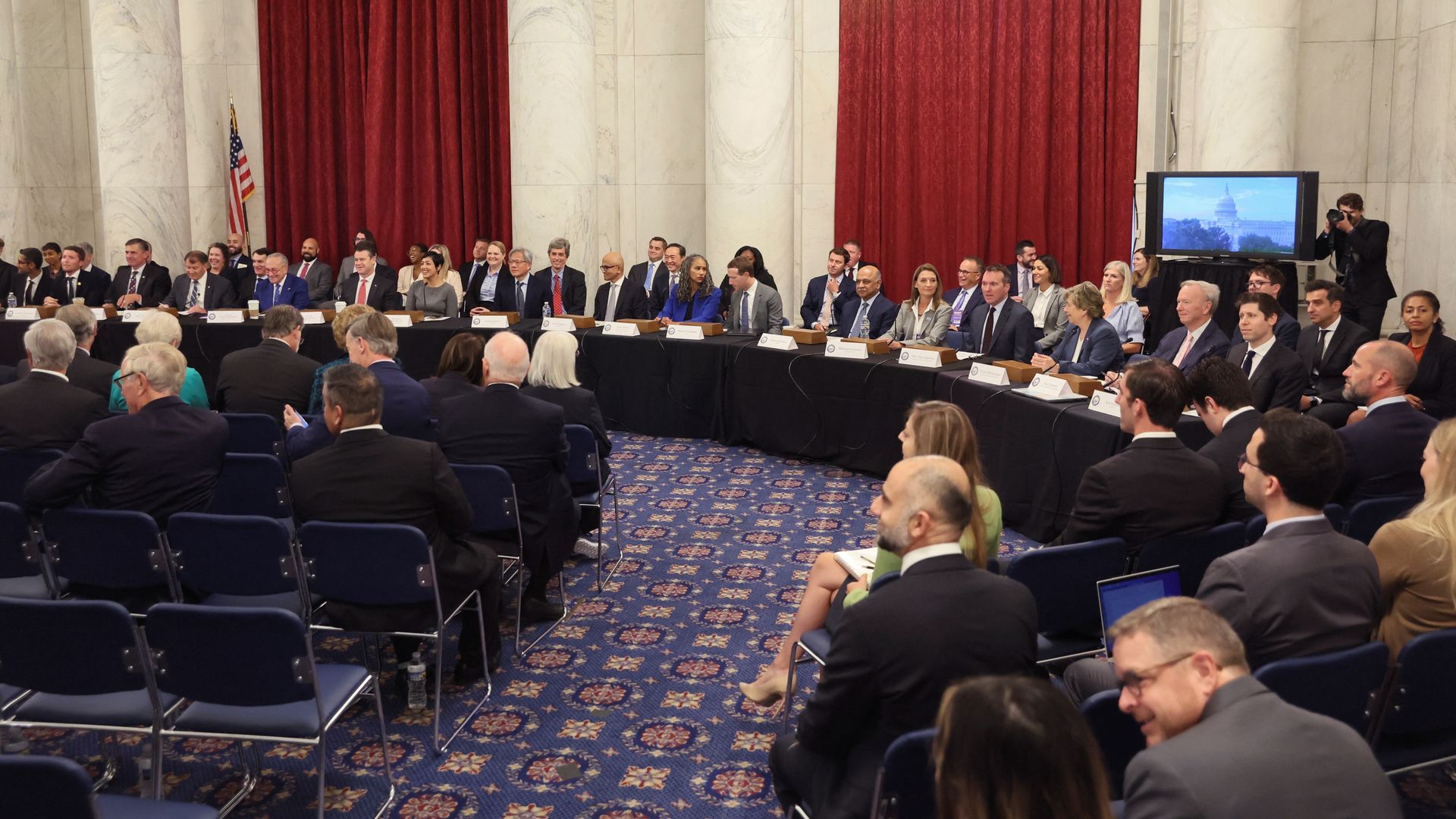 Elon Musk, Mark Zuckerberg, Bill Gates and other tech luminaries were summoned to Capitol Hill on Wednesday for Senate Majority Leader Chuck Schumer's (D-N.Y.) inaugural AI Insight Forum.
Why it matters: The closed-door summit talked about the urgent need to pass legislation to regulate the fast-moving technology.
Driving the news: More than 60 senators showed up to the morning session, Schumer told reporters following the closed-door briefing.
High-profile tech leaders like Bill Gates and Google's Sundar Pichai trickled out of the Senate room throughout the first part of the day.
Tesla CEO and X owner Musk said after the summit that AI development "is potentially harmful to all humans everywhere," and called for a federal department of AI, CNBC reports.
OpenAI CEO Sam Altman, who previously appeared before Congress and called for regulation, said in prepared remarks per the Washington Post: "We need government to lead, and we look forward to partnering with you."
What they're saying: "We come out of that room exhilarated. This was an amazing and historic experience where we learned so much, where we began our quest to deal with this so important, looming issue, AI," Schumer said.
"I asked everyone in the room, does government need to play a role in regulating AI? And every single person raised their hands, even though they had diverse views. That gives us a message — we have to try to act, as difficult as the process is," Schumer said.
"I think this meeting could go down in history as important to the future of civilization," Musk said, per CNBC.
Yes, but: Schumer, who told reporters future forums could be open to the public, is facing criticism about the closed-door nature of the first event, and the fact that senators couldn't ask questions directly to the CEOs.
"They're sitting at a big roundtable, all by themselves, and all of the senators are sitting there, and ask no questions, that's what's happening," Sen. Elizabeth Warren (D-MA) told reporters.
Zoom in: One theme that emerged from senators and attendees was maintaining U.S. leadership on the global stage.
"I believe it's better that the standard is set by American companies that can work with our government to shape these models on important issues," Zuckerberg, CEO and co-founder of Meta, said in a copy of his prepared remarks.
Go deeper... Exclusive survey: Experts favor new U.S. agency to govern AI
Go deeper