Senators eager to legislate post 'historic' AI-forum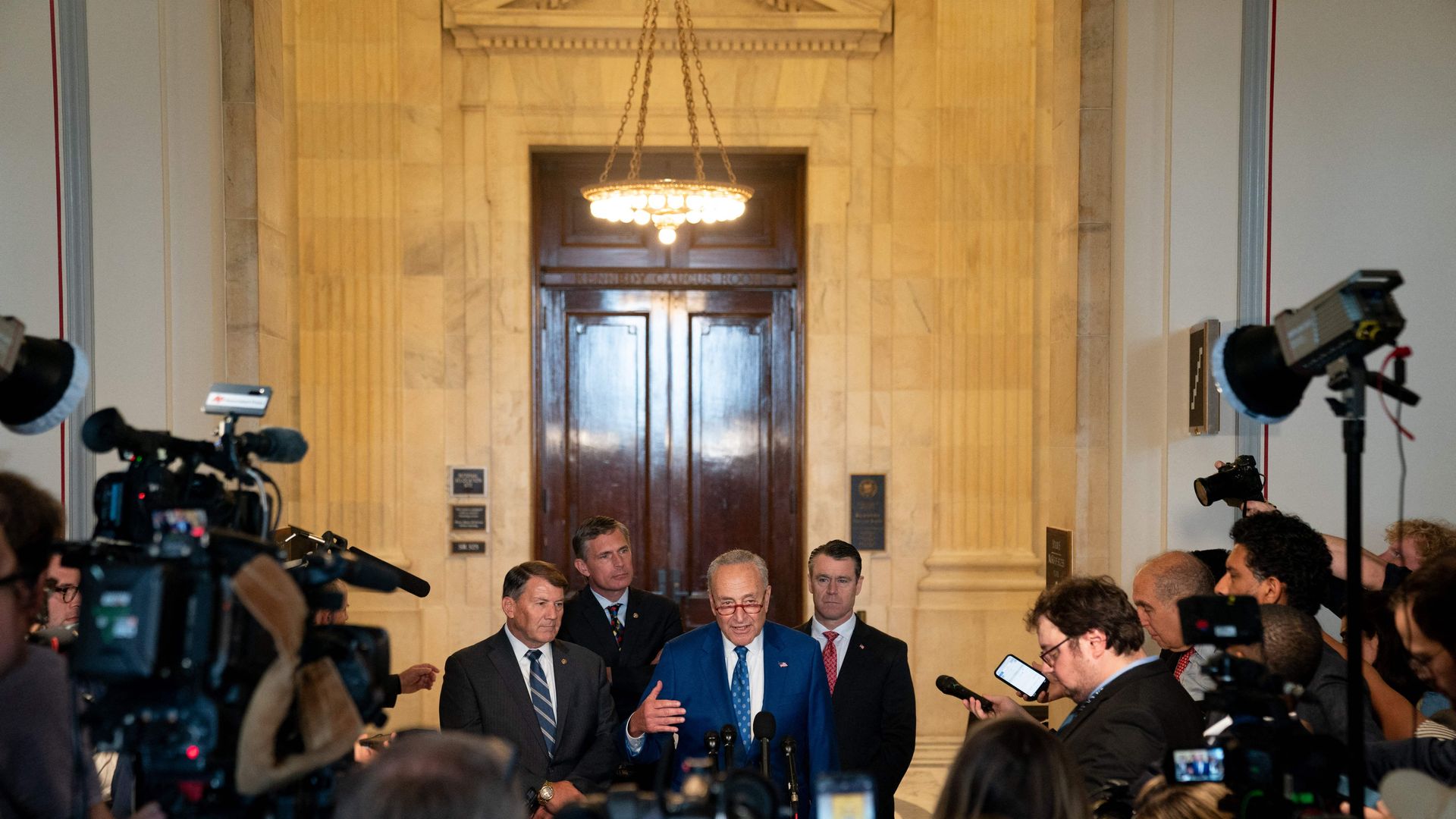 Senators walked out of Majority Leader Chuck Schumer's inaugural AI insight forum on Wednesday talking about the urgent need to pass legislation to regulate the fast-moving technology.
What's happening: More than 60 senators showed up to the morning session, Schumer told reporters following the closed-door briefing.
High-profile tech leaders like Bill Gates and Google's Sundar Pichai trickled out of the Senate room throughout the first part of the day, and X's Elon Musk briefly addressed the press outside of the Capitol.
Schumer said: "We come out of that room exhilarated. This was an amazing and historic experience where we learned so much, where we began our quest to deal with this so important, looming issue, AI."
What they're saying: "I asked everyone in the room, does government need to play a role in regulating AI? And every single person raised their hands, even though they had diverse views. That gives us a message — we have to try to act, as difficult as the process is," Schumer said.
"There's a great deal of interest in acting. And one thing that was also clear in the presentations is that this is moving very fast and government needs to act a whole lot faster than it ever has in the past," Sen. Gary Peters told Axios.
Senators also recognized that moving too fast could have unintended consequences: "If you go too fast [on legislation] you could ruin things. The EU went too fast, now they have to pull back," Schumer said, adding legislation won't cross the finish line in days or weeks "nor should it be years."
Commerce Committee Chair Maria Cantwell said AI legislation can get done in the next year.
Reality check: Schumer in his opening remarks said work on AI is just beginning, but various frameworks and bills are already floating around Congress.
Schumer's forums don't mark the start of putting pen to paper on AI. But they may serve as a way to keep the momentum going and get a law on the books.
Legislative work will ultimately happen at the committee level:
Cantwell said the forum is speeding up her panel's process because they're gathering a lot of input from key players.
Peters, who has largely been focused on the federal government's use of AI as chair of the Homeland Security & Governmental Affairs Committee, noted several of the bills he's worked on have already passed.
Yes, but: Schumer, who told reporters future forums could be open to the public, is facing criticism about the closed-door nature of the first event and the fact that senators couldn't ask questions directly to the CEOs.
"They're sitting at a big roundtable, all by themselves, and all of the senators are sitting there, and ask no questions, that's what's happening," Sen. Elizabeth Warren told reporters.
"The American people know we have got to have some changes here... Those companies in there are the only ones who get the special treatment, that is because there's Section 230 [of the Communications Decency Act]. We need a tech industry bill that addresses that head on," she said.
Zoom in: One theme that emerged from senators and attendees was maintaining U.S. leadership on the global stage.
"I believe it's better that the standard is set by American companies that can work with our government to shape these models on important issues," Meta CEO Mark Zuckerberg said, according to a copy of his prepared remarks.
Other notable parts of the forum, according to Schumer:
CEOs said government funding is needed for "transformational" innovations that could help cure cancer, combat hunger or bolster national security.
There was agreement that the government is also the only entity that can put in the guardrails needed for "sustainable" innovation that negates harms.
Some companies have taken voluntary steps to develop "responsible AI." But not all companies will do that, so it's "100 percent clear" more government intervention will be needed to mitigate harms like bias.
What's next: Another session scheduled for Wednesday afternoon will allow senators, officials and groups to dig deeper into regulatory questions, such as licensing.
Meanwhile, Schumer said he has spoken with House Speaker Kevin McCarthy and he was "encouraging" about the prospect of bipartisan work on AI.
Go deeper