Synagogues are doing active shooter training amid rise in antisemitism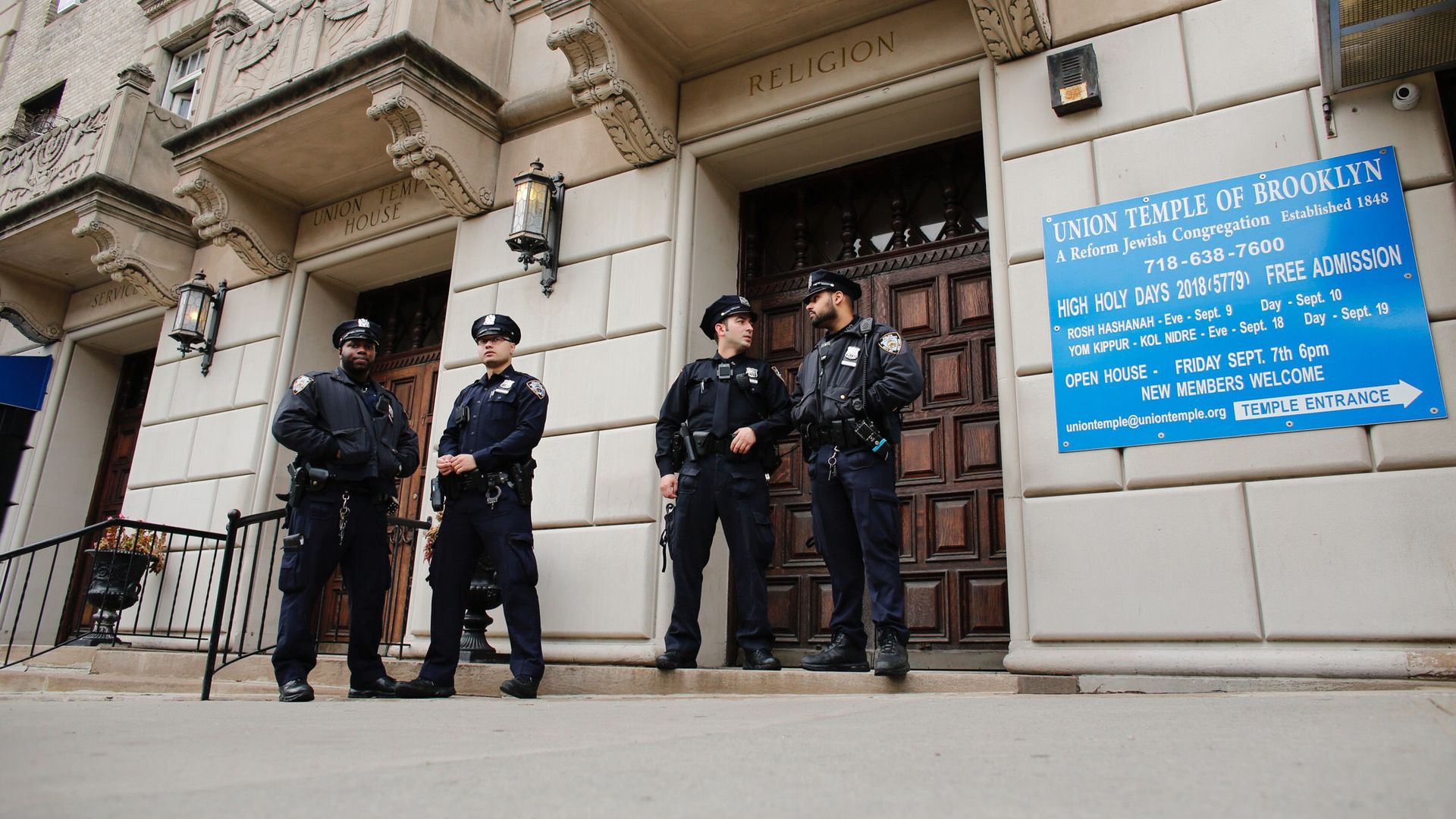 Synagogues across the U.S. are taking part in security training to protect themselves and their congregants ahead of the Jewish high holidays beginning this week.
Why it matters: Jewish communities across the U.S. are contending with rising antisemitism that has sharpened fears in recent years of being attacked or harassed.
Antisemitic incidents in the U.S. reached a record high in 2o22 according to the Anti-Defamation League. So far, the U.S. is on track to beat that record in 2023, Russell Rosenthal, ADL's vice president of security and law enforcement, told Axios.
An ADL survey in June found that 26% of Jewish respondents said they'd experienced online harassment in the past 12 months, up from 21% in the 2022 survey.
The big picture: "We've seen such an alarming increase in antisemitic incidents and extremist rhetoric in the last few years," Rosenthal said. "We've seen this rhetoric spill over into real life actions," he added.
While the ADL recorded 3,697 antisemitic incidents in 2022, it has already recorded more than 1,800 incidents in the first six months of 2023, Rosenthal said.
"It's a spike and unfortunately that is becoming the norm," he said.
State of play: The Secure Community Network — whose members include Jewish security experts and religious leaders — has hosted nine webinars in August and September that include guidance on dealing with bomb threats, suspicious packages, and severe bleeding.
A variety of security organizations regularly provide security trainings to synagogues and other Jewish institutions across the country, Rosenthal told Axios.
These include active shooter and situational awareness trainings, and more recently, trainings on how to handle swatting incidents, he added.
In 2021, the Jewish Federations of North America launched a $130 million initiative to ensure that Jewish communities across the U.S. and Canada had state-of-the-art communal security programs, AP reported.
As of August, 103 Jewish federations in both countries have instituted programs based on Secure Community Network standards, per AP.
The SCN's work goes beyond active shooter drills, but also includes installing security cameras and alarm systems at synagogues, Jewish community centers, day schools or assisted living facilities, per CNN.
Context: Efforts to expand security measures at Jewish institutions have ramped up in recent years but are not necessarily new.
The surge in antisemitism has also been punctured by high-profile incidents, including a hostage standoff at a Texas synagogue last year and the 2018 Tree of Life Synagogue shooting — which marked the deadliest attack on Jews in U.S. history.
In fact, Rabbi Charlie Cytron-Walker, one of the people taken hostage in the Colleyville, Texas synagogue, later credited his survival to past security training.
"Being aware and being prepared" with these kinds of trainings can help reduce anxiety and allow people to continuing worshipping, Rosenthal said.
Zoom out: More recently, antisemitism and other forms of hate speech have been laid bare in a changing online environment.
Regarding the factors at play in the persistent rise of antisemitism, Rosenthal pointed to the "normalization of the rhetoric and also the ability for extremists to use social media platforms to amplify their message without very much consequence."
Under Elon Musk, X, the platform formerly known as Twitter, has loosened some restrictions on hate speech.
A June report from the Center for Countering Digital Hate accused the platform of not removing posts from verified users that contained hateful content. X has filed a lawsuit against the center.
A dispute between Musk and the ADL also emerged this month. Early last week Musk accused the nonprofit of being responsible for X's slump in advertising revenue and threatened to file a defamation suit against the ADL.
"It is profoundly disturbing that Elon Musk spent the weekend engaging with a highly toxic, antisemitic campaign on his platform," ADL CEO Jonathan Greenblatt said of Musk's remarks.
Musk has insisted that he is "pro free speech, but against anti-Semitism of any kind." In a blog post Friday, X outlined its commitment to combatting antisemitism on the platform.
"The words are good but, ultimately, actions speak louder than words," the ADL responded.
Go deeper