Book reveals Elon Musk's secret deal with Jack Dorsey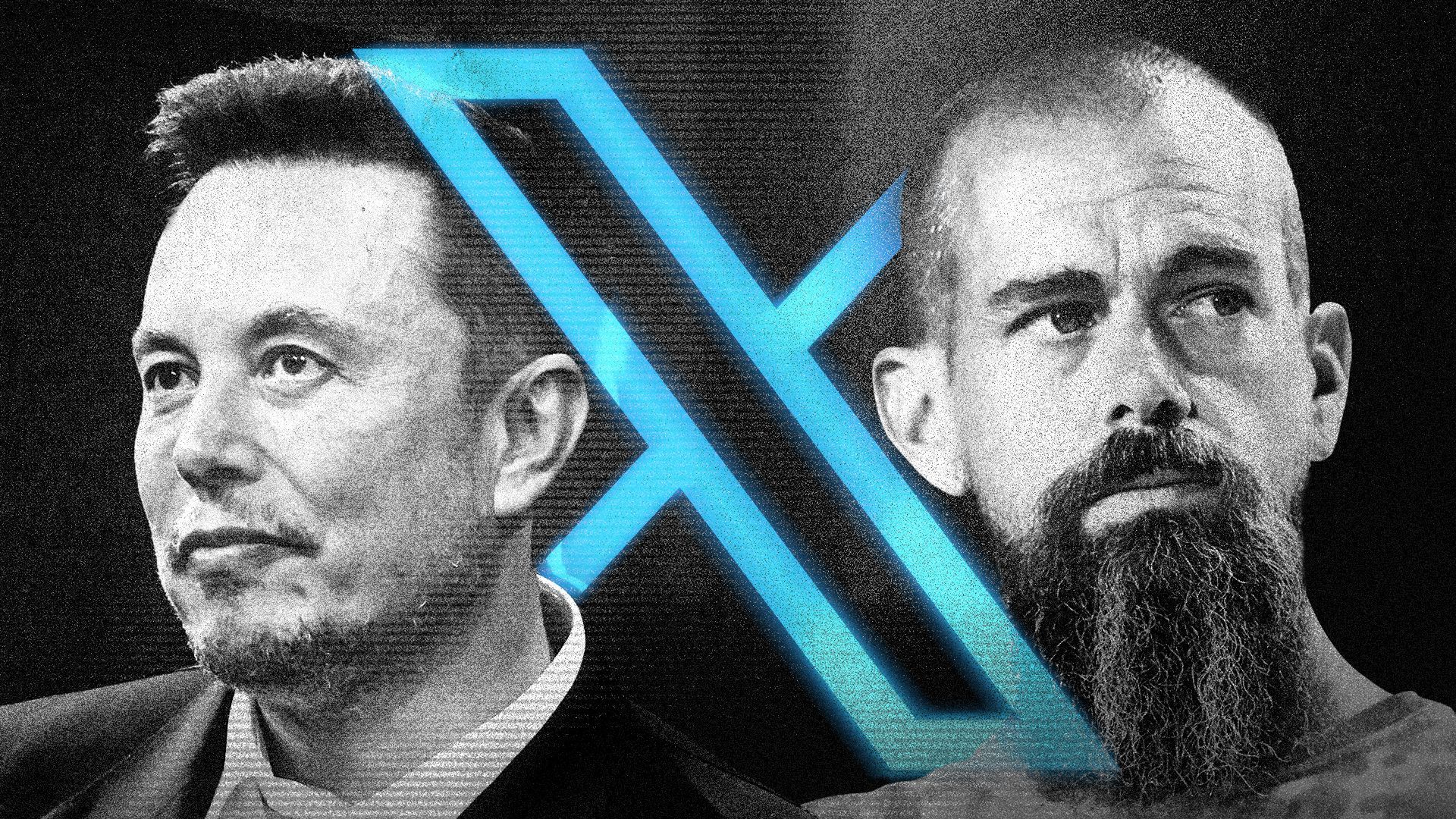 Jack Dorsey had second thoughts about supporting Elon Musk's takeover of Twitter, so Musk made Dorsey a secret offer he couldn't refuse, according to the new Musk biography by Walter Isaacson.
Why it matters: The revelation helps fill in some blanks about the financial relationship between Dorsey and Musk, who were longtime acquaintances and mutual admirers.
In fact, the former Twitter CEO had suggested to his successor, Parag Agrawal, that Musk be added to the social network's board of directors — well before the buyout talks began.
Dorsey also was part of a Twitter board that in April 2022 accepted Musk's $54.20 per share takeover offer, valuing the company at $44 billion, but no longer on that board when it sued Musk to enforce the agreement.
Most importantly, Dorsey agreed to roll his 2.4% equity stake into the buyout, which helped Musk lower his own capital contribution by around $1 billion.
As the takeover got closer, however, Isaacson reports that Dorsey began getting cold feet.
Some of his concerns were borne of Musk's impulsiveness, which threatened to destroy what Dorsey had spent so many years building.
"Musk had called [Dorsey] almost daily over the past week, reassuring Dorsey that he truly loved Twitter and wouldn't harm it."
Dorsey was also worried about his own pocketbook and future liquidity needs, despite still being that largest outside shareholder in Block (fka Square).
Musk's solution was a promise: Were Dorsey to ever need money, Musk would buy back his Twitter shares at the original takeover price of $54.20 per share. In other words, $44 billion became Dorsey's valuation floor.
Neither Dorsey nor an X spokesperson returned a request for comment on if Dorsey still holds all of his X shares.
The bottom line: Dorsey is leading a nascent social network called BlueSky, but hasn't issued many public statements on Musk's stewardship of his former company.
One exception came in July, when Dorsey tweeted: "Running Twitter is hard. I don't wish that stress upon anyone. I trust that the team is doing their best under the constraints they have, which are immense. It's easy to critique the decisions from afar…which I'm guilty of…but I know the goal is to see Twitter thrive. It will."
Go deeper