Watchdog group seeks to block Trump from Colorado 2024 ballot in new lawsuit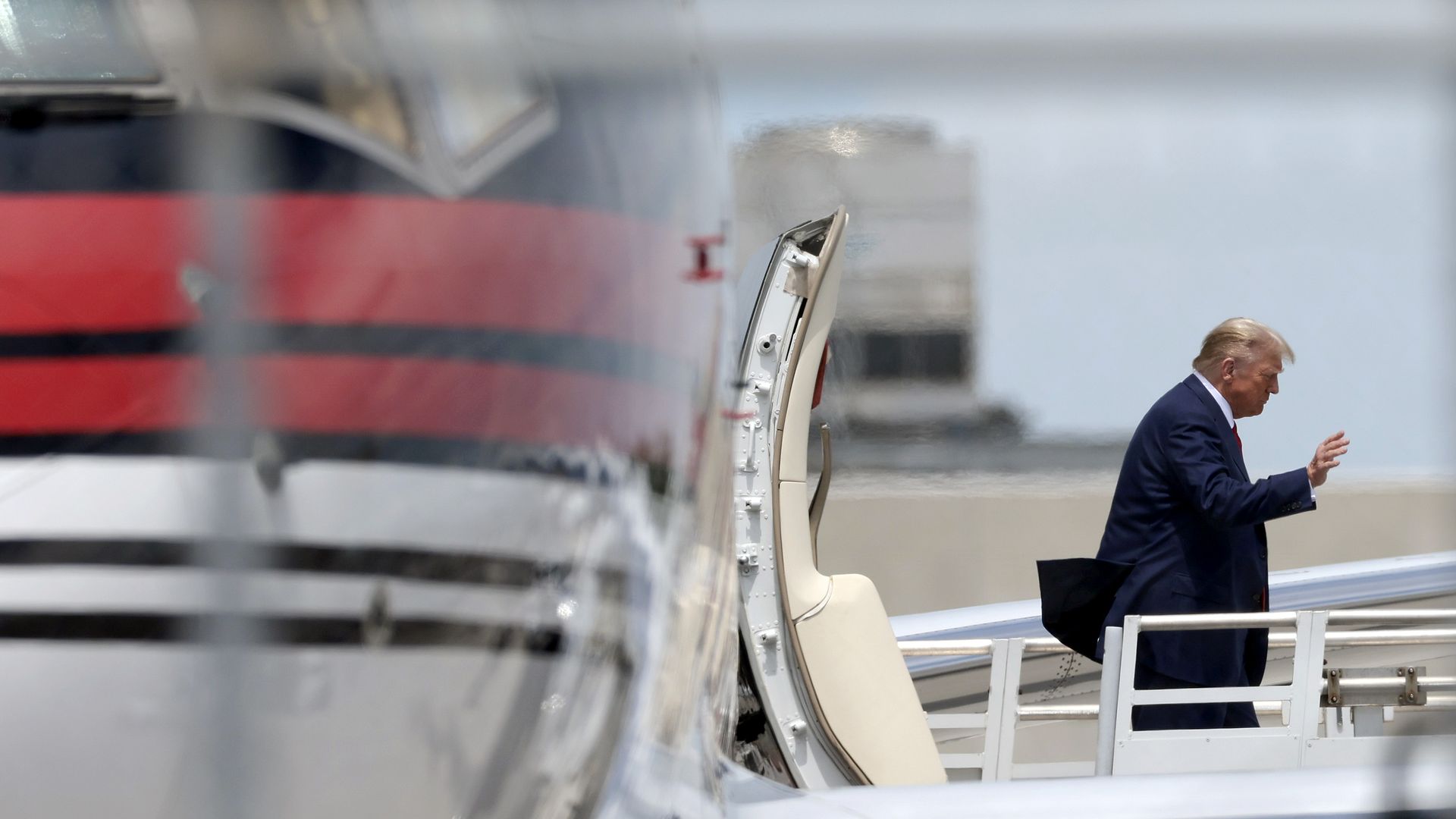 Citizens for Responsibility and Ethics (CREW) filed a lawsuit Wednesday to block former President Trump from the 2024 GOP primary ballot in Colorado, citing the 14th Amendment's stipulation on engaging in an insurrection.
Why it matters: The move comes as liberal groups and state election officials have been raising questions about whether the 14th Amendment can be used to undercut the GOP presidential frontrunner's bid.
Driving the news: The suit is centered on Trump's involvement in the Jan. 6 attack on the Capitol.
"Trump's efforts to overturn the 2020 election and interfere with the peaceful transfer of power were part of an insurrection against the Constitution of the United States," the lawsuit said.
Zoom in: Trump does not meet the qualifications to run for president, CREW argues, citing Section 3 of the 14th Amendment, called the insurrection clause.
The clause states that elected leaders cannot "have engaged in insurrection or rebellion against the same, or given aid or comfort to the enemies thereof."
Representatives for Trump have previously pushed back on Democrats' push to disqualify him under the amendment, and a spokesperson for Trump's campaign said the lawsuit is a response to his success in polls.
"The people who are pursuing this absurd conspiracy theory and political attack on President Trump are stretching the law beyond recognition much like the political prosecutors in New York, Georgia, and DC," wrote spokesperson Steven Cheung.
"There is no legal basis for this effort except in the minds of those who are pushing it," he added.
Details: CREW sued the the Colorado Secretary of State, Jena Griswold, in her role as the chief elections official.
"I look forward to the Colorado Court's substantive resolution of the issues, and am hopeful that this case will provide guidance to election officials on Trump's eligibility as a candidate for office," she said in a statement.
As of Wednesday, no candidates have qualified for the presidential primary ballot in Colorado, she said.
State of play: Efforts to use the Civil War-era amendment to disqualify Trump would play out on a state level, as the qualification to appear on a ballot for office is a function of state law.
The Constitution doesn't describe how to enforce the clause. It has been used twice since the late 1800s against former Confederates.
Context: Trump has been indicted four times in four separate jurisdictions. The former president faces 91 criminal counts.
He has pleaded not guilty and denied wrongdoing in all cases.
The big picture: Trump has used the legal cases against him to bolster his campaign and further his claims of election interference and fraud. If he's disqualified through the 14th Amendment, it could ramp up his base.
Editor's note: This story has been updated with details throughout.
Go deeper