Biden impeachment talk draws groans from GOP senators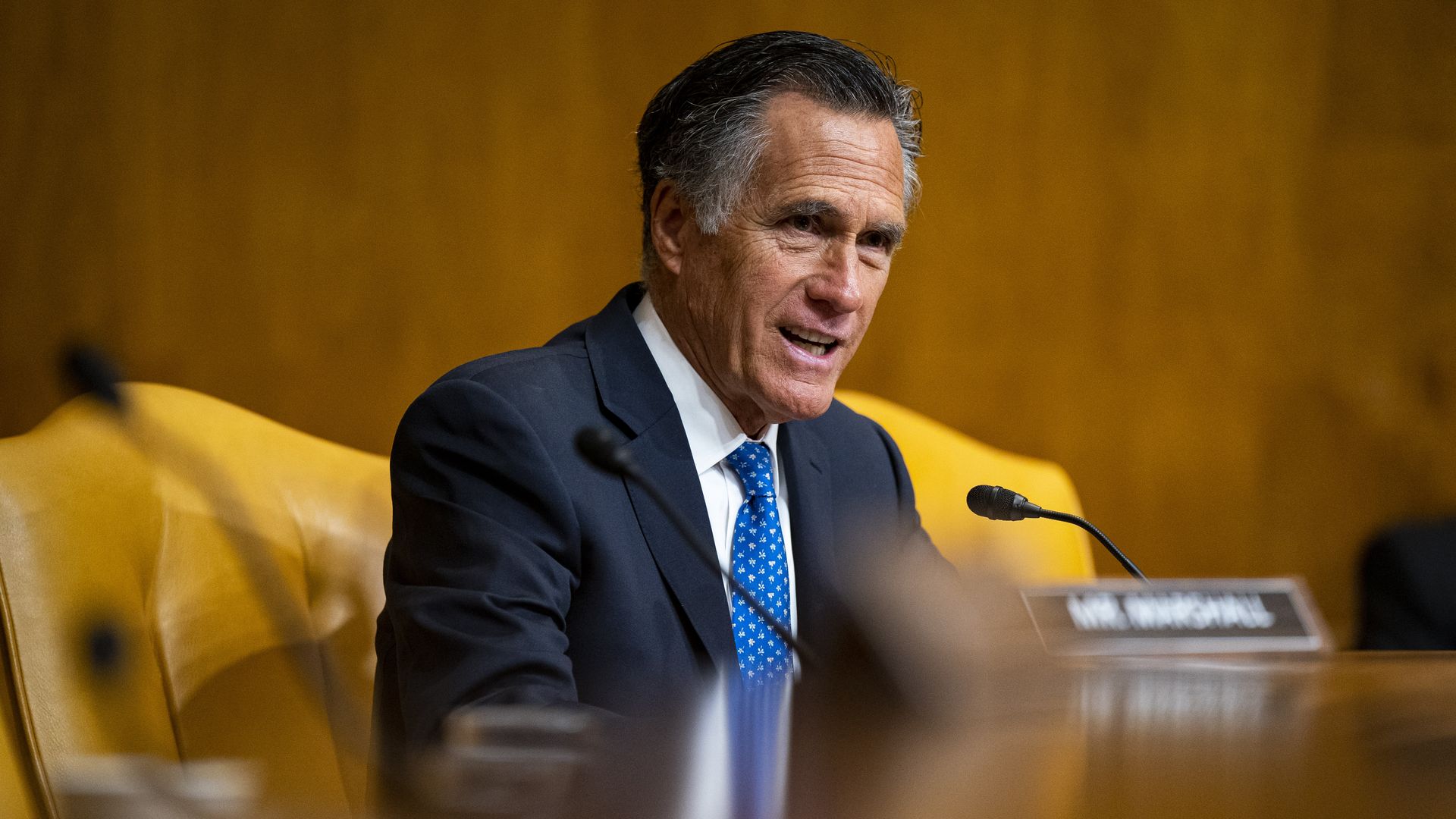 Top Senate Republicans are far from enthusiastic about the House GOP's moves toward an impeachment inquiry into President Biden.
Why it matters: Some senators say the evidence is still too thin to merit such a drastic step, while others simply don't want to go through another trial after former President Trump's historic dual impeachments.
What they're saying: Asked if she believes there is enough evidence to impeach Biden, Sen. Shelley Moore Capito (R-W.Va.), a member of Senate GOP leadership, said bluntly: "I do not."
"We've got so many things we need to be focusing on," Capito said. "I don't see the glaring evidence that says we need to move forward. I didn't see it in the Trump case, and voted against it, I don't see it in this case."
Sen. Mitt Romney (R-Utah) told Axios: "I don't know that there have been any high crimes or misdemeanors alleged. If there are, that would be a matter to consider, but until something like that is alleged, I don't know what the purpose of that inquiry might be."
"If we start converting impeachments into no-confidence votes and we don't do the homework ... then I'm not going to take it seriously," said Sen. Thom Tillis (R-N.C.), another leadership member.
The intrigue: Even Sen. Tommy Tuberville (R-Ala.), a staunch conservative, said he is "not for going through another damn trial to be honest with you. [We] did that here with Trump."
Tuberville said he is "all for" the investigation but doesn't think there is enough time to get an impeachment trial done before the 2024 election, adding, "I'll do it, but like I told them when they went after Trump ... you better have an ironclad case."
State of play: House Speaker Kevin McCarthy (R-Calif.) spent the August recess signaling plans to move toward an impeachment inquiry as part of the House's investigation into the Biden family's finances.
McCarthy said last week the House would have to vote to trigger such an inquiry, setting up a potentially fraught decision for some of his most vulnerable members.
The Senate has habitually scoffed at the House's zeal for impeachment against Biden and his Cabinet officials. "Impeachment ought to be rare," Senate Minority Leader Mitch McConnell (R-Ky.) told the New York Times last month. "This is not good for the country."
Zoom out: Other senators brushed off questions about impeachment or suggested that other issues of policy should take priority in a Congress beset by looming crises.
"I will leave it up to the House," said Sen. Lindsey Graham (R-S.C.).
"I'm focused here on the Senate trying to get some appropriations bills done," said Sen. Jerry Moran (R-Kan.).
"I think the real issue before us right now is avoiding a government shutdown," said Sen. Mike Rounds (R-S.D.).
The other side: While some Republicans like Sen. Kevin Cramer (R-N.D.) cautioned the House to take a "meticulous" rather than hasty approach, not every GOP senator is so reluctant to hit the gas.
"Listen, if there's not enough evidence to stand up a committee to conduct the investigation, there never will be," said Sen. Josh Hawley (R-Mo.).
"I certainly think the evidence is there to start looking into it," said Sen. J.D. Vance (R-Ohio).
What we're watching: Democratic Senatorial Campaign Committee Chair Gary Peters (D-Mich.) said he thinks impeaching Biden will backfire on Republicans politically.
"There's nothing there. It's pure politics," he told Axios. "People want us to focus on issues that they care about."
Go deeper