Top GOP senators bristle at House impeachment efforts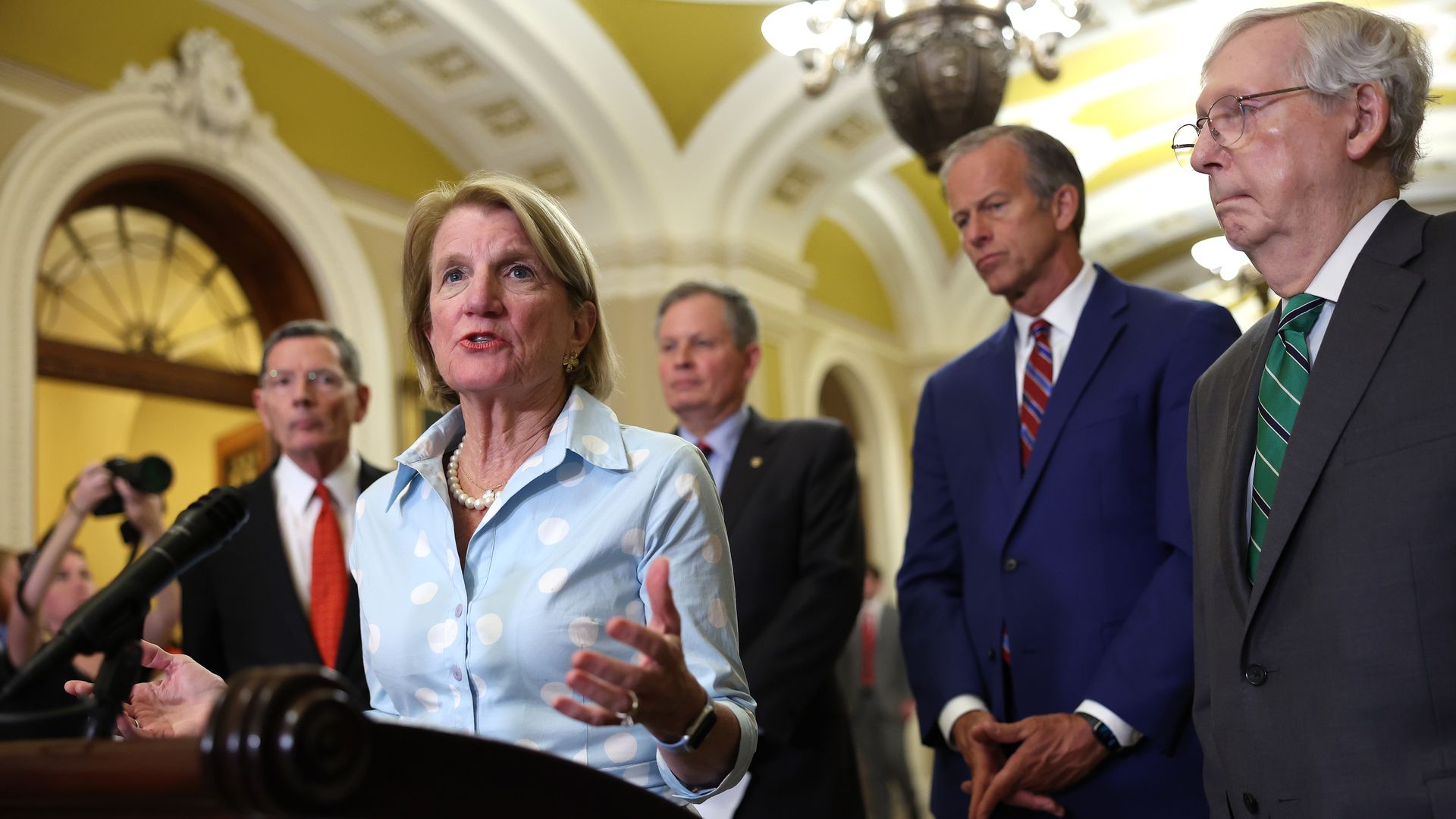 Several members of Senate Minority Leader Mitch McConnell's (R-Ky.) leadership team on Thursday expressed reluctance about potentially being drawn into an impeachment trial.
Why it matters: The upper chamber skepticism cuts against growing energy in the House GOP towards impeaching either President Biden or one of his officials.
Driving the news: The House voted Thursday to refer a resolution to impeach Biden over his handling of border security to a pair of committees.
The vote may only temporarily avert a direct impeachment as the right-wing lawmakers who yield considerable leverage over House Speaker Kevin McCarthy (R-Calif.) grow restless.
"I think the American people are interested in seeing people held accountable," Rep. Dan Bishop (R-N.C.) told Axios. "And they're tired of waiting."
What they're saying: "I don't know what they're basing the president's impeachment on. We'll see what they do. I can't imagine going down that road," Sen. Shelley Moore Capito (R-W.Va.) told Axios.
"I would agree the attention is not being paid to the border ... but, I don't know, this seems like an extremely partisan exercise," she said.
Senate Minority Whip John Thune (R-S.D.), McConnell's deputy, told Axios, "I'd rather focus on the policy agenda, the vision for the future and go on and win elections."
National Republican Senatorial Committee Chair Steve Daines (R-Mont.) told Axios he hasn't "seen evidence that would rise to an impeachable offense," but, he added, that is point of an impeachment trial.
Other Senate Republicans dismissed the matter altogether as the House's prerogative. "We don't have a choice if they send [articles of impeachment] over," Sen. Rick Scott (R-Fla.) told Axios.
"The House will handle their own business and I'm not going to try to tell them what to do," Sen. Mike Rounds (R-S.D.) told Axios. "We have lots of things that we need to get involved with to take care of the business of the country right now."
Between the lines: House and Senate GOP leadership appear to agree on a desire for a thorough investigation and committee process to play out before any impeachment vote takes place.
McCarthy yesterday sent that message to his members at a closed-door conference meeting, urging them to stop using their ability to force votes on impeachment.
"Impeachment is a serious process. It takes time. It takes evidence," Sen. Thom Tillis (R-N.C.) told Axios. "If they map out a credible timeline, and that's not something I expect to see in the next month ... I'll take a look at it."
The other side: Sen. Gary Peters (D-Mich.), the chair of the Democratic Senatorial Campaign Committee, suggested that an impeachment trial would backfire politically for Republicans.
"Which party is focused on substance and which party is focused on pure politics? And I think the American people will see the difference," he told Axios.
Go deeper