Manchins plot $100 million war chest to fix "very broken" system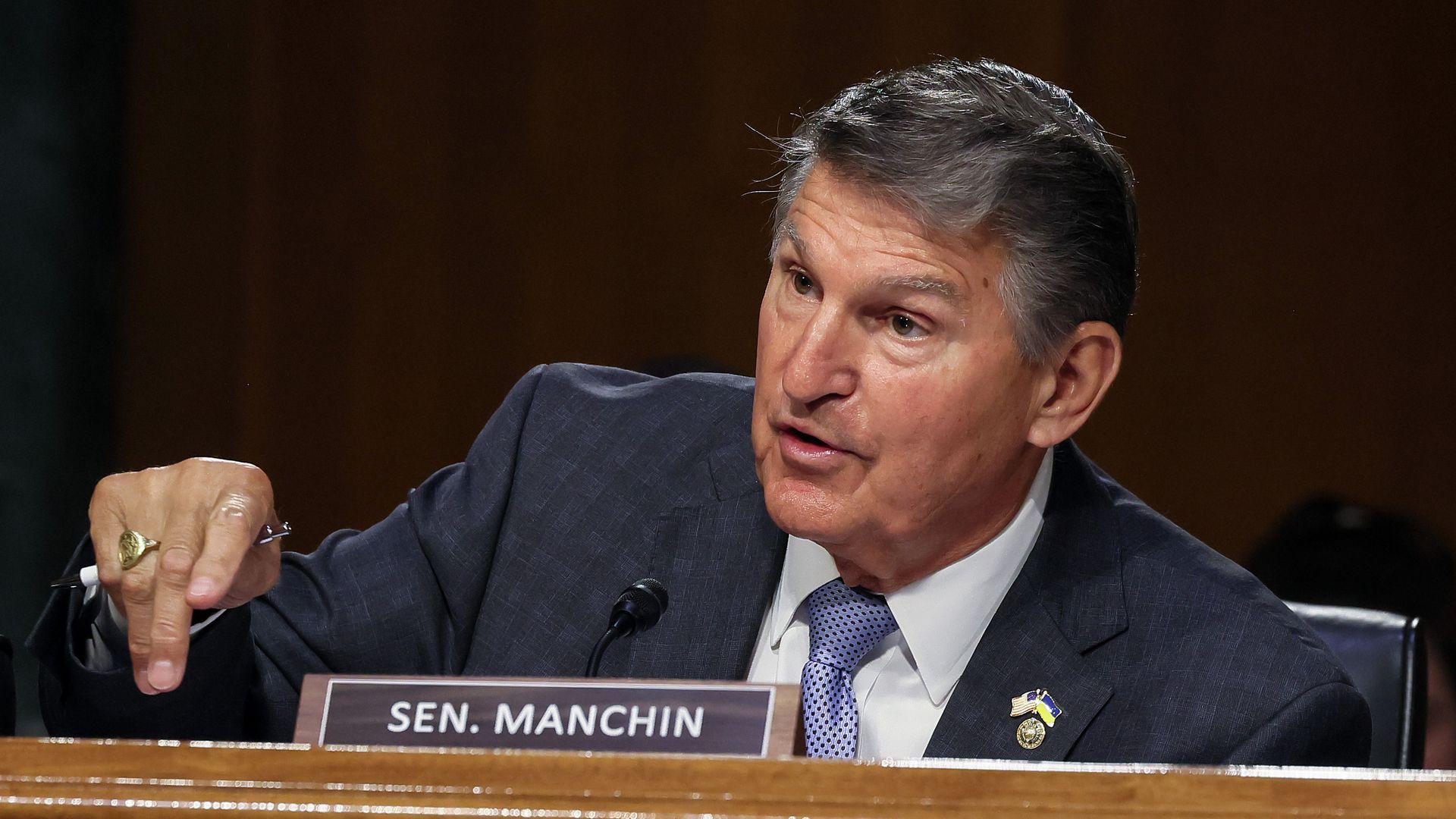 Sen. Joe Manchin (D-W.Va.) and his daughter Heather Manchin, a former pharmaceutical executive, are trying to get major donors to promote centrist policies and candidates in effort projected to cost more than $100 million, the Wall Street Journal reports.
The big picture: The effort comes after the West Virginia Democrat said earlier this month that he was "thinking seriously" about dropping his affiliation with the Democratic Party and becoming an independent, while also publicly toying with a potential third party presidential bid in 2024.
Driving the news: Heather Manchin told the WSJ that she registered a politically active nonprofit organization called Americans Together last month and plans to hire a staff in coming weeks.
She's the head of the group, which she said is not tied to her father's political prospects or possible campaigns.
The project proposes a coalition that would "mobilize the middle" and support a shift toward the political center, per a memo sent to potential donors and reviewed by the WSJ.
At least $100 million is needed "to change the national narrative and garner support for those willing to prioritize policy and country over party and politics," according to the memo.
What they're saying: "What we both very much agree on is the system is very broken and actually in deep trouble," Heather Manchin told the WSJ in an interview. "We have been thinking about what can be done to bring people together."
She said she envisions the nonprofit to be a means to give "the politically homeless a voice" at a time when many voters see the two major parties as "normalizing the extremes on the fringes."
Representatives for the Manchins did not immediately respond to Axios' request for comment.
Of note: The work of Manchin and his daughter has fueled critics who suggest they're compromised by their energy and biotech connections.
Between the lines: Manchin faces an uphill reelection battle in a state that voted for former President Trump by nearly 40 percentage points in 2020, Axios' Andrew Solender reports.
Go deeper: Joe Manchin fires back against 2024 spoiler label
Go deeper