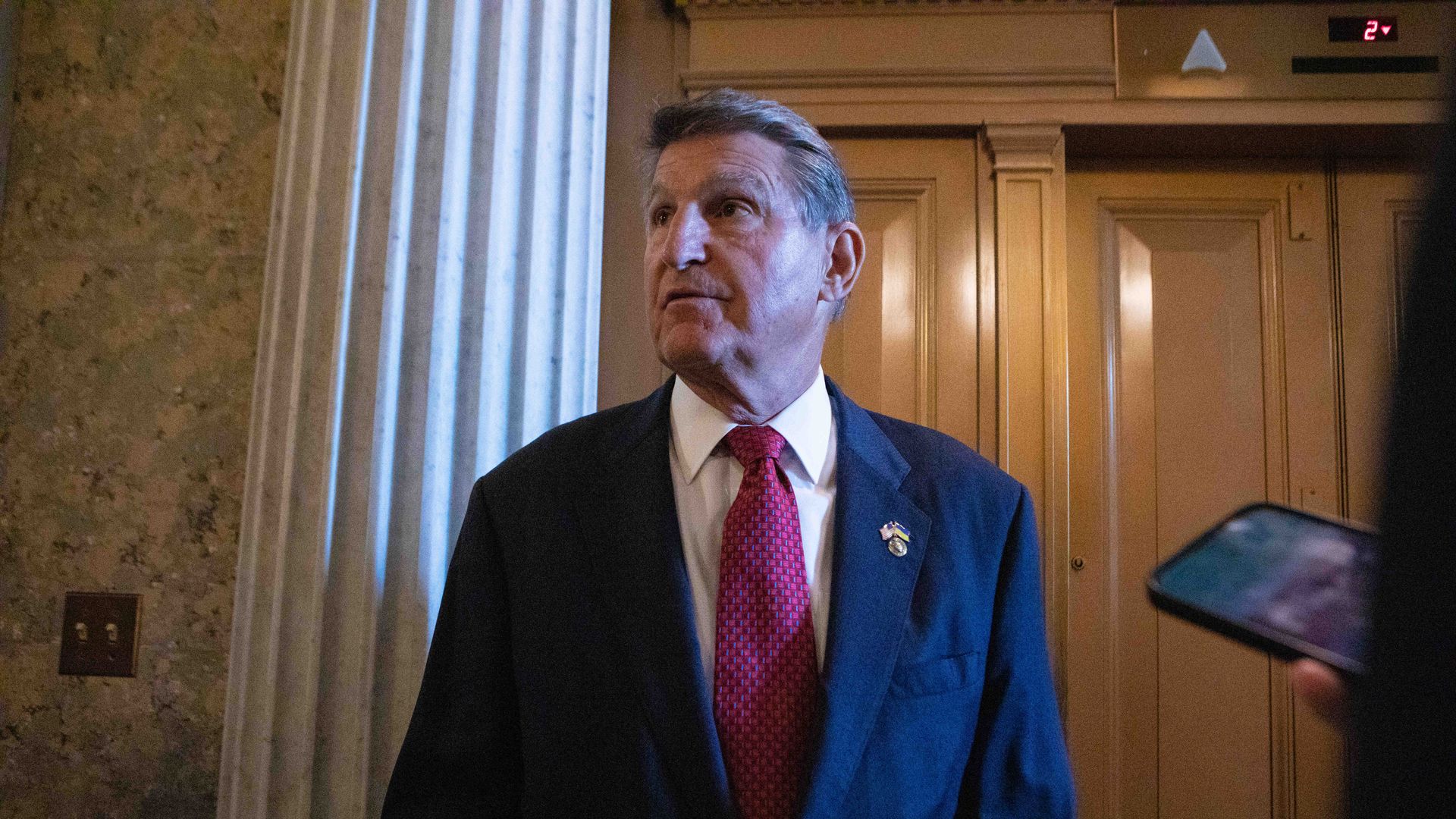 No Labels, the bipartisan group plotting an independent presidential campaign, is claiming that a new poll — commissioned by Democratic and Republican strategists determined to stop them — actually bolsters their case.
Why it matters: No Labels' response to the survey — which shows a moderate third-party candidate at roughly 20% in a three-way race with President Biden and former President Trump — is another indication that the deep-pocketed group isn't going away.
"Their poll validates our strategy and what we've been saying all along — there's an unprecedented opening for the independent ticket, a lot of room to grow and a viable path to victory," Dritan Nesho, chief pollster at No Labels, told Axios.
"It's a real insurance strategy given the weakness of and dissatisfaction with the major party candidates, especially Biden," he said.
Driving the news: No Labels is giving every indication that their leaders are dead-set on launching a third party campaign, with Sen. Joe Manchin (D-W.Va.) scheduled to headline a No Labels town hall in New Hampshire on July 17.
Alarmed — a collection of former Republican and Democratic lawmakers and top party strategists — are forming a new group, led by former House Democratic Leader Dick Gephardt, to stop them, as the Washington Post reported Tuesday.
But first the strategists wanted their own data and commissioned a poll that included 2,200 likely national voters and then 500 voters in seven swing states.
What they're saying: "When the poll came back, it confirmed our worst fears," said Joe Trippi, a veteran Democratic strategist. "It sped up the decision to form a committee and start doing what we can, to make clear the danger of what No Labels represents."
"Whether it's 38% or 43%, the die-hard Trump vote isn't going anywhere," Trippi said.
"There will not be a No Labels president — there will be a No Labels spoiler if they go through with their plan," he said.
"A third party candidacy is very, very, very likely to elect Trump," said Greg Schneiders, whose firm, Prime Group, conducted the poll.
By the numbers: Without a third-party candidate, Biden leads Trump 52%-48%, according to the poll, which was conducted June 14-28.
With one, Trump leads Biden 40%-39%. The independent takes the remaining 21%.
Those numbers are roughly the same in swing states, with the independent candidate capturing 18% in Michigan and 28% in Arizona.
The big picture: The prospect that No Labels will nominate a candidate at their April convention and gain ballot access across the country is causing an increasing amount of alarm in the Democratic Party.
"I think it is worth freaking out about because I think this election is likely to be close," Sen. Brian Schatz (D-Hawaii) told Axios. "And even if these idiots only get 3%, that could be 3% that throws the Electoral College in the wrong direction."
The centrist group Third Way, along with the progressive organization MoveOn, will brief Senate Democratic chiefs of staff on July 27 on the risk they believe a third party candidacy poses, Politico reported over the weekend.
"I haven't ruled out anything," Manchin, who played footsie with Iowa voters in May, told CNN on Wednesday.
Go deeper