In Jackson Hole, central bankers see old economic models failing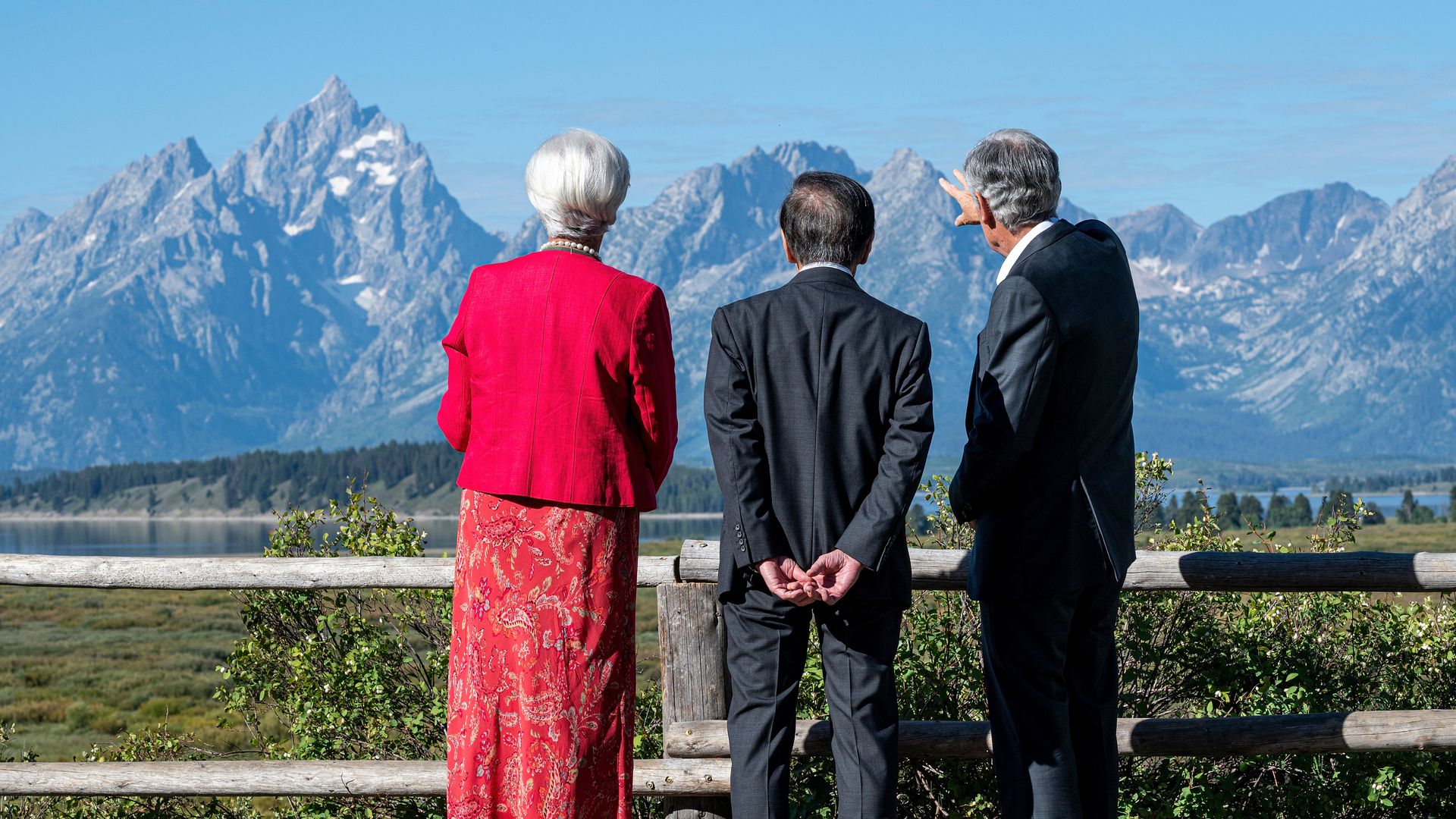 At central bankers' annual gathering in Jackson Hole, Wyoming, there was a recurring theme across formal papers, high-profile speeches and off-the-record conversations: Underlying assumptions about how the economy works that have guided policy for decades can no longer be trusted.
Why it matters: Central bankers seek a new understanding of how the post-pandemic economy works. But in the meantime, we face an era of less policy predictability and more rapid adjustments to incoming information.
It is an era of "shifts and breaks," as European Central Bank president Christine Lagarde put in a speech Friday, in which "past regularities may no longer be a good guide for how the economy works."
"[W]e are navigating by the stars under cloudy skies," Fed chair Jerome Powell said in his talk.
State of play: A series of basic concepts and relationships underpin the economic models on which modern monetary policy is based.
What is the relationship between unemployment and inflation? What is the "neutral" interest rate that neither stimulates nor slows the economy?
How does monetary policy affect the economy? How much will a given interest rate increase slow growth and inflation, and how quickly?
These are questions that policymakers could never answer with precise certainty. But in the past, they could operate with reasonable estimates that seemed stable over time.
Between the lines: The pandemic unleashed a series of seismic shifts in the world economy, with supply disruptions and higher public debt. Lagarde argued that other shifts are now underway that will create further volatility.
She mentioned historically tight labor markets; the advent of remote work and artificial intelligence; and supply disruptions due to climate change and related transformation in the energy sector.
Moreover, the rise in trade restrictions and domestically focused industrial policies may make supply chains more brittle.
Government responses to these shocks, including spending on energy transition and the military, will likely create a "phase of frontloaded investment that is largely insensitive to the business cycle."
What they're saying: "We used to complain about errors in the models, but they're larger today," Kristin Forbes, an MIT economist and former Bank of England policymaker, told Axios on the sidelines.
"We can't just trust the models to tell us what we'd like them to tell us," she said. "We have to look at incoming data and be ready to respond, and ready to respond in either direction," meaning toward either tighter or looser money as warranted.
The bottom line: "Policymaking in an age of shifts and breaks requires an open mind and a willingness to adjust our analytical frameworks in real-time to new developments," said Lagarde.
That, she said, will require "clarity, flexibility and humility."
Go deeper