Team Trump demands dibs on mug shot windfall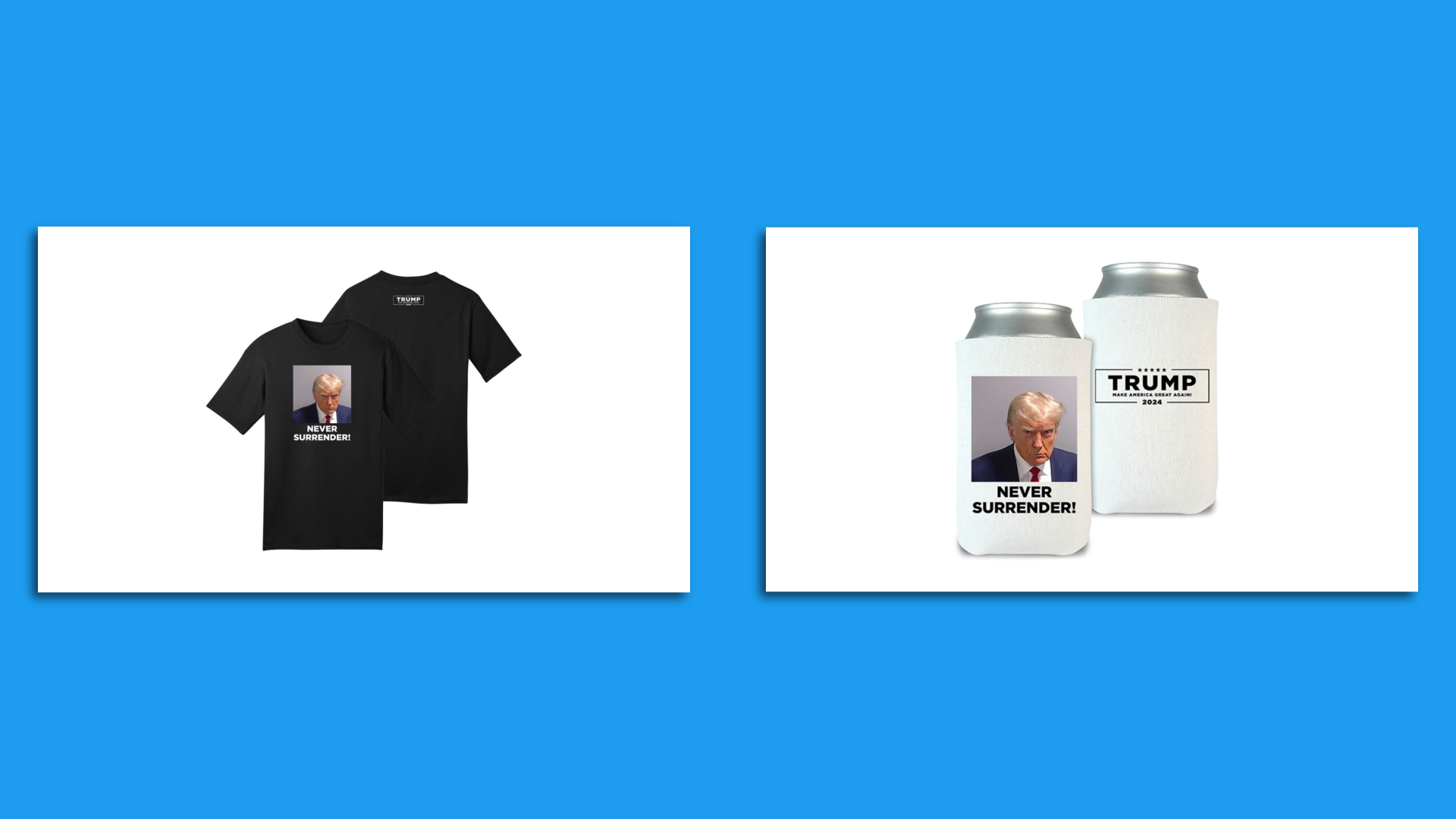 The Trump mug shot is exploding on social media — with Republicans posting their own fake mug shots to ride the wave — and now his campaign is threatening to "come after" any "scammer" who uses the image to raise money.
Why it matters: The instantly iconic mug shot — the first taken of a past or present U.S. president — "will be forever part of the iconography of being alive in this time," USC professor Marty Kaplan told AP.
Former President Trump's campaign apparatus is never one to miss a branding opportunity, and Trump faces enormous legal bills from his four indictments.
The Trump joint fundraising committee has slapped the mug shot on koozies ($15 for 2), t-shirts ($34), coffee mugs ($25), posters ($28) and bumper stickers ($12 for 2).
"If you are a campaign, PAC, scammer and you try raising money off the mugshot of @realDonaldTrump and you have not received prior permission …WE ARE COMING AFTER YOU ... you will NOT SCAM DONORS," Trump aide Chris LaCivita posted to "X" on Thursday night.
Trump knows the rocket-ship nature of the pic, breaking a two year silence to post it on "X" — then reassuring his fans that Truth Social is still his "home."
Between the lines: Astute viewers will pay attention to whether Trump's team touts its fundraising totals from this feeding frenzy.
It raised more than $5 million in the 48 hours after his first criminal indictment this year — the case brought by Manhattan DA Alvin Bragg.
Trump has pleaded not guilty to the first three indictments, and publicly said he's innocent of the fourth — which involves charges that he led a criminal conspiracy to try to overturn Georgia's 2020 election results.
Zoom in: Republicans are proudly posting their own "mug shots," ranging from photoshopped to real.
Rep. Marjorie Taylor Greene (R-Ga.) posted a photoshopped picture on "X" of herself in the Fulton County mug shot template, using the hashtag #MAGAMugshot.
So too did conservative blogger Jim Hoft and pro-Trump activist Amy Kremer.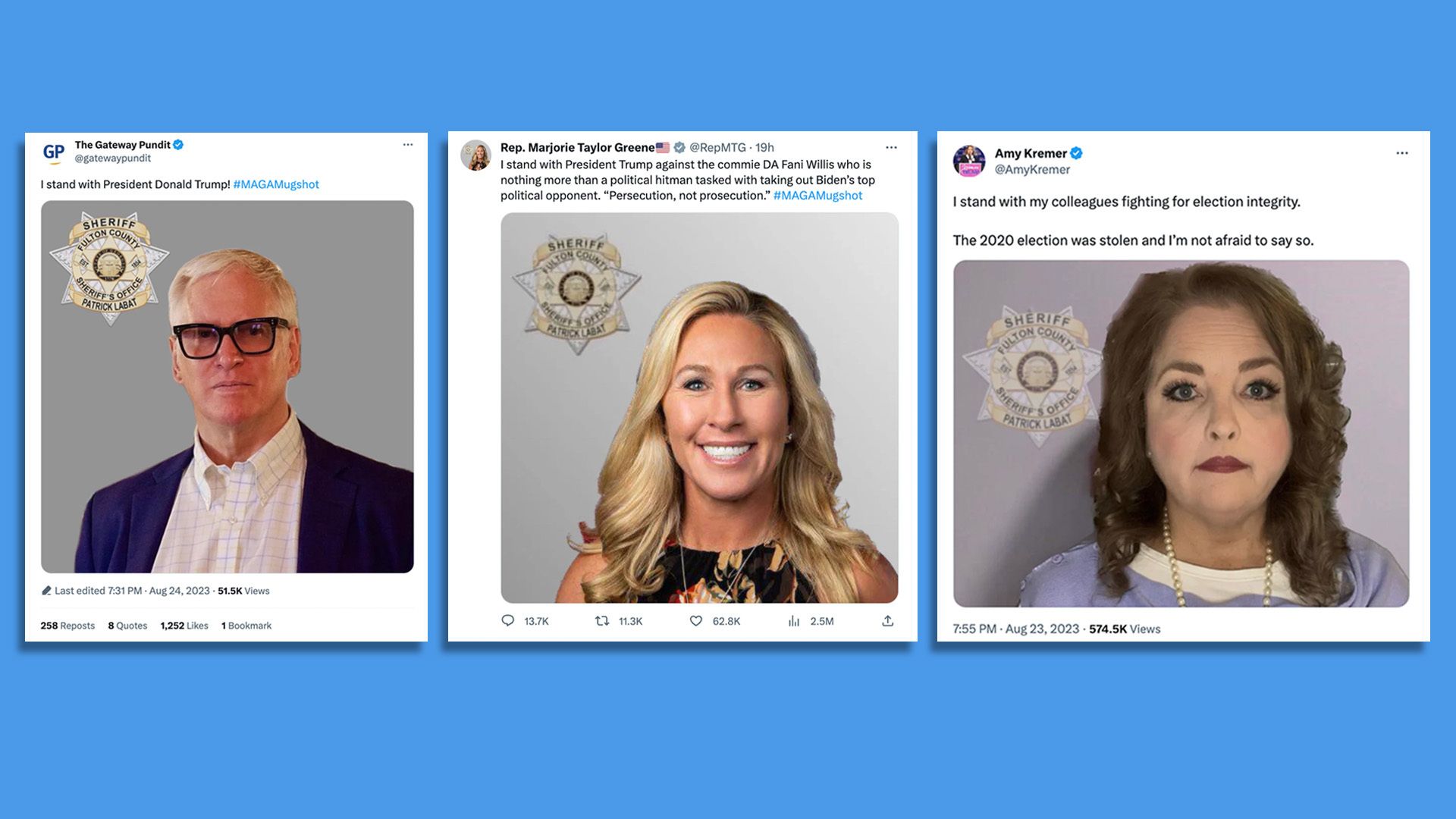 Not to be outdone, former West Virginia lawmaker and convicted Jan. 6 attendee Derrick Evans posted on "X" and Truth Social his own mug shot alongside Trump's.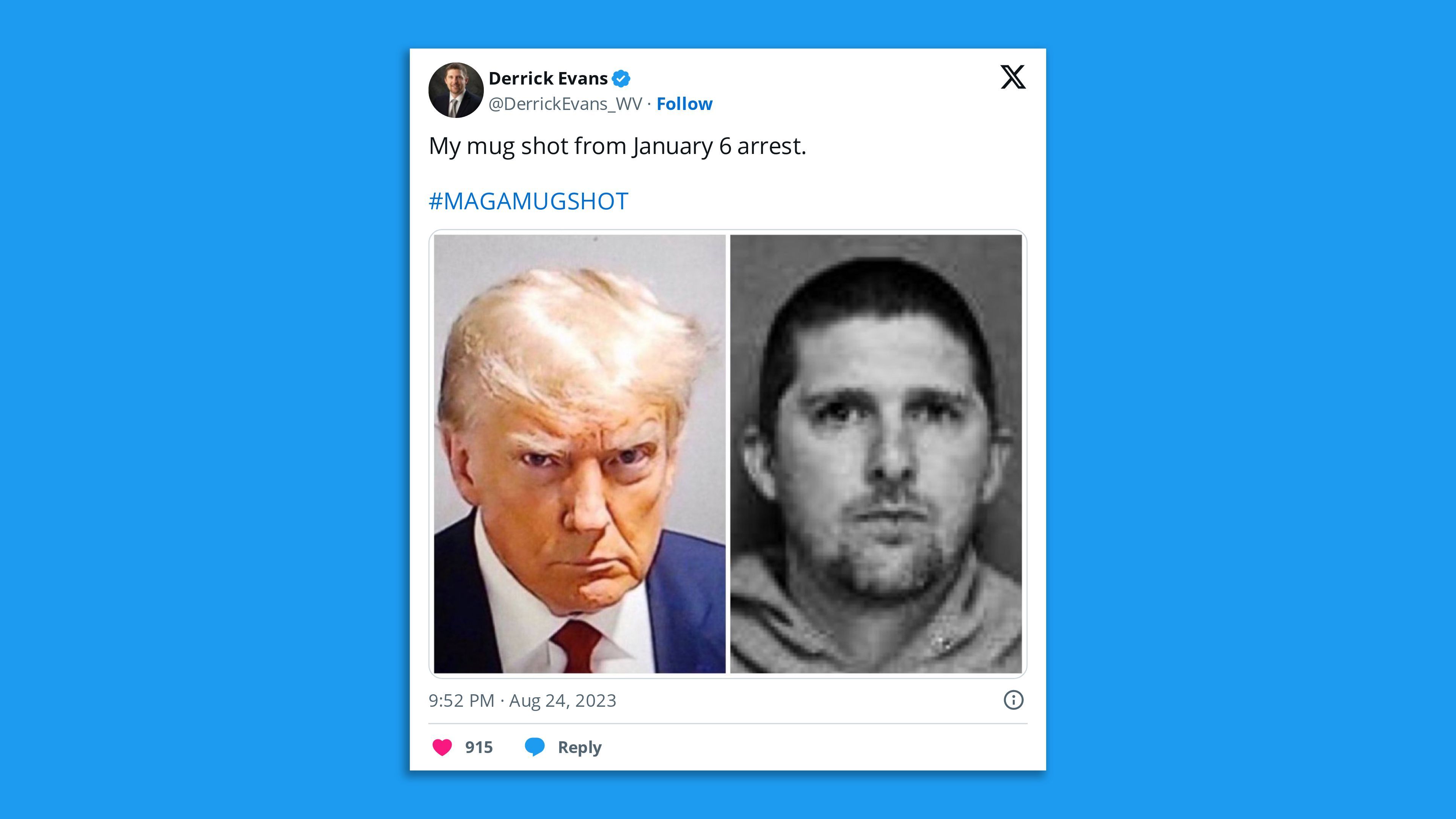 The version that Evans posted on Truth Social was promptly re-shared by Trump.
Go deeper