Analysis: Inside Alvin Bragg's ambitious Trump indictment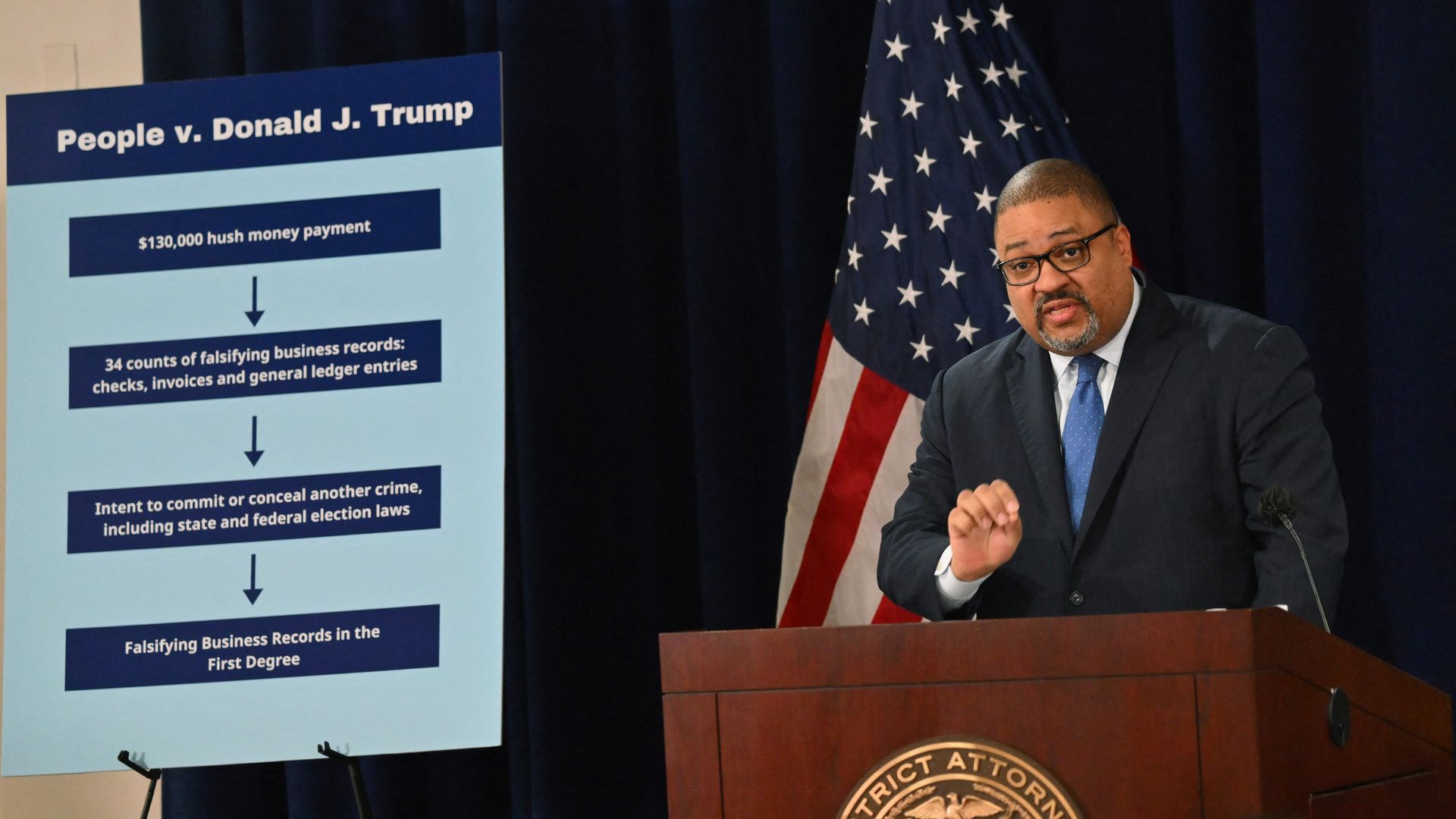 Manhattan District Attorney Alvin Bragg accused former President Trump on Tuesday not only of falsifying business records but of doing so with the explicit intent of covering up at least three other categories of crimes.
Driving the news: Those crimes, Bragg revealed at a press conference after Trump's historic arraignment, including violating New York state election law; making or causing additional false statements, including to tax authorities; and exceeding the cap on federal campaign contributions.
Why it matters: The alleged cover-up is Bragg's reasoning for charging Trump with 34 felonies, rather than misdemeanors. In order to convict, Bragg will need to prove Trump tried to conceal crimes that he has not been charged with — and that are not actually named in the indictment.
One of those potential crimes — violating federal campaign finance laws — is not in Bragg's power to prosecute as a district attorney.
The unusual legal strategy could pose a significant challenge — and may backfire in spectacular fashion if Trump is acquitted or the judge dismisses the case before it's even brought to trial.
What they're saying: "I'm not going to go into our deliberative process on what was brought. The charges that were brought were the ones that were brought. The evidence and the law is the basis for those decisions," Bragg told reporters when pressed on why the other alleged crimes were not charged.
He added that New York state law does not require him to specify the underlying crime in the indictment.
Details: The statement of facts that accompanies Bragg's 16-page indictmentalleges that three people were paid off as part of a "catch and kill" scheme that enlisted the help of Trump fixer Michael Cohen and American Media Inc., the publisher of the National Enquirer:
Dino Sajudin, a Trump Tower doorman whose identity was identified by The New Yorker, received $30,000 from AMI for the exclusive rights to a story about a child Trump allegedly fathered out of wedlock.
Karen McDougal, a former Playboy model, was paid $150,000 by AMI for the rights to a story about her alleged affair with Trump.
Stormy Daniels, a former porn star, was paid $130,000 through a shell company set up by Cohen.
The intrigue: Some Trump allies and lawyers have argued the former president paid the hush money not to protect his campaign, but to shield his wife and family from personal embarrassment.
But the indictment alleges Trump asked Cohen to try to delay paying Daniels until after the election "because at that point it would not matter if the story became public."
It also alleges Trump invited AMI CEO David Pecker to the White House for dinner in summer 2017 to thank him for his help during the campaign.
"It's not just about one payment," Bragg said in a press conference after Trump's arraignment, in which he stressed that accurate business records are especially important to Manhattan as the "financial center of the world."
"These are felony crimes in New York state, no matter who you are. We cannot and will not normalize serious criminal conduct."
Go deeper