Trump's new Georgia attorney has experience with rappers and racketeering cases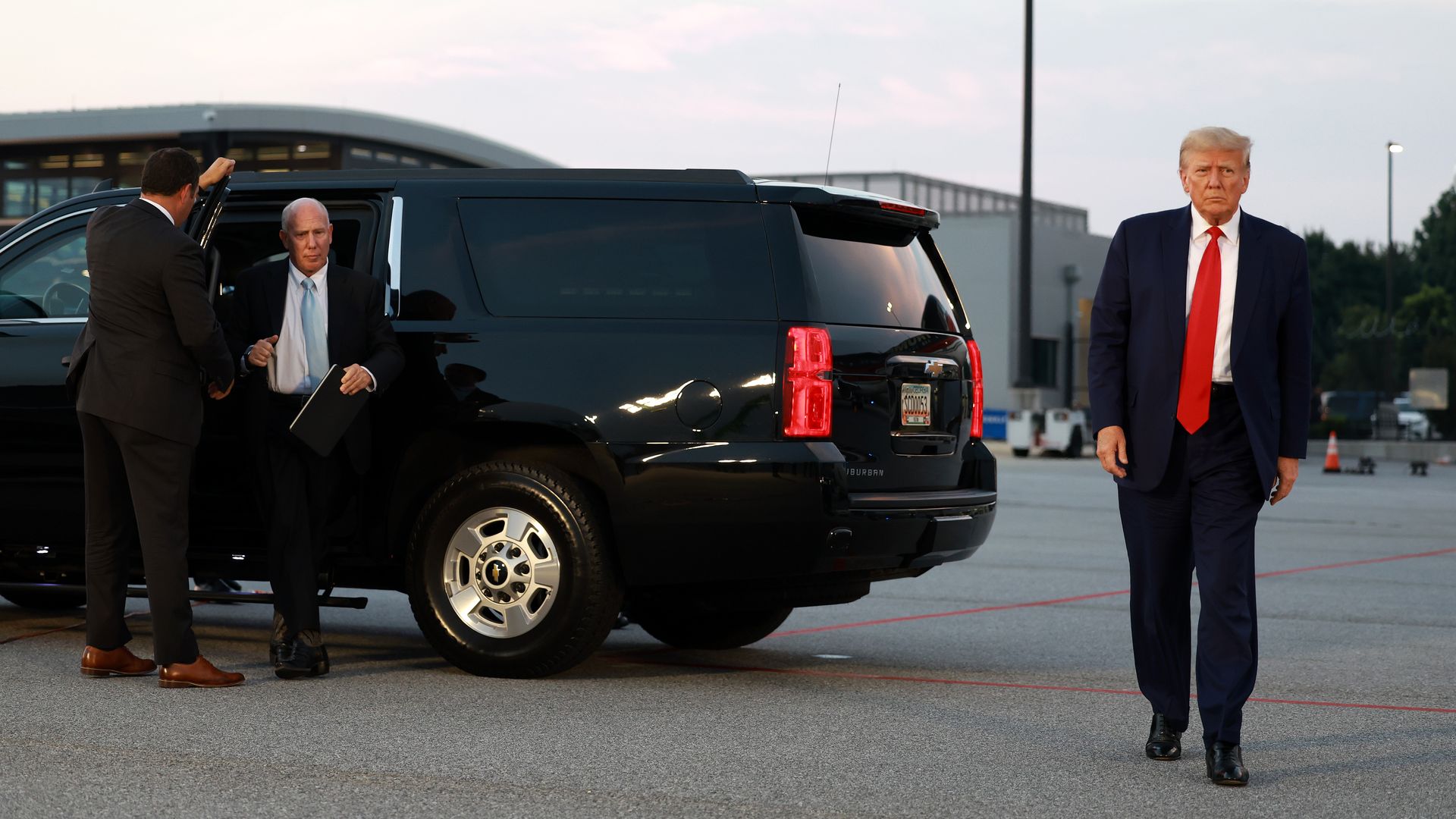 Former President Trump's high-profile Georgia lawyer is no stranger to big names or complex racketeering cases like the one his new client now faces.
The big picture: Veteran defense attorney Steven Sadow has represented the likes of Rick Ross and Usher, and has experience working cases involving the state's RICO law.
Driving the news: Sadow joined Trump's legal team before the former president surrendered to authorities on Thursday.
Trump's fourth indictment is a sprawling case centered on alleged efforts to flip Georgia's 2020 election results.
What's happening: Sadow, now Trump's lead attorney, is a special counsel for white-collar and high-profile defense, per his biography.
He works at Schulten Ward Turner & Weiss, LLP, a business attorney firm founded in 1986.
Sadow was admitted to the Georgia Bar in 1979 after graduating with his J.D. from Emory University.
His areas of practice include civil and criminal defense, civil and criminal fraud, white-collar defense, trials and appeals, celebrity defense and civil and criminal forfeiture.
The intrigue: Sadow was previously involved in a federal racketeering case involving the Gold Club, a "now-defunct strip club where sports stars received sexual favors," per the Atlanta Journal-Constitution.
The owner and Sadow's client entered a plea deal in 2002 and was sentenced to 16 months in federal prison.
In a more recent case, Sadow said Georgia's RICO law, the Racketeer Influenced and Corrupt Organizations Act, was overused by Georgia prosecutors, the AJC reported.
Details: Sadow's high-profile clients have included the rappers Gunna (Sergio Kitchens), T.I. (Clifford J. Harris, Jr.), and TyDolla$ (Tyrone Griffen).
He also represented Howard K. Stern, an attorney, in a dismissed case concerning the death of his partner, model Anna Nicole Smith.
Recently, Sadow has been representing a contractor involved in a city corruption scandal involving bribery and tax evasion that's been playing out slowly in federal court.
Of note: Sadow said Trump is innocent of all charges, the New York Times reported.
In 2017, Sadow said he was not a Trump supporter on the app formerly known as Twitter.
"Prosecutions intended to advance or serve the ambitions and careers of political opponents of the president have no place in our justice system," Sadow said Wednesday, per the NYT.
Flashback: Drew Findling was previously designated Trump's lead counsel, and replacing him was "a mistake," according to Anthony Michael Kreis, a professor at the Georgia State College of Law.
Go deeper: Large crowds outside Atlanta jail for Trump's historic booking
Go deeper