White House tells Ukraine, allies that Congress will back more war aid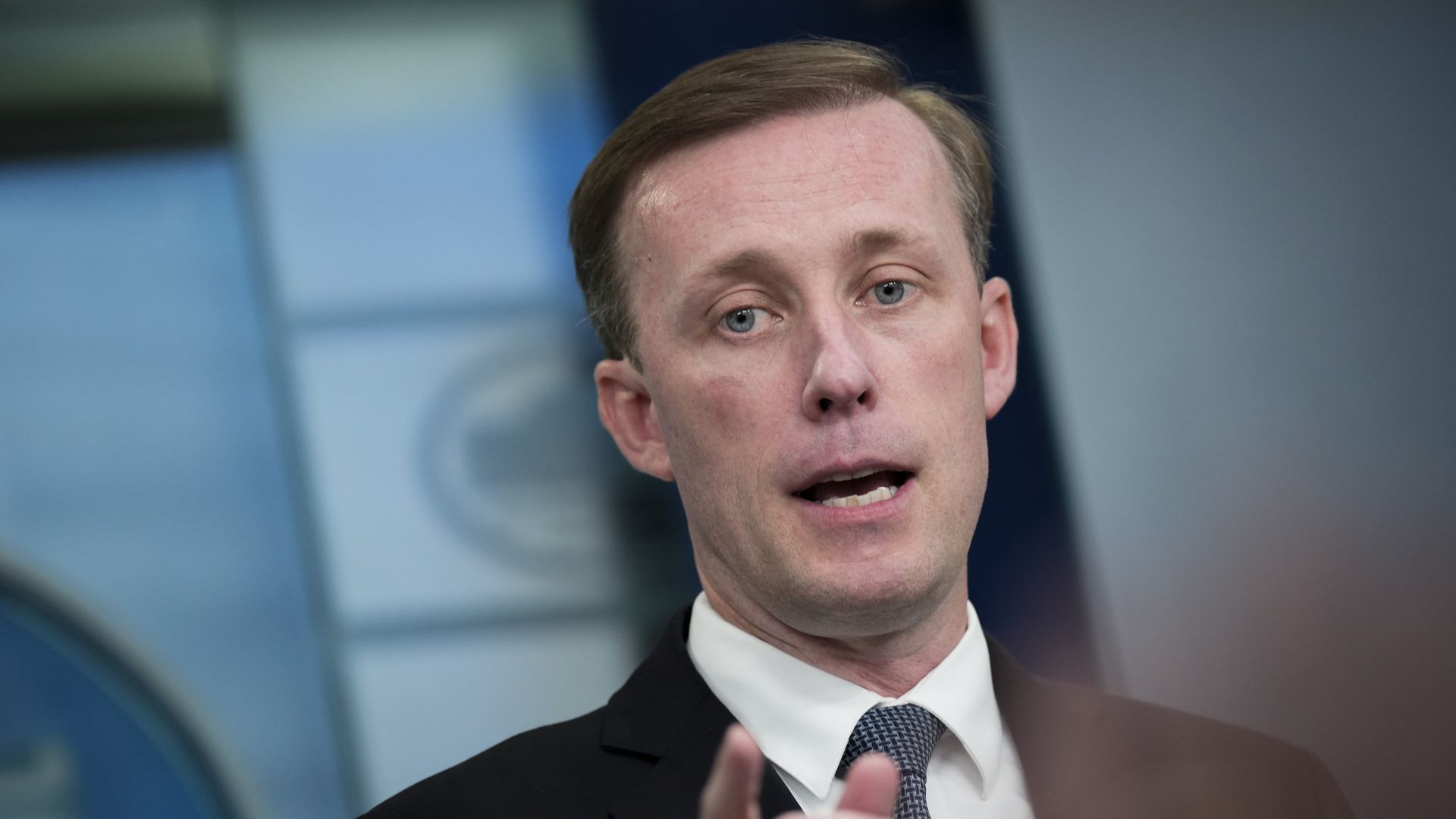 The Biden administration has told Ukraine and other European allies that despite "dissonant voices" in the Republican Party, there is bipartisan support in Congress for continued U.S. military aid to Ukraine, White House National Security Advisor Jake Sullivan says.
Why it matters: There are growing concerns in Kyiv and among U.S. allies in Europe that more and more Republicans on Capitol Hill will oppose aid to Ukraine as the 2024 election draws closer — potentially jeopardizing efforts to repel Russia's invasion there.
What they're saying: Sullivan said in a briefing Tuesday there are "strong" Republican voices in the House and the Senate "in key leadership positions" who support continuing U.S. aid to Ukraine.
"We believe that the support will be there and will be sustained," Sullivan said, despite some "dissonant voices" among Republicans.
"Our view is that (Ukraine and U.S. allies in Europe) have confidence that the U.S. will continue to be there, as we have committed to be."
Behind the scenes: An ambassador of one European country confirmed to Axios that his government has received assurances in recent days from senior U.S. officials that the Biden administration is confident it will get the support it needs in Congress to continue aid to Ukraine.
The European ambassador said his government had determined that a majority in Congress favor continuing U.S. aid to Ukraine.
The other side: A House GOP leadership aide told Axios that there may be enough votes from both parties to pass a resolution about aid to Ukraine in a "hypothetical scenario," but opposition within the party is likely too widespread for Republican leadership to allow it to go to a vote.
"I just don't see that support in the House [Republican] conference right now … We are well beyond just the Freedom Caucus talking about this," said the GOP aide, who requested anonymity to speak candidly about internal conference dynamics.
Reports of increasingly grim prospects for an all-out Ukrainian victory have been met with a tonal shift among Republicans at a time when several GOP contenders for president — including former President Trump — are calling for the U.S. to stop military aid to Ukraine.
Ukraine President Volodymyr Zelensky is "not winning. It's a stalemate now," Rep. Andy Harris (R-Md.), a co-chair of the Congressional Ukraine Caucus, told Politico last week.
"It's not a small group of people that are concerned about this," the leadership aide said. "A lot of the rank-and-file members were pretty clear: We've done what we can do, we need to focus on some of our own internal problems now."
Yes, but: Rep. Don Bacon (R-Neb.), a staunch Ukraine supporter, noted that about 70% of House Republicans backed Ukraine aid in recent votes, telling Axios, "I do think there's broad support."
Those votes were to kill right-wing measures to prohibit further security assistance to Ukraine and block $300 million in aid tucked into a defense bill — a relatively paltry sum compared to the $24 billion the Biden administration is seeking.
Bacon stressed that he differs with the administration on not sending a long-range ballistic missile system known as ATACMS to Ukraine. "These weapons have roughly 300 [kilometers] range and are accurate. Let's give weapons that can defeat Russia in Ukraine," he said.
Asked whether he thinks Republican House Speaker Kevin McCarthy's leadership team will bring Ukraine aid to a vote, however, Bacon said: "I can't speak for them."
McCarthy — who leads a narrow GOP majority in the House and has been under constant pressure from far-right conservatives to cut federal spending — seems headed toward another budget standoff with Biden over Ukraine aid.
Go deeper