How Rudy Giuliani got indicted on a law he once championed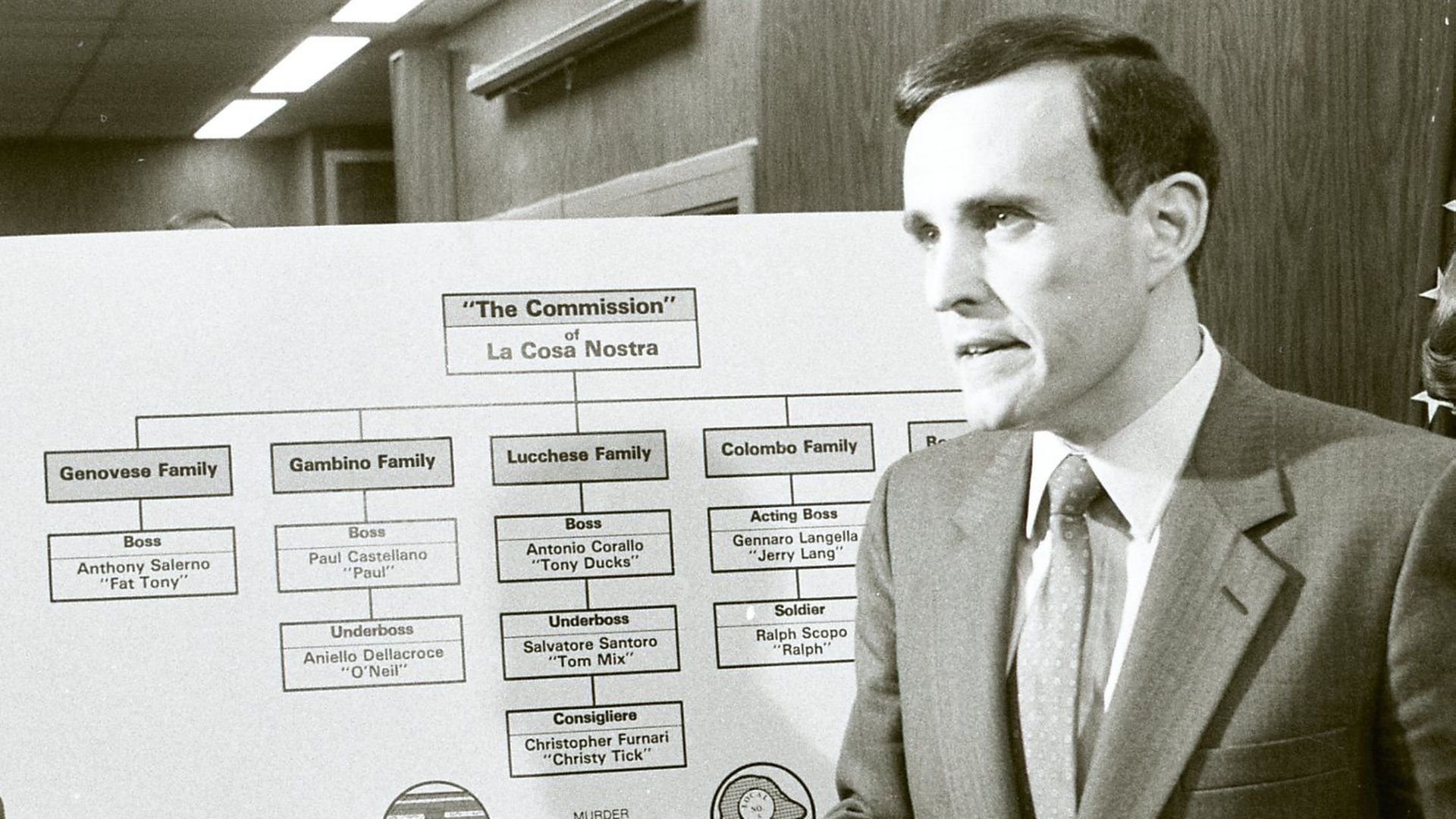 Former Trump lawyer Rudy Giuliani is facing the same law that once propelled him into the spotlight.
Why it matters: Giuliani promoted RICO as a prosecutor at the outset of his rising political career, to take down New York mob bosses. He now faces as many charges as Trump in the latest historic indictment against the former president — including criminal racketeering.
Driving the news: Giuliani is one of 18 defendants who were charged Monday in the probe into alleged efforts to flip Georgia's 2020 election results, including for allegedly violating Georgia's Racketeer Influenced and Corrupt Organizations Act, known as RICO.
What he's saying: Giuliani called the indictment "an affront to American Democracy" and said it "does permanent, irrevocable harm to our justice system."
"The real criminals here are the people who have brought this case forward both directly and indirectly," Giuliani said in a tweet after the charges were announced.
Be smart: Georgia's nearly 40-year-old law is based on the federal Racketeer Influenced and Corrupt Organizations (RICO) Act of 1970 — which was initially designed to prosecute the Mafia and organized crime bosses by stringing together cases.
A person convicted under Georgia's law faces a maximum prison term of 20 years or a fine of up to $250,000.
Flashback: While serving as U.S. Attorney for the Southern District of New York from 1983 to 1989, Giuliani used RICO to prosecute the "Five Families" — Italian American organized crime families operating across the U.S.
The indictment accused the leadership of engaging in murder and extortion, among other crimes.
The 10-week racketeering trial resulted in eight convictions. Giuliani's prosecutors convicted three mob bosses and four associates, all of whom received 100-year prison sentences.
At the time, Giuliani said that without RICO, the convictions and sentencing "might not have been possible," per the Wall Street Journal.
Of note: Giuliani used the success of the RICO prosecutions to get elected as New York City mayor.
''Using [RICO] against the [organized crime] commission, that was an idea that no one had until I developed it and went down to Washington and started talking about it," Giuliani told the New York Times in 1989.
As mayor of New York City from 1994 to 2001, he made strides to drastically reduce crime.
In the aftermath of 9/11, he became known as "America's Mayor."
Go deeper