Hawaiian Electric slapped with 3 lawsuits after deadly wildfires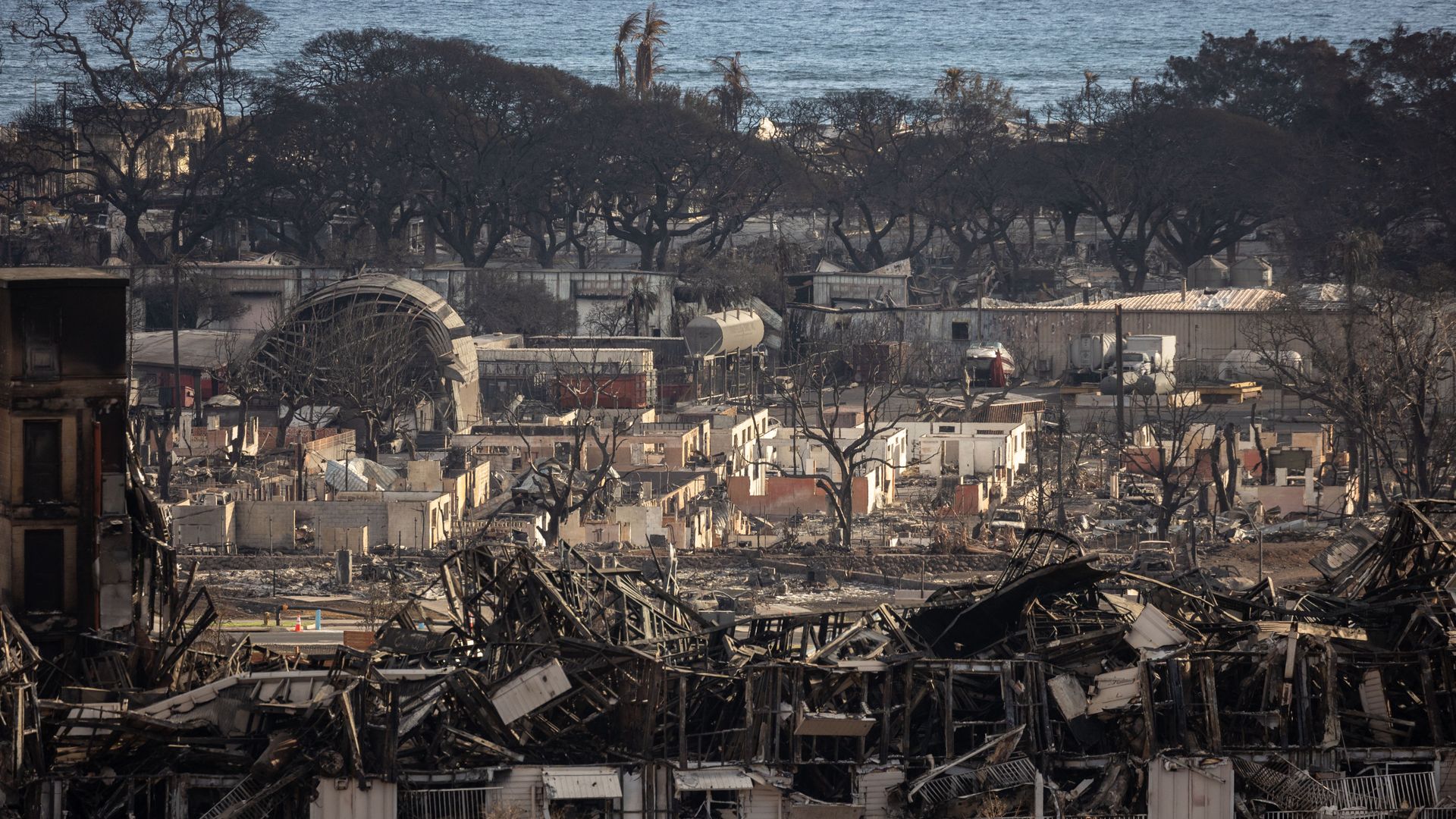 Hawai'i's primary energy provider faces at least three lawsuits, two of which seek class action status, after catastrophic wildfires devastated the state, killing at least 99 people and destroying the historic town of Lahaina on Maui.
Why it matters: What caused the wildfires remains unknown, but the lawsuits allege they were ignited by strong winds knocking down Hawaiian Electric's energized power lines.
The lawsuits are similar to those filed against Pacific Gas and Electric (PG&E) and its former executives after California's 2018 Camp Fire, which killed 85 people. Those lawsuits have cost the company billions of dollars in settlements.
Hawaiian Electric provides electricity to 95% of the state's 1.4 million residents on the islands of Oahu, Maui, Hawai'i, Lanai and Molokai, according to its website.
State of play: News of the lawsuits and the S&P downgrading Hawaiian Electric's credit rating sent the company's shares plummeting this week.
Catch up quick: The devastating, climate-change related wildfires across Hawai'i were driven by extreme winds from Hurricane Dora, which was passing hundreds of miles to the southwest.
Most of the state has also been experiencing drought conditions this summer.
Before the fires, the National Weather Service had issued a high wind watch and red flag warning over most of the state, meaning weather condition were causing an increased risk of fire danger.
The big picture: The lawsuits generally allege that despite those warnings, Hawaiian Electric continued to supply power through its electrical lines while knowing that the increased winds or falling trees could knock down utility poles and start a fire.
The lawsuits also claim that Hawaiian Electric was negligent in its construction, maintenance, inspection and operation of its overhead electrical infrastructure.
One of the lawsuits includes photos of damaged utility poles leaning into foliage or trees.
Zoom in: One lawsuit seeking class action status was filed by three Oahu-based firms on behalf of a Maui resident.
Another one seeking class action status was filed on behalf of two Lahaina residents by a Honolulu-based law firm and two firms based in California.
Singleton Schreiber, a law firm that has sued PG&E over several wildfires in recent years, is representing five people and one business in another lawsuit that is not a class action.
What they're saying: Hawaiian Electric vice president Jim Kelly told CNN on Sunday that the company will not comment on pending litigation.
However, he did say that Hawaiian Electric did not have a formal shutoff program in place and that preventative shutoffs could not be made without input from first responders.
Go deeper: Why the Maui wildfires were so deadly
Go deeper