What to know about Hawai'i's catastrophic wildfires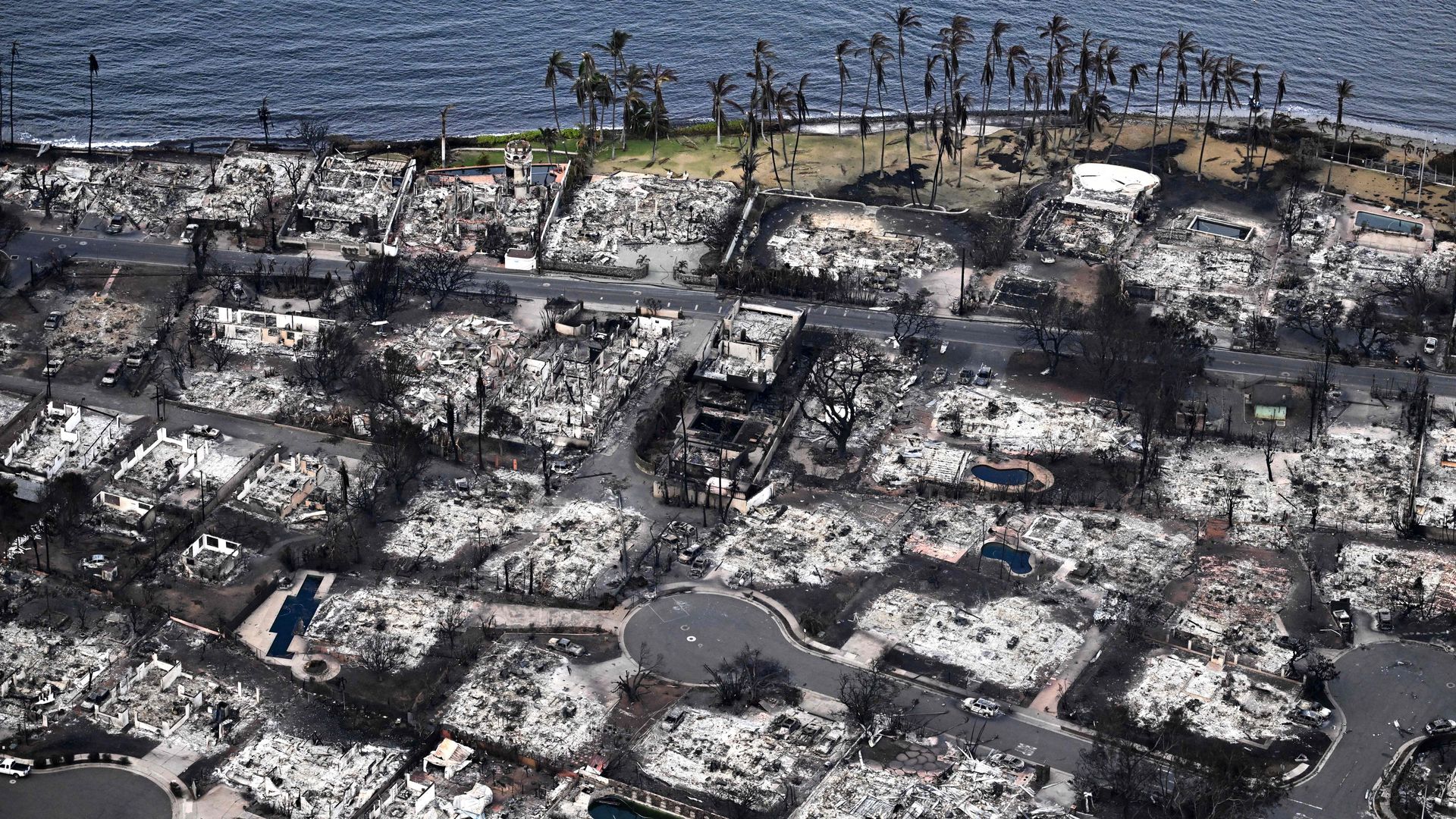 Authorities in Hawai'i are still searching for survivors of this week's destructive wildfires, which killed at least 106 people and injured dozens more on Maui Island. Officials expect the death toll to rise.
The big picture: The fires are the deadliest in the U.S. in over a century, surpassing the toll from California's 2018 Camp Fire, which killed 85.
Hawai'i Gov. Josh Green has ordered a "comprehensive review" into the fires on Maui Island.
He said at a briefing Sunday the blaze that destroyed most of the historic town of Lahaina was "the largest natural disaster in our history."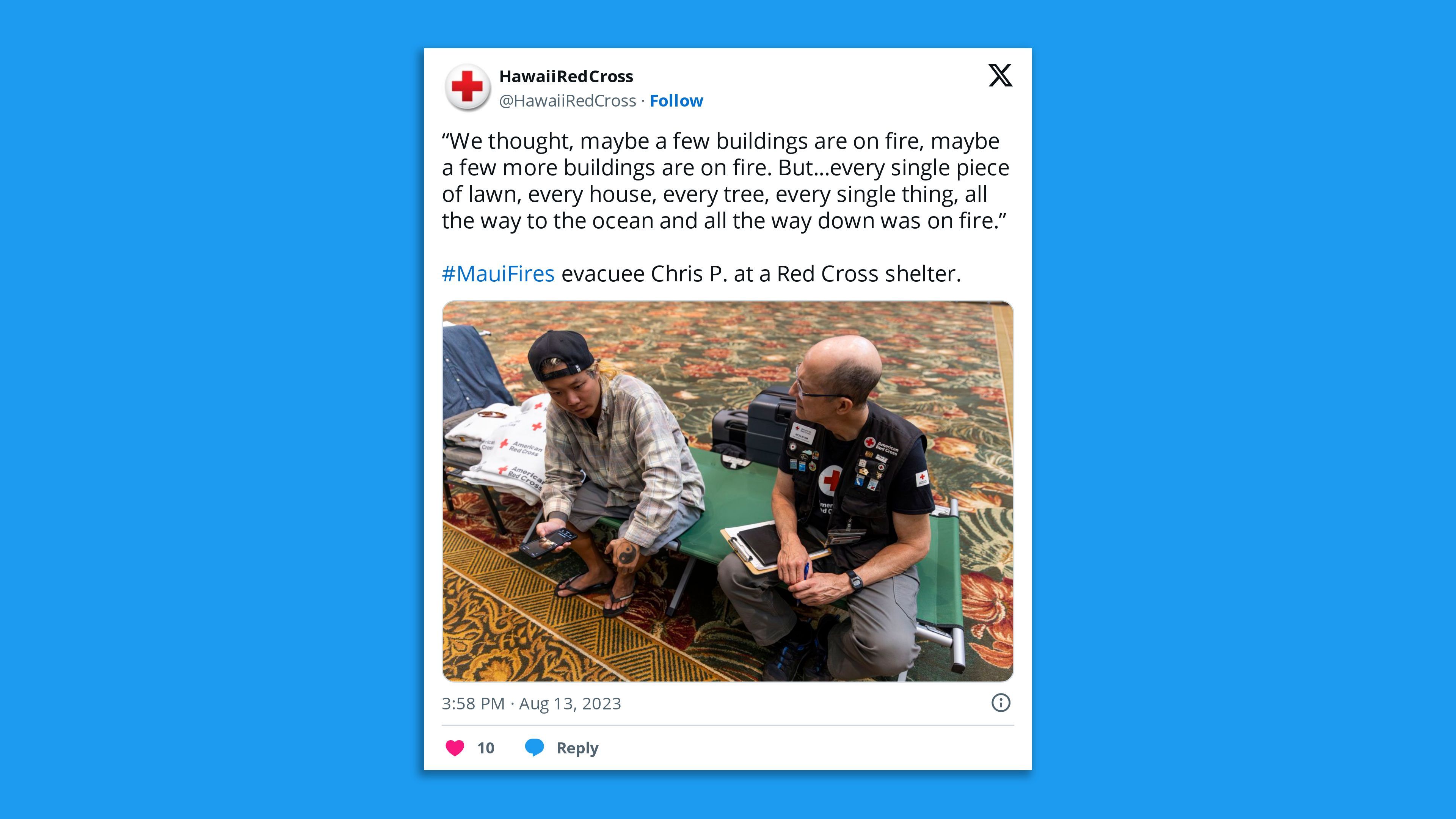 Zoom in: The wildfires displaced thousands of people. Officials said at a news conference Thursday they couldn't estimate how many people were still missing in Maui due to power, internet and communications outages caused by the fire.
Only 3% of the search area had been cleared, Maui Police Chief John Pelletier said Saturday.
Some 4,500 people were in need of shelter, per the Pacific Disaster Center and FEMA. Over 2,100 people sought refuge at four emergency shelters in Maui Tuesday night, county officials said. Six emergency shelters are currently open.
President Biden approved a disaster declaration for Hawai'i on Thursday, facilitating the flow of federal aid to "supplement state and local recovery efforts."
What happened
Wildfires ignited across Hawai'i on Tuesday, officials said.
Some 2,170 acres were burned on Maui, per Hawai'i Emergency Management.
Extreme winds from Hurricane Dora and drought conditions across Hawai'i exacerbated the spread of the wildfires.
Maui officials said firefighters had contained 85% of the Lahaina fire on Sunday. Two of the victims have been identified thus far, Maui officials said Saturday.
Neither Maui nor the Hawai'i Emergency Management Agency activated warning sirens for residents, HI-EMA spokesperson Dan Rapkoch told Axios.
The agency said it activated official alerts via phone, radio, televisions and the county's opt-in resident alert system.
Widespread outages could have limited the impact of the alerts' reach to residents, AP noted.
Maui County Fire Chief Brad Ventura said the rapid speed of the Lahaina fire made communication between frontline responders and emergency management "nearly impossible."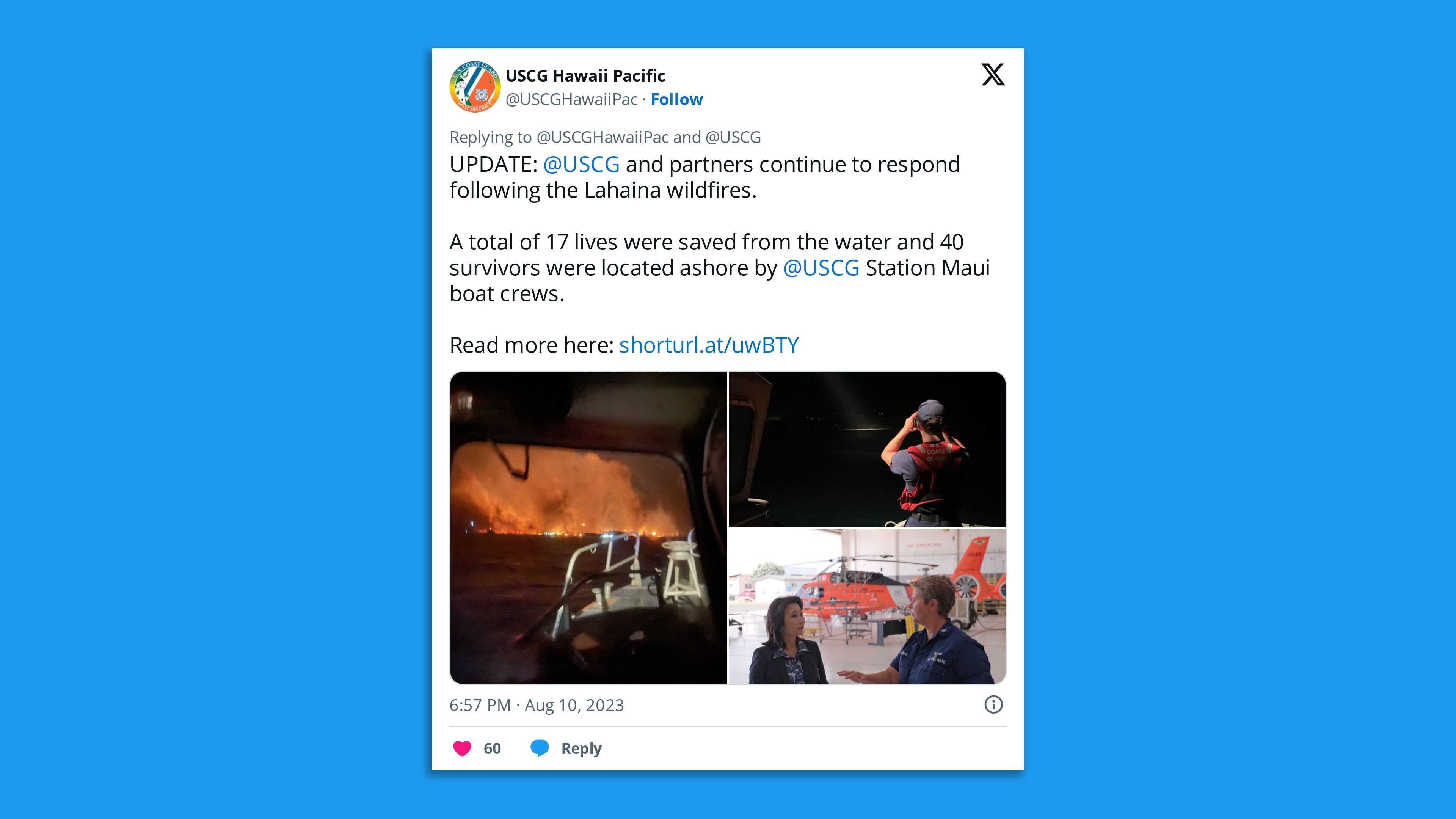 Widespread destruction
Green said at a Thursday news conference the destruction in Lahaina was so bad, "it does appear that a bomb went off." It "will take time to know the full extent" of the damage, he said.
Wind gusts of up to 81 miles per hour saw the Lahaina fire spread at a rate of "one mile every minute," as it destroyed over 2,700 structures and caused damages estimated at $5.6 billion, Green said Sunday.
By the numbers: Hawaiian Electric said in a statement Sunday it had restored power to 60% of customers and it was working to get electricity back to 5,000 others in West Maui and Upcountry.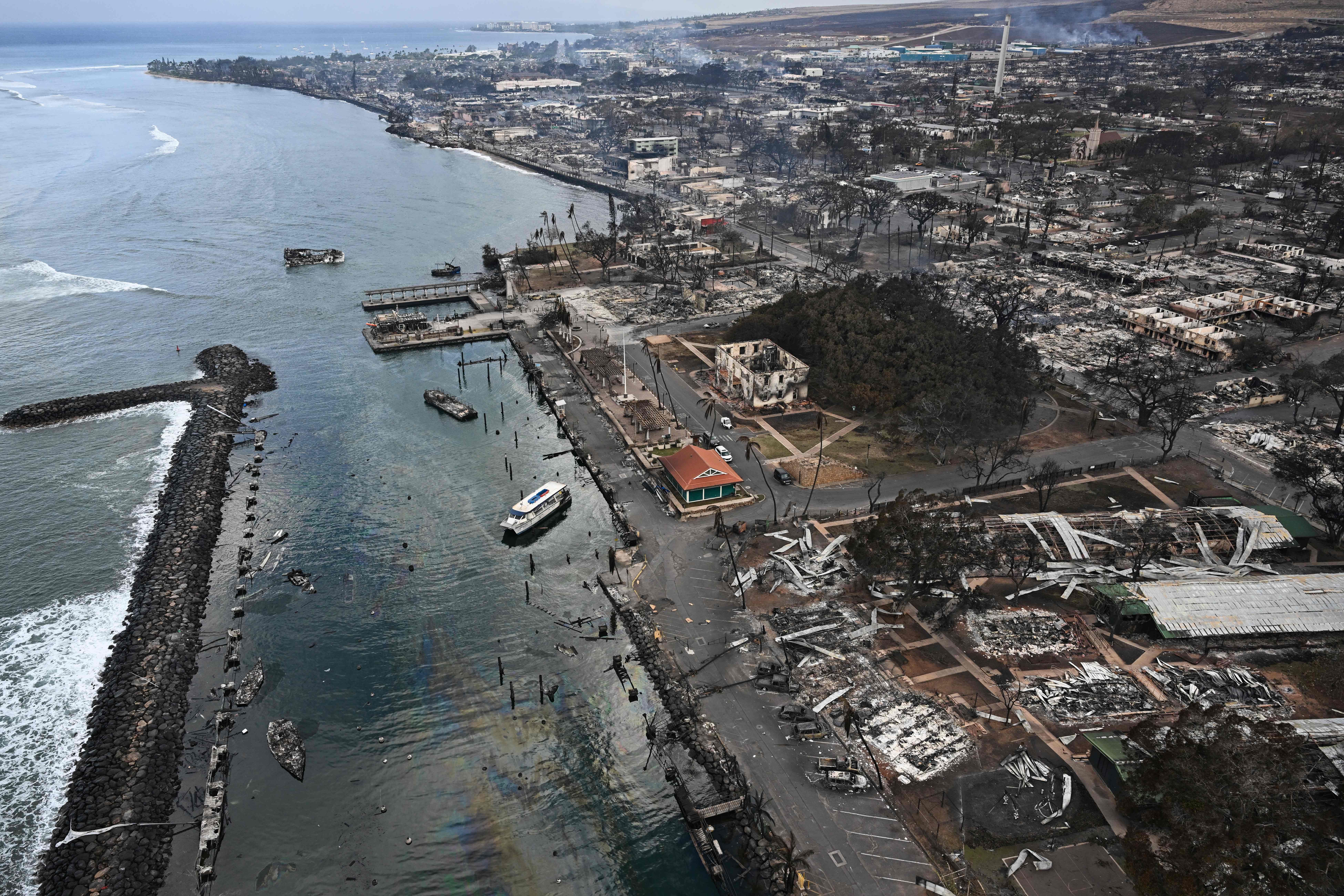 Climate change's role
Researchers say climate change was likely a contributing factor to the deadly wildfires, Axios' Ben Geman writes.
Climate change likely augmented the state's drought conditions and made existing wildfire fuels, like dried out vegetation, "more flammable than normal," Stanford University climate researcher Marshall Burke told Axios.
Worth noting: Maui is rife with nonnative grasses, which are more flammable than indigenous plants, increasing the wildfire threat.
Impact on tourism
Maui County announced massive bus evacuations Thursday for residents and tourists in West Maui, which transported visitors to Kahului Airport and residents to a shelter in Central Maui.
What they're saying: "Visitors who have travel plans to West Maui in the coming weeks and months are urged to consider rescheduling their travel plans for a later time," the Hawai'i Tourism Authority said in a statement Wednesday.
People who've already booked their upcoming stays to other parts of Maui and the Big Island are "encouraged to contact their hotels for updated information and how their travel plans may be affected," it added.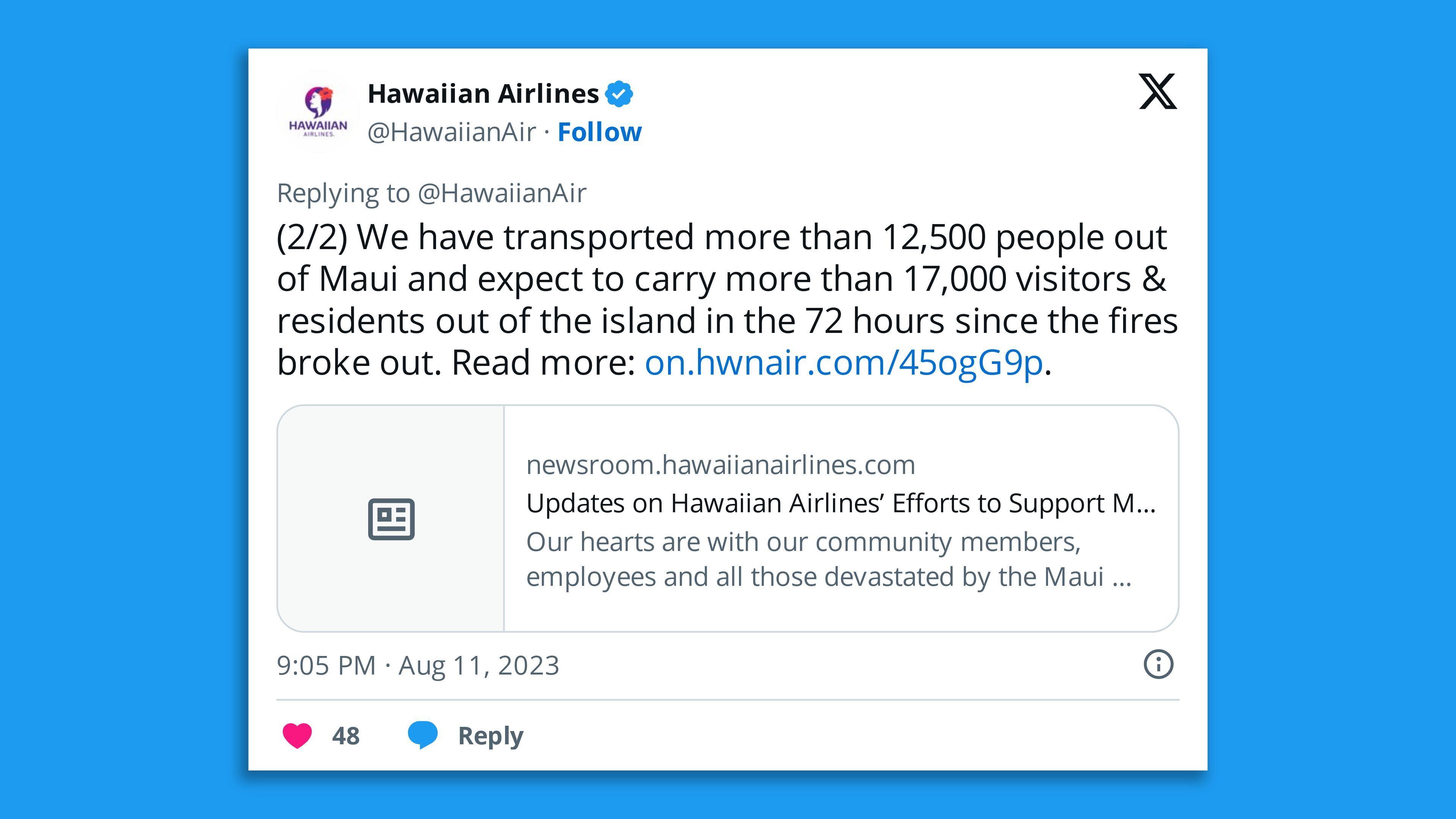 Go deeper: Before and after: Satellite images show Hawai'i wildfire devastation
Editor's note: This article has been updated to reflect the new death toll and to include new information throughout.
Go deeper