Once-rare scorching heat wave builds across the Pacific Northwest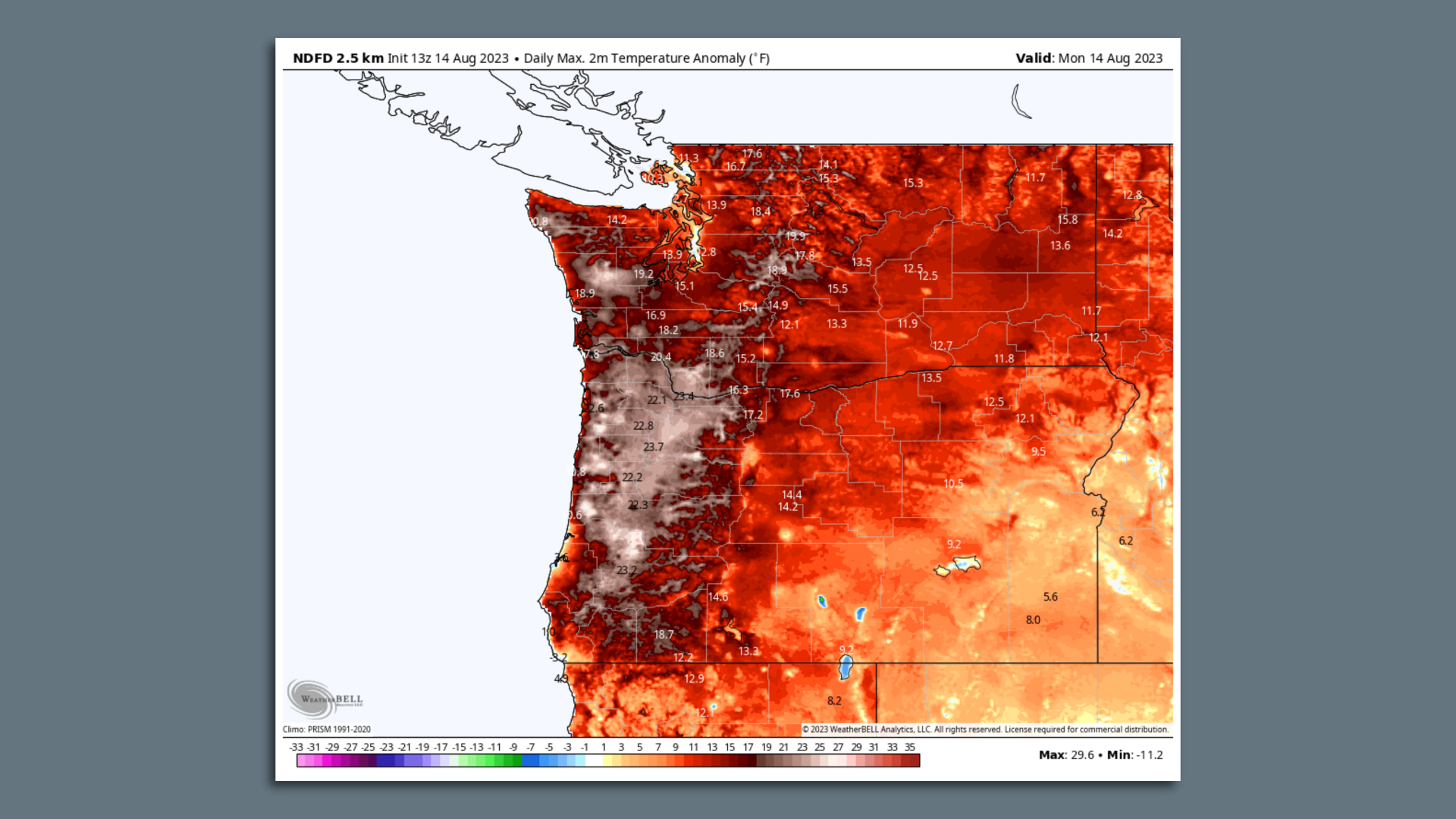 It's the Pacific Northwest's turn to see scorchingly high temperatures as a heat dome builds across the region over the next several days. At the same time, extreme heat will continue to languish across the Gulf Coast states.
Threat level: The National Weather Service has issued excessive heat warnings and heat advisories from California's Central Valley to all of Oregon and Washington state through this week.
High temperatures are forecast to soar into the low 90s°F in and around Puget Sound, including Seattle, and as high as the 110s°F in parts of Oregon, per the NWS.
"These temperatures combined with the duration of heat, expected to continue through this week, will increasingly pose a heightened health risk, especially for those without adequate air conditioning," the NWS warns.
On average, extreme heat is the top weather-related killer each year in the U.S.
Of note: Heat waves are especially dangerous in areas where air conditioning is not yet widespread, which includes parts of the Pacific Northwest. Heat waves of this magnitude used to be rare there but are becoming more common as the global climate warms.
Context: Studies show that human-caused climate change is making heat waves longer, hotter and more common.
Scientists concluded that a 2021 heat wave in the same region, while more severe, would have been "virtually impossible" were it not for the added greenhouse gases from burning fossil fuels for energy.
State of play: New monthly and daily high temperature records were set across the Pacific Northwest on Monday — including in Portland, which reached 108°F in August for the first time.
Seattle hit record daily overnight high lows of 71°F Monday, according to the NWS. Overnight low temperatures will remain elevated particularly in urban areas, increasing the threat to public health.
Zoom in: The Pacific Northwest is currently facing moderate to severe drought, and the combination of hot conditions and occasionally gusty winds during the next few days has prompted the NWS to issue red flag warnings for elevated wildfire risk.
Six large fires were burning in Oregon on Tuesday — including the Lookout fire, east of Eugene, which has prompted evacuations. Three large fires were burning in Washington.
What's next: While the hot weather pattern may relent late this week, allowing cooler air to move in, NWS forecasters at the Portland office noted that this is a lower confidence forecast than usual.
Meanwhile, in the South and Southeast, sweltering conditions are maintaining their grip from Florida to Texas, with a brief letup likely this week before punishing high temperatures and humidity return.
Go deeper: White House announces new national system to track heat-related illness
Editor's note: This article has been updated to include new temperature records and details of wildfires in Oregon and Washington.
Go deeper