Canadian officials warn historic wildfire threat could persist into fall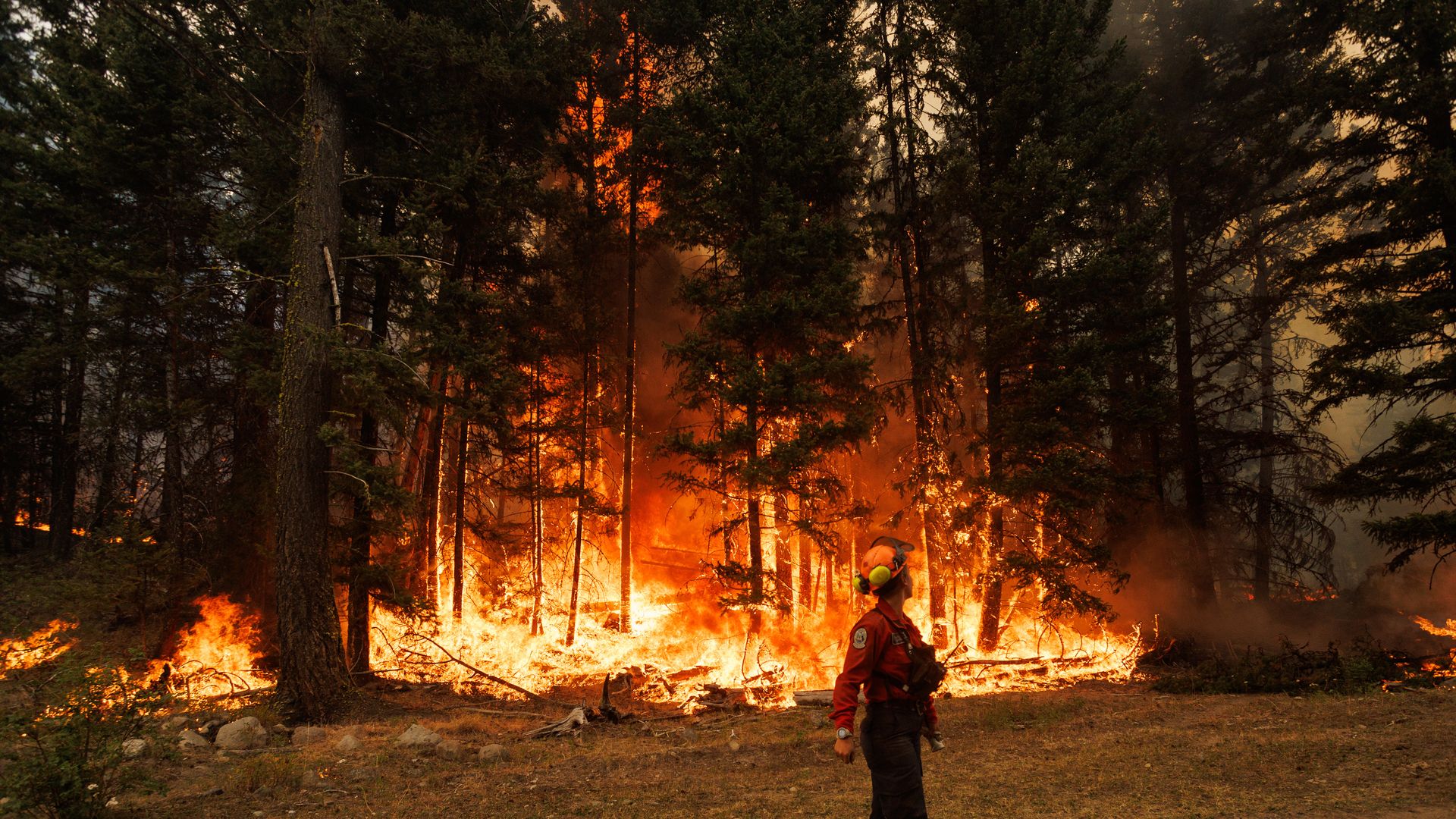 Canada's military was deployed to help fight massive wildfires in the country's Far North — where evacuation orders were issued for hundreds of people due to 233 blazes burning across 5.2 million acres in the region Sunday.
The big picture: Four firefighters have died responding to wildfires in Canada this year, which have razed some 33.4 million acres in the country's worst-ever fire season.
More than 1,100 active fires were burning across Canada Sunday, per the Canadian Interagency Forest Fire Centre.
State of play: National Defense Minister Bill Blair tweeted Saturday that the Canadian military would help with "firefighting efforts, air transportation, and planning, coordination and logistics" in the Northwest Territories.
Meanwhile, Environment Canada warned parts of British Columbia would see daytime temperatures well above the seasonal average this week as firefighters in the province tackle some 390 wildfires.
Context: Multiple studies show human-caused climate change is a key driver behind increased wildfire risk.
Carbon emissions from the Canadian fires have been extremely high. Axios' Andrew Freedman notes that CO2 and methane released in wildfires in places such as Canada's Far North, particularly the boreal forests ringing the Arctic, can fuel more heat waves and wildfires in a vicious cycle.
"In early August, carbon emissions from Canadian wildfires had already passed 300 metric tons, about three times what has been generated during the course of an entire fire season in recent decades," NASA's Earth Observatory notes.
The bottom line: A Canadian Forest Centre official said Friday that drought in parts of British Columbia, the Northwest Territories, Ontario and the Prairies meant "it's likely we'll experience significant fire activity for many weeks yet" and could continue into the fall, per CBC News.
Go deeper: Canada wildfires devour land, vault CO2 emissions higher
Go deeper