Canada's wildfire crisis can only deepen as country faces record heat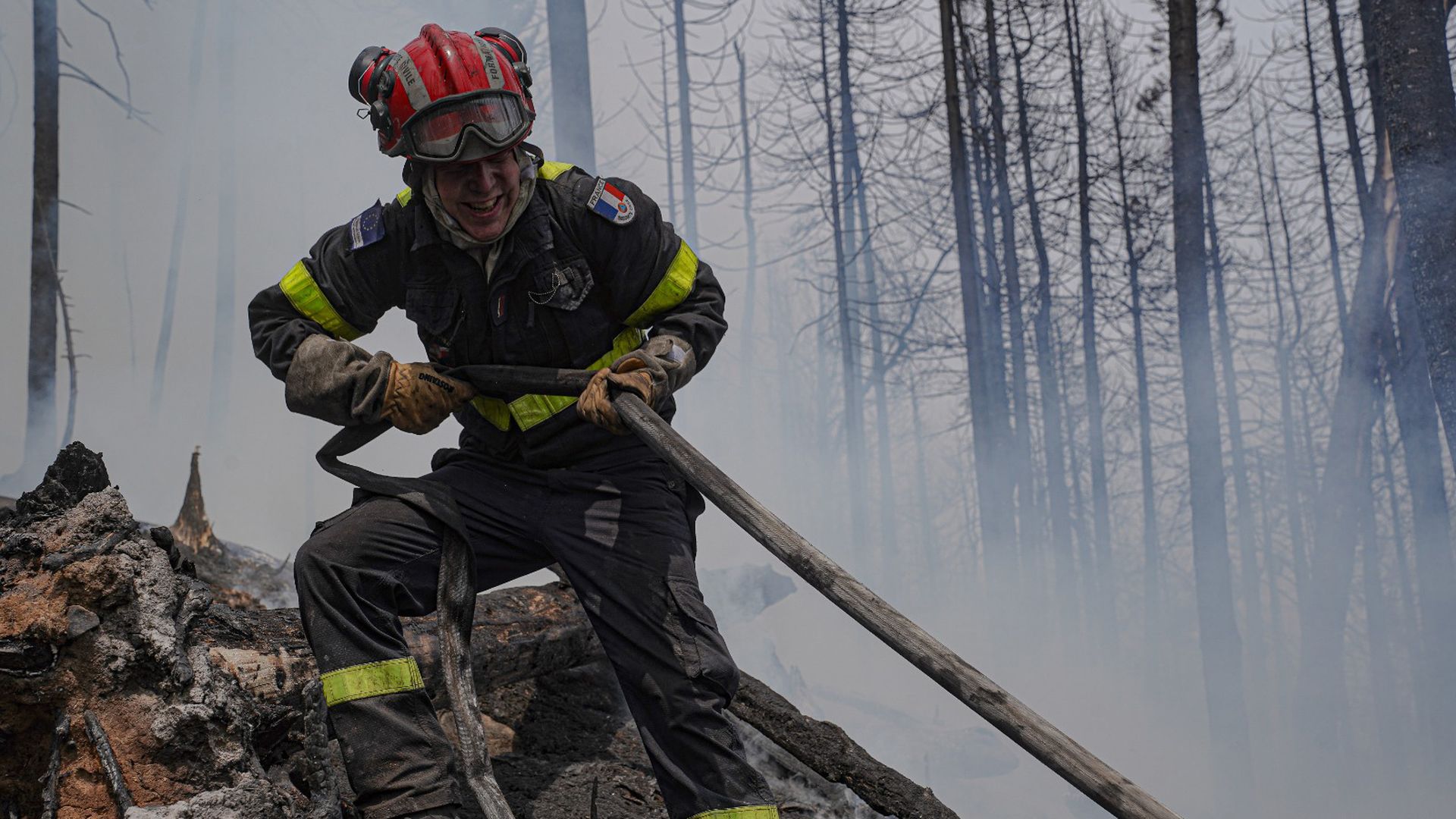 The extent of Canada's worst wildfire season on record continued to grow this week after a combination of extreme heat events, unusually dry weather and lightning strikes stoked hundreds of out of control wildfires across the country.
Why it matters: Multiple studies show human-caused climate change is a key driver behind increased wildfire risk and that heat waves are more likely to occur, be more intense and last longer due to this. And the scale and scope of these fires is likely to exacerbate climate change in a positive feedback loop.
State of play: The fires kept belching plumes of smoke, which significantly degraded air quality in cities in British Columbia, Alberta and the Northwest Territories.
Air pollutants from the fires are forecast to linger over most of Canada over Thursday night and Friday morning while drifting south to parts of the northern U.S. and likely into the Midwest and possibly other areas next week.
Canada's Ministry of Natural Resources said last week that conditions for elevated fire activity will persist across most of the country for the remainder of the wildfire season.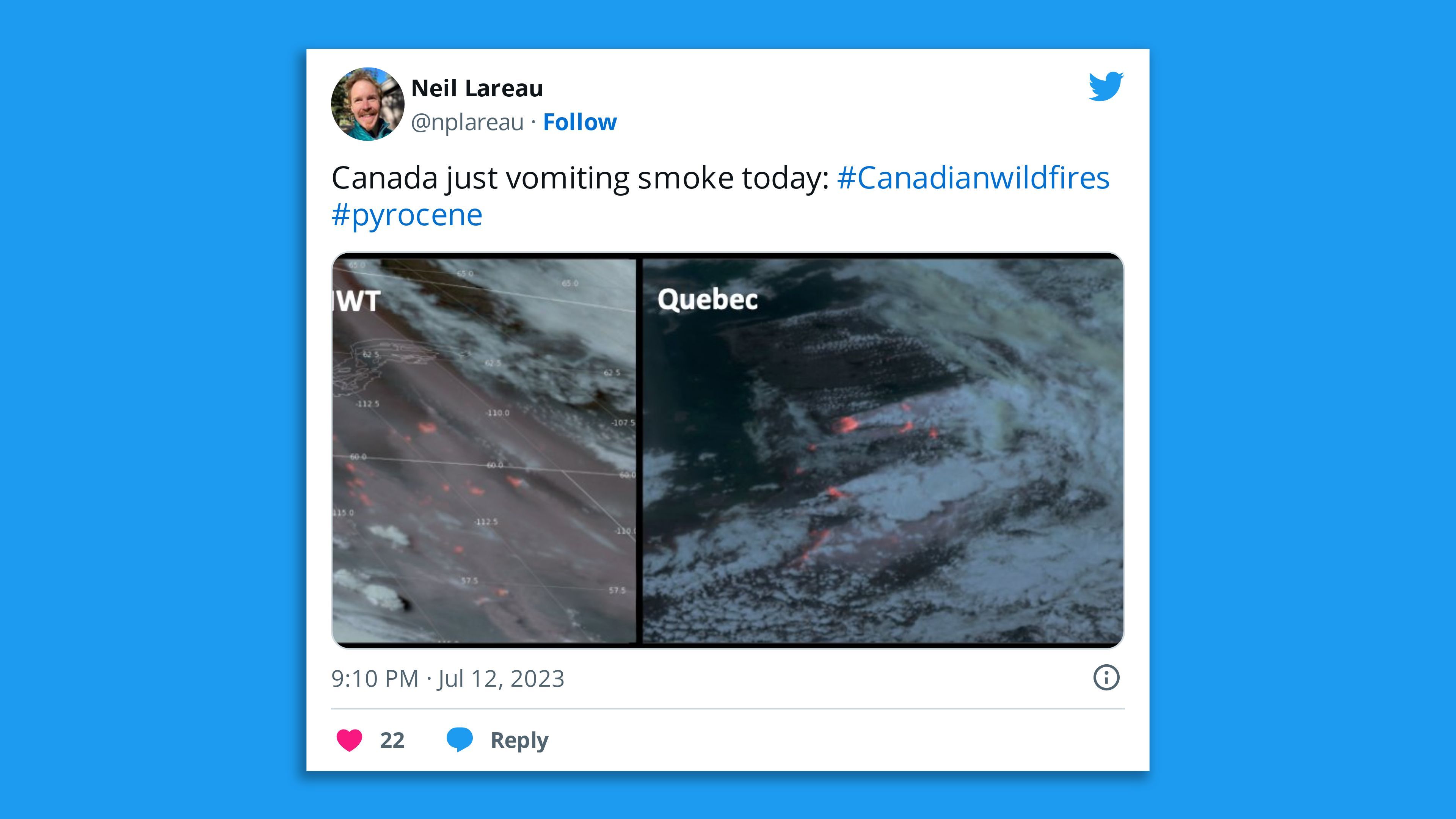 The Northwest Territories saw unprecedented heat over last weekend, with Norman Wells recording a temperature of 100.2 degrees Fahrenheit (37.9° Celsius) and Fort Good Hope recording 99.32°F (37.4°C)
The recording at Norman Wells, a small town just below the start of the Arctic Circle, was 0.2°F (0.1°C) from matching the hottest temperature ever recording north of the circle, which was recorded in the Siberian town of Verkhoyansk in 2020.
At the end of June, over half of the country was experiencing at least abnormal drought conditions caused by both short- and long-term precipitation deficits.
Of note: Such hot and dry conditions increase the likelihood of dry lightning strikes igniting dry vegetation that can grow into a raging fire.
Lightning strikes triggered over 100 new wildfires in British Columbia last weekend.
Dozens of strikes were also recorded on Thursday in areas experiencing a mix of low humidity, strong winds and high temperatures
By the numbers: As of Thursday afternoon, over 900 fires were active across the country, including more than 550 that were out of control and over 200 that were "being held," meaning they were not expanding but were not under control, according to the Canadian Interagency Forest Fire Centre (CIFFC).
To date, 4,002 fires have burnt over 23 million acres (around 9.3 million hectares), which is an area larger than the state of Maine, according to CIFFC.
The big picture: Many fires likely won't die out or be extinguished by firefighters of heavy precipitation for a long time because of the heat trend and the fact that much of them are burning in relatively remote locations.
Still, the pollutants they emit can impact the health of people thousands of miles away and they have and will continue to contribute to climate change and global warming by releasing carbon dioxide previously locked in boreal forests and peatlands.
And not all of the fires are remote, as several have forced evacuations and threatened energy infrastructure this year.
What's next: Canada's wildfire season is barely half over.
Seasons usually diminish in the fall, so there's no immediate end in sight, barring an unexpected shift in weather conditions.
Go deeper: Expanding heat wave leaves more than 112 million under alerts
Go deeper