Expanding heat wave prompts alerts for 115 million people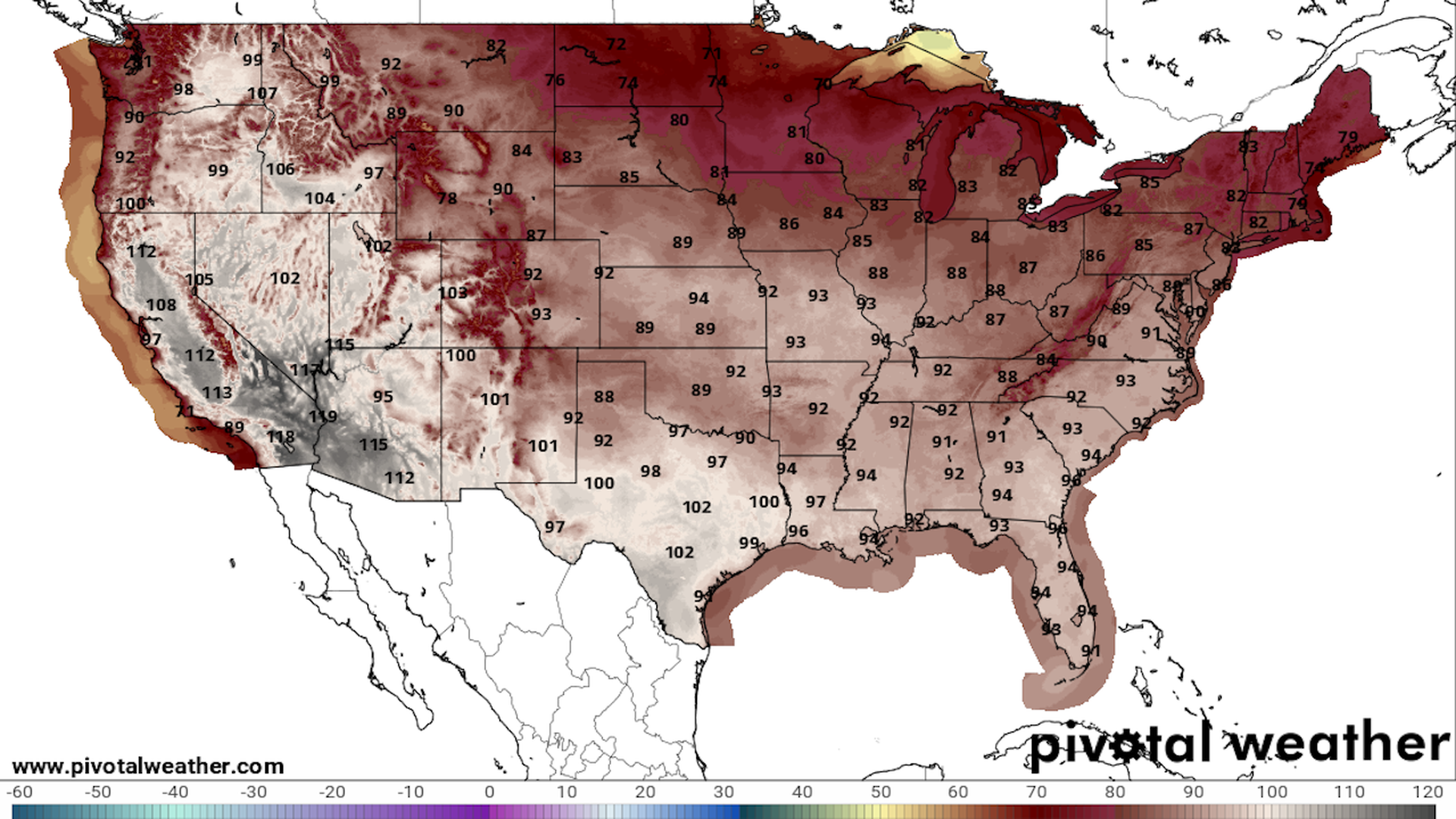 An expanding, intensifying heat wave prompted the National Weather Service to issue heat alerts for 115 million people on Friday in 15 states, with no letup in sight for some areas.
Why it matters: The heat will topple longstanding records, especially in the Southwest, and the duration of this event that's set to continue well into next week increases public health dangers.
The big picture: This heat wave is already notable for its scope, intensity and endurance.
An area of high pressure aloft, also known as a heat dome, is moving into place over the Southwest, but will influence a much broader area.
The Southwest will see the longest-lasting impacts, and parts of Texas are coming off their hottest June on record.
"Unfortunately, the long term outlook for the region shows a continued heatwave through this weekend and into next week," the NWS said of the Southwest in an online forecast discussion.
Alerts are up from the Atlantic to Pacific coasts, and include nearly all of Texas, Oklahoma, Louisiana, Missouri, Nevada, California and Arizona.
Zoom in: Cities in the Southwest that are synonymous with heat are poised to break daily, monthly and potentially all-time high temperature records during this event, as well as set milestones for the longest streak of exceptionally hot days.
For example, Phoenix is on track to either tie or break its record of 18-straight days with highs of 110°F or above, having had their 13th such day in a row on Wednesday. The city may also break its record string of days with 90°F or above overnight low temperatures.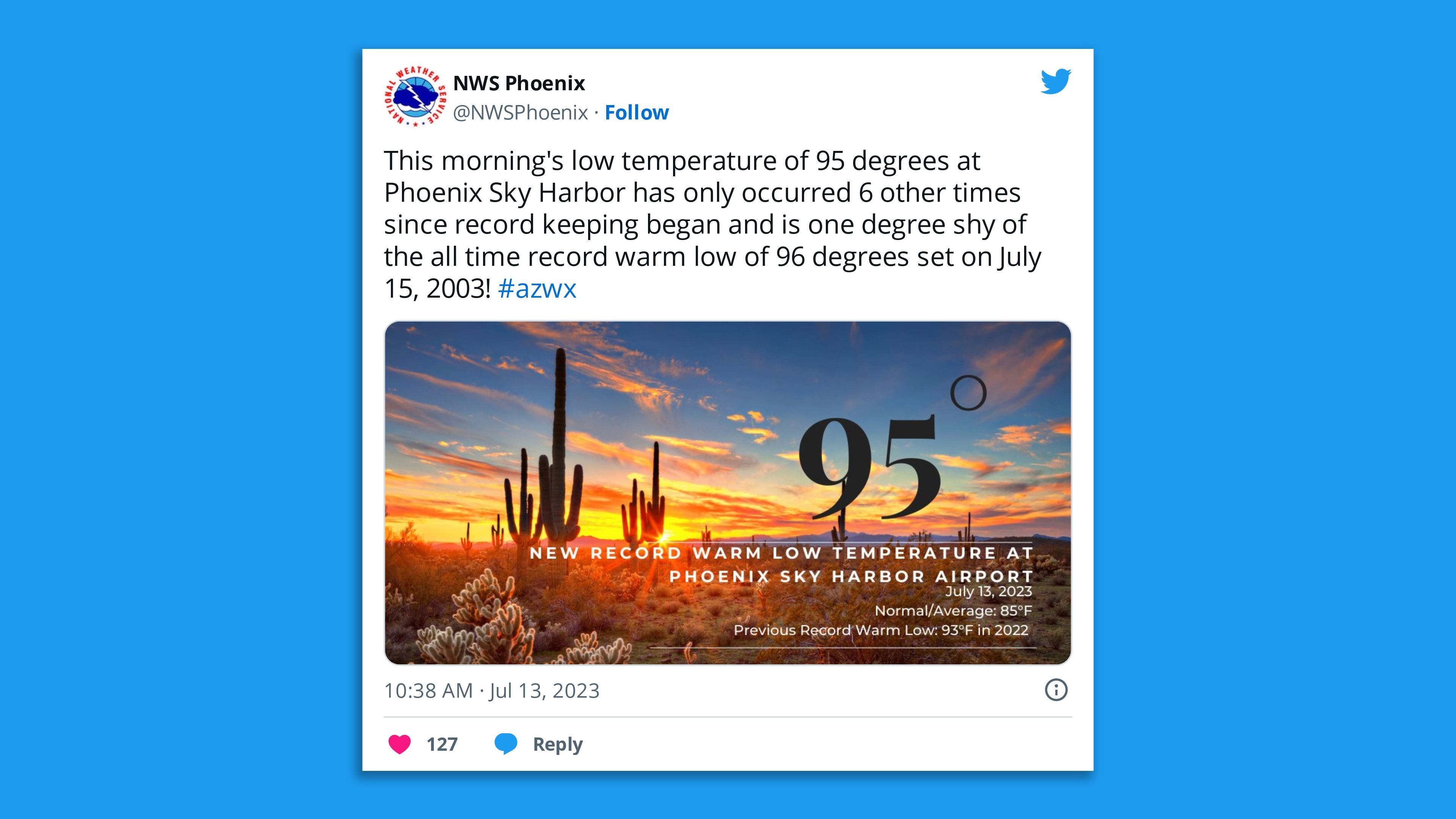 Threat level: Phoenix has a chance of seeing temperatures climb to 120°F this weekend. If this occurs, it would only be the fourth time since reliable records began there in the 1920s — and close to the city's all-time record of 122°F.
"Widespread areas of Major Heat Risk will increase to Extreme levels this weekend," the NWS' Phoenix office said.
Another record is in jeapoardy in Phoenix: the title of the city's hottest week on record, for the July 13-19 period.
Las Vegas may see its hottest temperature on record of 117°F tied or exceeded this weekend as well.
Cooling stations were being activated across the Las Vegas Friday through Monday in response to the NWS warning the city on Thursday that the city was entering a period of potentially deadly "extreme" heat risk — the highest on the agency's scale.
Of note: In Death Valley, Calif., one of the hottest places on Earth, the temperature is predicted to climb into the rare territory of 129-132°F this weekend.
If it exceeds 130°F, this would set a record for the highest reliably recorded temperature on record for anywhere on Earth.
The heat dome itself may also peak at record intensity for the Southwest at this time of year, indicating a highly unusual weather pattern.
Florida is seeing extremely high heat indices, in part because Gulf of Mexico water temperatures are hot tub-like, in the mid-to-upper 90s, which is unheard of for any time of year.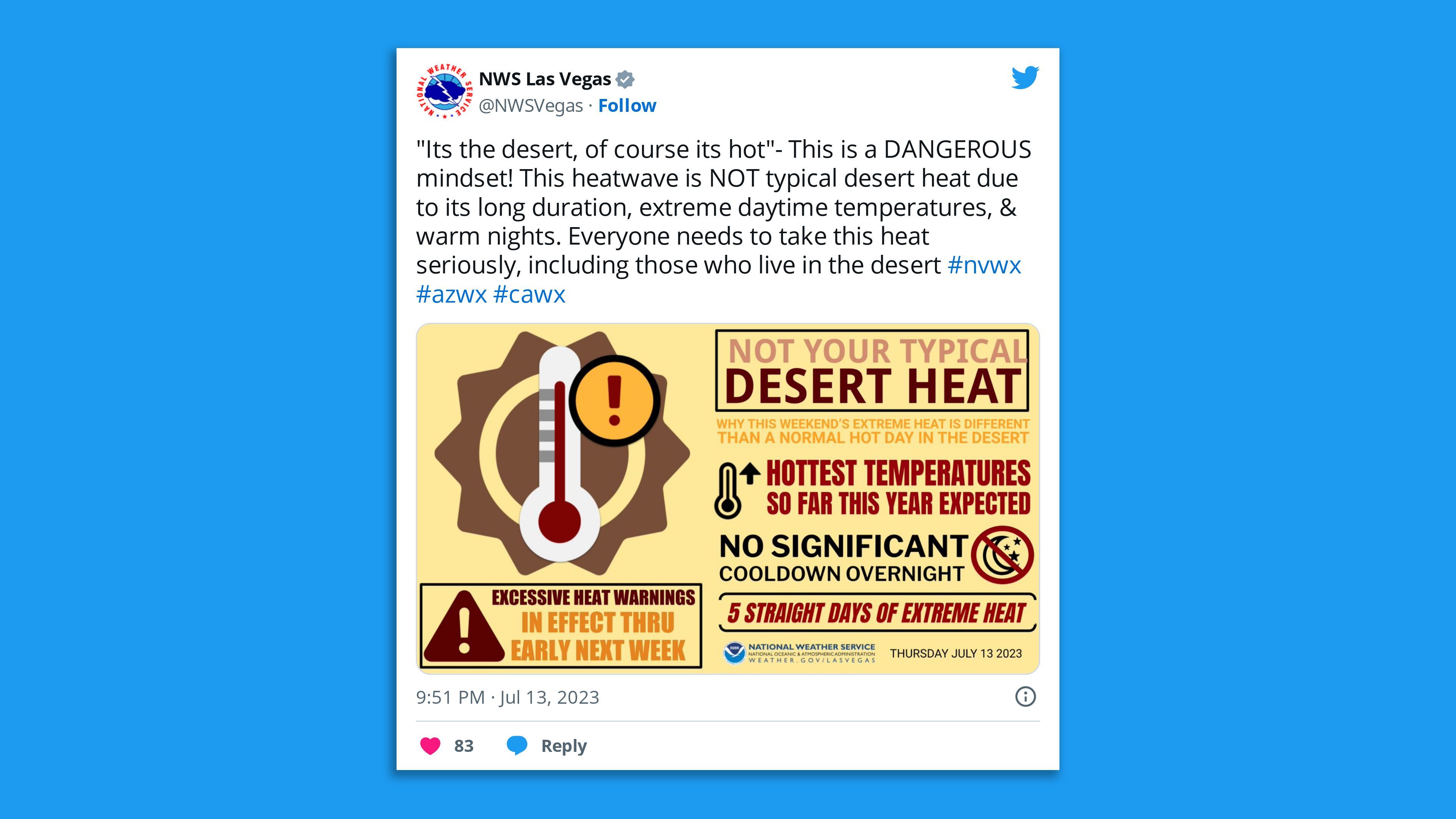 Between the lines: Extreme heat is the top weather-related killer during an average year in the U.S., per the NWS.
Heat waves can be extremely deadly, particularly when high temperatures are persistent and there is a lack of significant cooling at night.
Heat waves are quiet killers, with deaths often going uncounted until well after an extreme weather event has subsided.
A study published Monday found that European heat waves killed over 61,000 people last year — underscoring how inadequately prepared many places are for climate change-driven temperature spikes.
Context: New analysis, using peer-reviewed methods, from Climate Central shows climate change is likely boosting the odds for the upcoming extreme heat in Arizona by at least a factor of four.
Many studies show heat waves are more likely, longer lasting and more intense as global average surface temperatures increase.
The main cause of long-term climate change is human-caused emissions of greenhouse gases, such as carbon dioxide, due to burning fossil fuels such as coal and natural gas.
Some research has shown that without climate change, certain heat waves would have been virtually impossible.
Editor's note: This article has been updated with new details on weather alerts, temperatures and additional context.
Go deeper