Slashing greenhouse gas emissions key to saving Earth's glaciers, study finds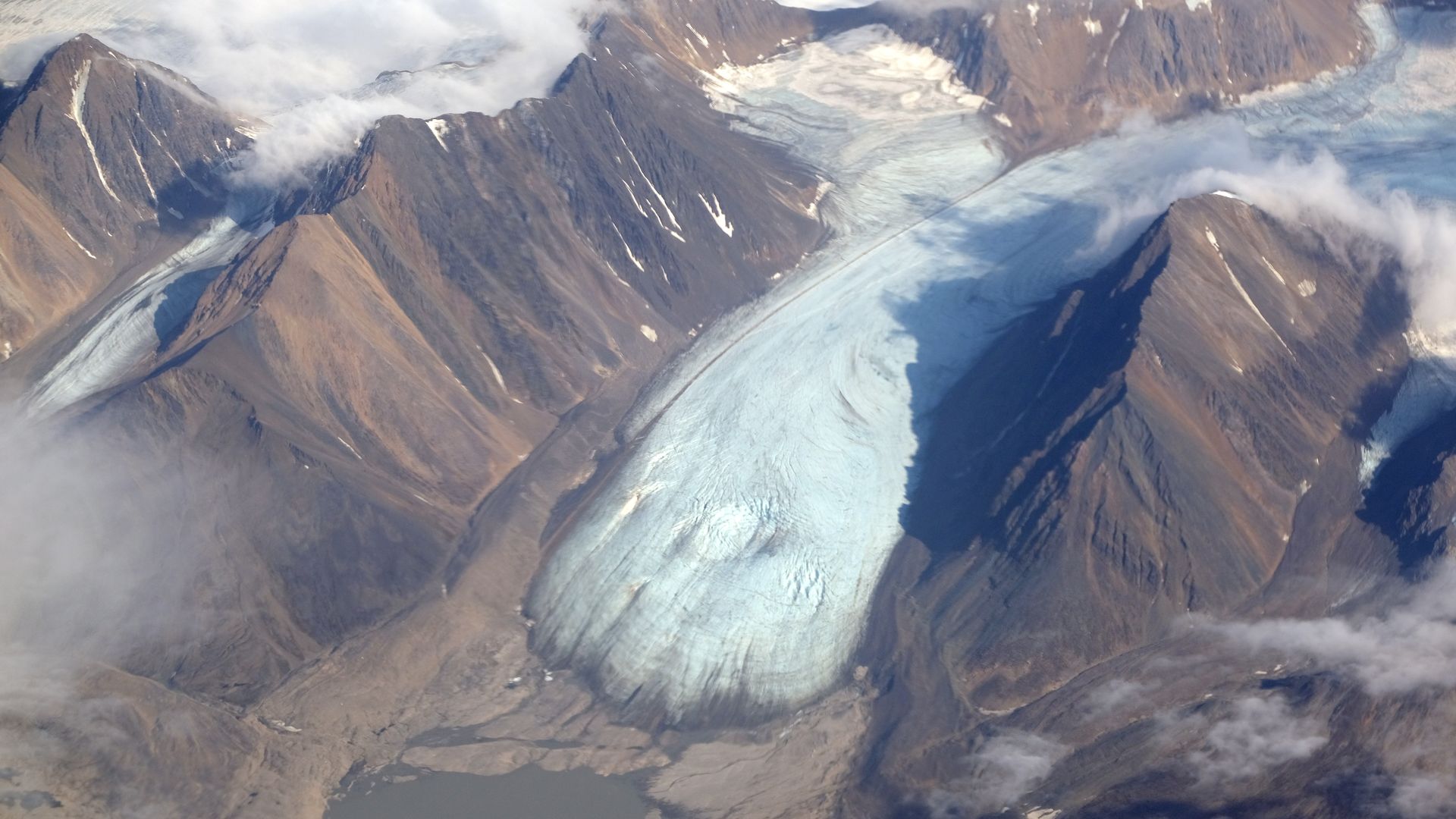 Earth's glaciers could be at least partially saved if greenhouse gas emissions and resulting global warming were limited to the Paris Agreement's most ambitious goals, a new study finds.
Why it matters: Glaciers are a vital source of freshwater for nearly 2 billion people, and their melt contributes to sea level rise.
Currently, the vast majority of the planet's glaciers are melting and shrinking in response to higher temperatures, greater rainfall and increased ocean temperatures that can eat away at the floating ice shelves of marine-terminating glaciers.
The new study gives a fresh look at the fate of every glacier on Earth in a warming world, providing new melt projections and regional details.
What they found: The study, published Thursday in the journal Science, takes a global view of the planet's land-based glaciers using computer modeling that incorporates many different scenarios of future emissions and temperature change.
The study found that even if temperature increases are limited to the most ambitious Paris Agreement goal of 1.5°C of warming above preindustrial levels, the world would still lose about half the world's glaciers — albeit mostly smaller ones — by 2100.
Globally, glaciers are projected to lose 26% of their mass by 2100, compared to 2015, if air temperatures reach 1.5°C above preindustrial levels, according to the study. Many climate scientists already think the Paris Agreement's long-term temperature goal is no longer achievable due to emissions trends and warming to date.
Global glaciers could lose about 41% of their mass, compared to 2015 levels, if warming was to reach 4°C (7.2°F) above preindustrial levels by 2100, the study found.
Such mass loss figures mean that between 49% and 83% of glaciers would disappear by the end of the century, depending on the amount of warming.
Several recent studies have shown that if countries meet their emissions reduction pledges made at COP26 and COP27, the world would warm between about 2°C and 3°C by 2100.
This would "cause widespread deglaciation in most mid-latitude regions by 2100," the study states.
In other words, Glacier National Park would need a new name, coastal Alaska may lose the glaciers that attract tourists to cruises along the Inside Passage, and the Alps will see their remaining glaciers disappear, among other regions.
Yes, but: The study's results show that there is a linear relationship between ice mass loss and the increase in global temperatures.
"That means any reduction in temperature increase is going to considerably reduce the glacier mass loss, the number of glaciers lost, and the glaciers' contributions to sea level rise," lead author David Rounce of Carnegie Mellon University told Axios.
The intrigue: The sea level rise consequences of glacier loss are far smaller than that of Earth's land-based ice sheets but still consequential.
Global sea levels could rise between 90 and 154 millimeters, or 3.5 to 6 inches, due to glacier loss by 2100, depending on the amount of warming, the study warned.
Glaciers were responsible for contributing about 21% of global sea level rise from 2000 to 2019, the study said.
What they're saying: "It's useful they found the glacier loss scales in a simple manner with air temperature, leading to the obvious conclusion that limiting warming through carbon emissions reductions and carbon dioxide removal has the effect of pressing on the brakes to slow the ice loss and its overall negative consequences," said Jason Box, a climate researcher with the Geological Survey of Denmark and Greenland who was not involved in this study.
The bottom line: "Losing our glaciers will impact the management of freshwater resources and the local populations which depend on them. It will exacerbate soil erosion and landslides, and destroy our natural landscape," said Eric Rignot, a climate scientist at the University of California Irvine, via email.
"We keep repeating the same message about glacier loss," Rignot, who was not involved in the study, told Axios. "This is bad, bad news. And every 1/10th degree of warming makes it worse."
Go deeper