Linda Yaccarino says brands are coming back to "X"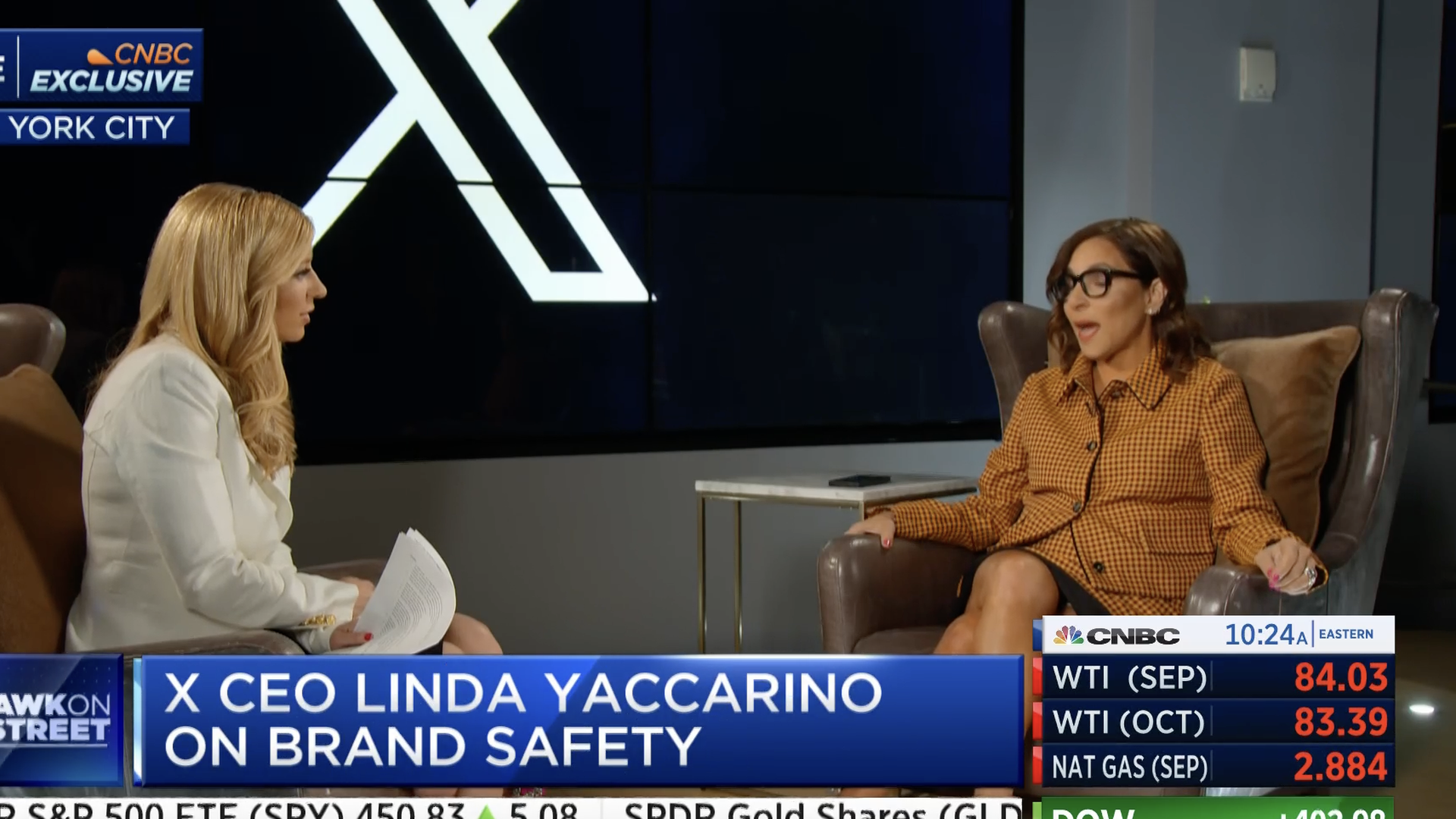 In her first television interview since taking over as CEO of "X," formerly known as Twitter, Linda Yaccarino said advertisers are returning to the platform and that in terms of profitability, "we're pretty close to break even."
Why it matters: Yaccarino didn't specify how much revenue the company is earning, and it's unclear how close the company actually is to profitability, given Musk said Twitter was close to breaking even in April.
But did she provide a clear message to skeptical onlookers: Musk and her are aligned on the company's vision and, after months of layoffs and cutbacks, the company has begun to unfreeze hiring, and she's ready to jumpstart X's business again.
Details: In the CNBC interview, Yaccarino cited The World Cup as an example of advertisers sticking with X through its chaotic transition. She said certain partners, like Coca-Cola and State Farm, have returned.
A Coca-Cola spokesperson confirmed to Axios that the company returned to the platform in May. State Farm did not immediately respond to a request for confirmation.
Yaccarino said that in the last eight weeks since she joined X, she's spoken to chief executive and chief marketing officers that have either paused or reduced their ad spend to "remind them about the power of the platform, the power of the user base and the the economic potential of them partnering with us again."
An X source told Axios that several advertisers have returned following Yaccarino's return across tech, consumer package goods and travel verticals, but it's unclear whether they are spending as much as they used to.
Between the lines: Throughout the interview, Yaccarino defended X as the place where advertisers' messages can be relevant and brand safe.
She also defended the company's content moderation policies, saying X embraces an approach called "freedom of speech, not reach," which means it has zero tolerance for illegal content, but it is not going to ban content that's "lawful, but awful."
"If you're going to post something that is lawful, but it's awful. You get labeled you get labeled, you get de-amplified, which means it cannot be shared," she said.
She touted a recently-announced initiative with brand safety platform Integral Ad Science, to help advertisers control which content their messages appear next to.
Yes, but: Advertisers still have concerns about the platform's brand safety measures, as CNBS's Sara Eisen pointed out in the interview.
A New York Times report from June suggests X's U.S. advertising revenue plunged 59% from April 1 to the first week in May.
X is currently in a legal fight with a non-profit over research it published saying hate speech increased on X following Musk's takeover.
The big picture: Even if advertisers return to X, Yaccarino made it clear that the platform is no longer just a text-based advertising platform.
She defended Musk's rebrand of Twitter to "X," saying it represented "a liberation from Twitter" and said X will lean into a different type of experiences that extends beyond text posts into video, payments and video chats.
She noted that she's keeping an eye on Meta's X competitor, Threads, but that Meta is "building off of what Twitter was and we're focused on what X will be."
Zoom in: Yaccarino didn't provide timelines or business details for the company's plans to turn those opportunities into meaningful revenue streams, but the company has said that new formats, including long and short-form video, will be key to enhancing its relationship with creators.
X said last month it would begin sharing ad revenue with verified creators. Verified creators, however, represents users willing to pay for an "X" verified subscription, not those that the company has verified because of their authenticity.
A source told Axios that X has begun applying for money transmitter licenses for peer-to-peer payments, and has already secured approval in several states.
Our thought bubble: One of the biggest challenges for advertisers and analysts has been the inconsistency in which policies are applied on the platform, and the ambiguity around what's actually happening at the company, now that it's no longer publicly-traded.
For example, Yaccarino claimed the platform had "half a billion users all over the world showing up multiple times a day." In its last earnings report as a public company in 2022, Twitter said it had 237.8 million global monetizable daily active users.
What's next: Yaccarino confirmed Musk is training for a cage match with Meta CEO Mark Zuckerberg, and called the fight a "brand sponsorship opportunity."
Go deeper