Threads v. Twitter: What to know about Meta's new social media service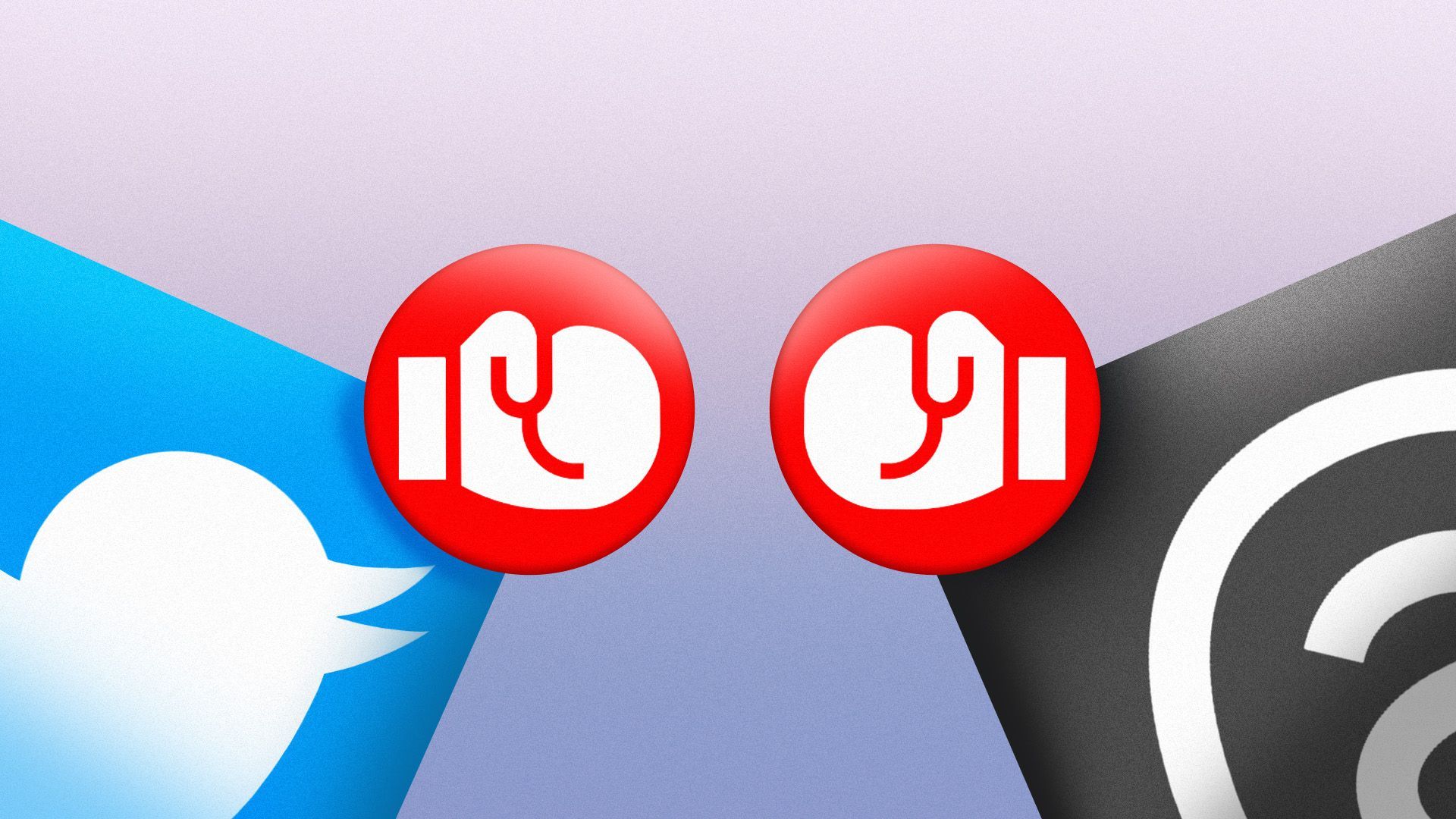 It looks like Twitter, feels like Twitter and works a lot like Twitter — and that's exactly the point of Meta's new app.
Why it matters: 30 million people had signed up for Threads as of this morning, Meta CEO Mark Zuckerberg said on the new social media service.
"Feels like the beginning of something special, but we've got a lot of work ahead to build out the app," he added.
The impact: "Meta only needs 1 in 4 Instagram users to use Threads monthly for it to be as big as Twitter," according to Insider Intelligence principal analyst Jasmine Enberg.
"And Meta has the scale, resources, and execution strategy to make that happen. The simplicity of the onboarding process, the app's easy-to-use interface, and Meta's promise of a saner, kinder place than Twitter have already supercharged signups."
Zoom in: Here's what to expect if you join:
It's completely free, whereas Twitter now offers a basic version for free and a paid option with more features.
Much like Twitter, you can tag other people using the @ symbol, post text updates and upload photos and videos.
You get more characters — up to 500 to be exact — compared with Twitter's 280 for non-paying customers.
The aesthetic is similar: "Threads looks nearly identical to Twitter in many ways," the NYT observes.
Between the lines: You need an Instagram account to have a Threads account — and your Threads handle will be your Instagram handle.
Your Instagram can be private, but your Threads can be public.
Unlike Twitter, which recently began limiting non-paying users to viewing 1,000 tweets a day, you don't have to pay to keep scrolling: "Threads imposes no limit or boundaries, whether you're verified or not," WSJ reports.
Yes, but: There are some obvious limitations from the start.
Threads has no search capability for content and does not have a direct-messaging feature, which is peculiar because messaging is so integral to Meta's Faceb0ok, WhatsApp and Instagram.
Also for now "you can't see a feed of just the people you follow or a purely chronological feed," WSJ reports.
Between the lines: Meta's launch builds on Instagram's massive installed base, giving it a big head start in the derby to offer alternatives to Twitter users disenchanted by Musk's management, Axios Login co-author Ryan Heath writes.
Threads also offers the advertisers the ability to target Facebook, Instagram and Threads users under one roof.
"Although there are no ads on the platform just yet," CNN notes.
The bottom line: Imitation is the sincerest form of flattery, but in this case it's intended to eat away at Twitter's user base.
Go deeper