Scoop: Bibi wants security agreement from Biden as part of mega Saudi deal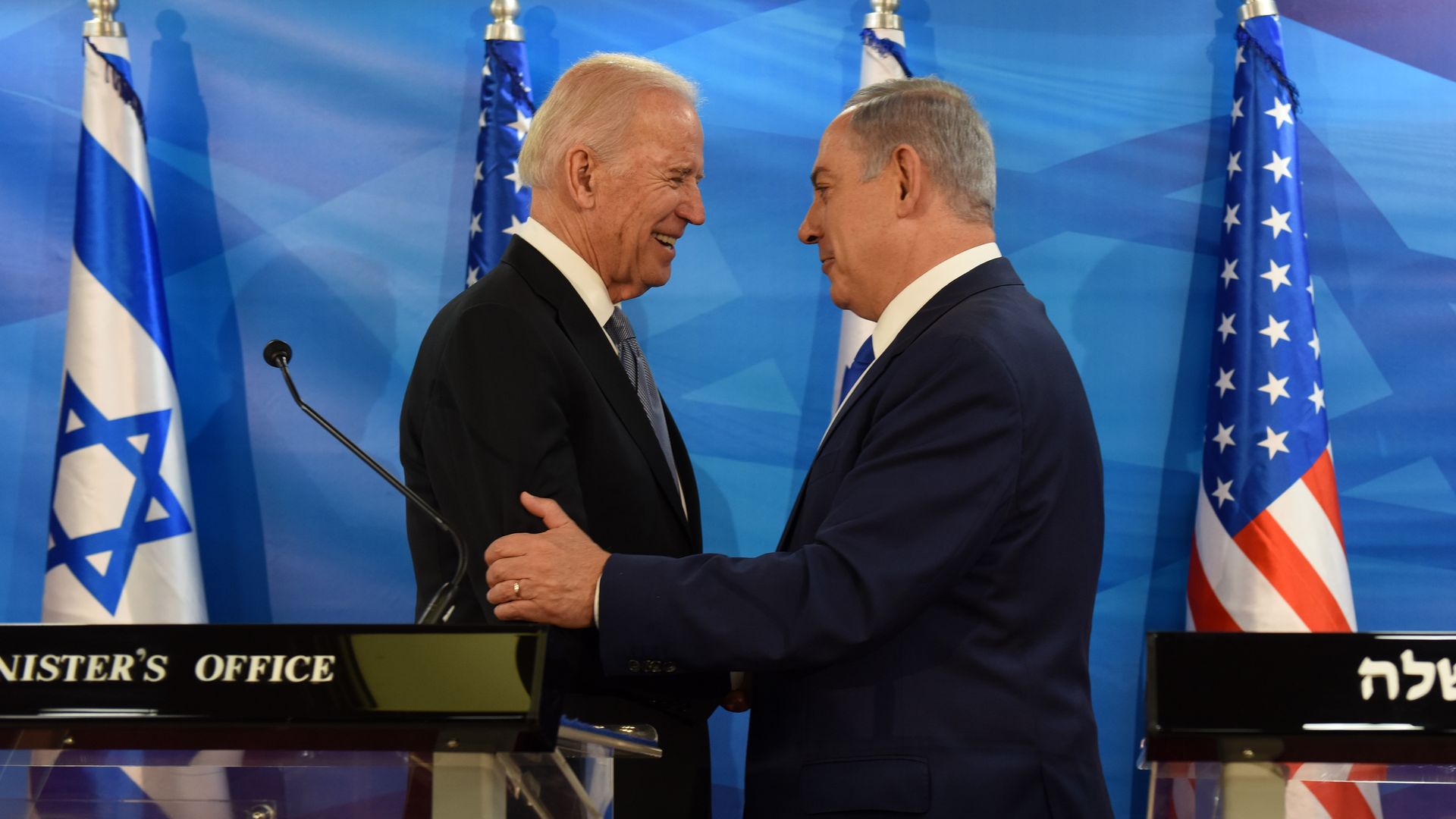 Israeli Prime Minister Benjamin Netanyahu wants to get a security agreement with the U.S. focused on deterring Iran in the context of the mega-deal the Biden administration is trying to reach with Saudi Arabia and Israel, four Israeli and U.S. officials told Axios.
Why it matters: A formal agreement, which would likely have to be approved by Congress, would give stronger U.S. security guarantees to Israel at a time when Iran continues to advance its nuclear program. The chair of the Joint Chiefs of Staff Gen. Mark Milley told Congress the Iranians could build a nuclear device within five months if they decided to do so.
Driving the news: Netanyahu brought up the idea for a U.S.-Israeli security agreement in passing during his last phone call with President Biden in July, three Israeli and U.S. officials told Axios.
Netanyahu told Biden he wants to send his confidant and Strategic Affairs Minister Ron Dermer to Washington to present a proposal in detail, the officials said. Dermer is the driving force behind the idea and he started pushing it shortly after Netanyahu assumed office seven months ago, a senior Israeli official told Axios.
The exact parameters of Neyanyahu's proposed agreement are not known but Israeli officials say it is meant to focus on U.S. security guarantees around a possible military nuclear threat from Iran.
Netanyahu's office said it won't comment on private diplomatic conversations.
A National Security Council spokesperson did not respond to specific questions about Netanyahu's idea, but said the administration continues its "support for full normalization with Israel" and "to talk to our regional partners [in the Middle East] about how more progress can be made."
"Normalization and the details of any agreement reached have to be decided by two sovereign states," the spokesperson added.
The big picture: Netanyahu sees a U.S.-Israeli security agreement as something that could be signed in the context of the broader deal the U.S. is trying to reach with Saudi Arabia that would also include a Saudi-Israel normalization agreement, Israeli officials said.
As part of the talks around the deal, the Biden administration and Saudi officials are discussing a possible security agreement that would give U.S. security guarantees to the kingdom.
The Saudis wanted an agreement that would include a NATO-style Article 5 commitment in which the U.S. would treat any attack against Saudi Arabia like an attack against the U.S.
The Biden administration didn't accept this request but did agree to discuss what some U.S. officials are calling an "article 4.5" commitment — a security guarantee that would fall short of the Saudi expectations but would still be significant, a U.S. official said.
Netanyahu and Dermer want something similar and think that in a broader context of a U.S.-Saudi-Israel deal, such a security agreement will be easier to get, Israeli officials said.
Flashback: In 2019, Netanyahu and Dermer, who was then the Israeli ambassador to Washington tried to get a similar agreement from then-President Trump.
Many senior officials in the Israeli security establishment were opposed to the idea, saying such an agreement would limit the IDF's freedom of operation.
A few days before the September 2019 Israeli elections, Trump said on social media that he discussed with Netanyahu the possibility of moving forward with a mutual defense treaty.
At the time, this appeared to be an effort by Trump to help Netanyahu ahead of the Israeli elections. Netanyahu didn't win the elections and the idea largely died until recently.
Between the lines: While upgrading the already strong U.S.-Israeli security relationship, such an agreement could give more leverage to the U.S. when it comes to influencing Israeli military operations.
At a conference in Washington in November 2019, Dermer said a defense treaty with the U.S. would provide Israel "with an additional layer of deterrence against the most extreme threats that Israel faces."
He said at the time that he envisioned a "narrow treaty" that would serve the defense needs of both sides but also wouldn't tie Israel's hands.
What to watch: U.S. officials have previously said the administration wants to try to complete its diplomatic initiative with Saudi Arabia before the presidential election campaign consumes Biden's agenda, as Axios reported earlier this year.
Go deeper