Scoop: U.S. proposed conducting joint military planning with Israel on Iran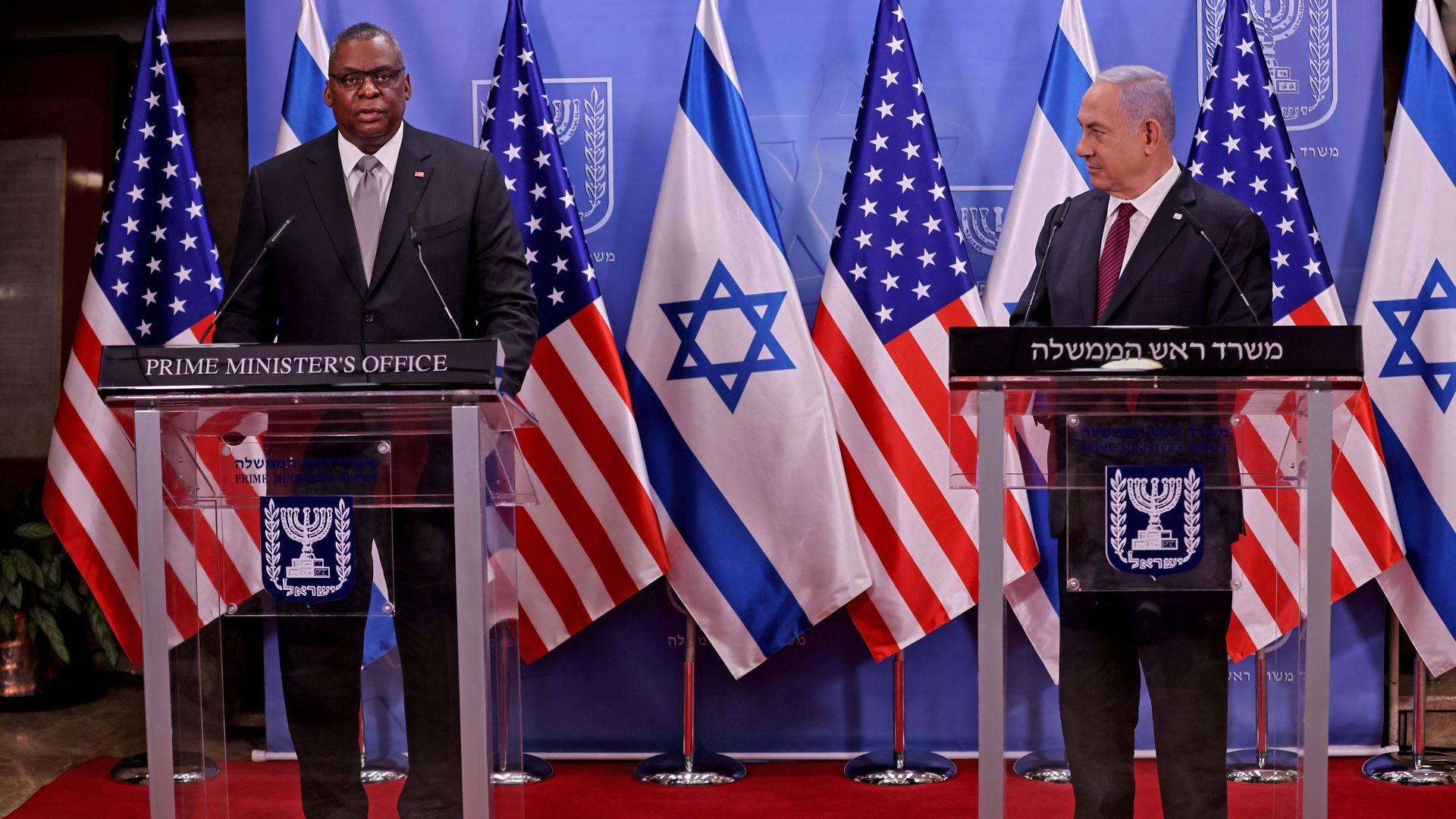 The Biden administration proposed to Israel a few weeks ago the idea of engaging in joint military planning concerning Iran, three U.S. and Israeli officials told Axios.
Why it matters: U.S. officials say the proposal is unprecedented and could significantly upgrade U.S.-Israeli military cooperation.
Yes, but: Israeli officials have so far treated the proposal with suspicion, fearing it is an attempt to "tie Israel's hands" from taking action against Iran — especially its nuclear facilities — if the U.S. objects.
A U.S. official stressed that the proposal is "not about planning any kind of joint U.S.-Israeli strike against Iran's nuclear program."
Behind the scenes: U.S. officials said the proposal came up during recent visits to Israel by chair of the Joint Chiefs of Staff Gen. Mark Milley, Secretary of Defense Lloyd Austin, and CENTCOM commander Gen. Erik Kurilla.
Israel didn't reject the idea but asked for clarifications regarding what "joint military planning" actually means in practice, including whether this process stays in the realm of intelligence and scenarios or extends into the realm of joint operations, a senior Israeli official said.
A U.S. official said the proposal was meant as a reassurance of U.S. military backing to Israel and wasn't meant in any way to tie Israel's hands.
The U.S. official added that such joint planning means that each side shares its plans for different contingencies and both sides can discuss ways to better deal with different scenarios that could develop regarding Iran's activities in the region.
Pentagon spokesperson Lt. Col. Phillip Ventura said that senior Defense Department leaders "have made repeated public statements regarding our interest in expanding military cooperation with the Israeli Defense Forces, to include by increasing joint participation in military training exercises in order to improve interoperability and promote a common understanding of regional security challenges."
He added that "the relationship between the U.S. and Israeli militaries is extremely close, and our commitment to Israel's security remains ironclad."
The IDF did not respond to requests for comment.
What they are saying: White House national security adviser Jake Sullivan tried to calm Israeli concerns in a speech at the Washington Institute for Near East Policy two weeks ago.
"We have made clear to Iran that it can never be permitted to obtain a nuclear weapon. As President Biden has repeatedly reaffirmed, he will take the actions that are necessary to stand by this statement, including by recognizing Israel's freedom of action," he said.
State of play: The White House recently announced that the U.S. military will bolster its defensive posture in the Gulf due to what it called increasing harassment of commercial ships by Iranian navy vessels.
The U.S. Navy's Fifth Fleet also announced it was working to increase the rotation of ships and aircraft that patrol the Strait of Hormuz, a key shipping route in the region.
Go deeper