The symbolism of Trump's rainy arraignment day in D.C.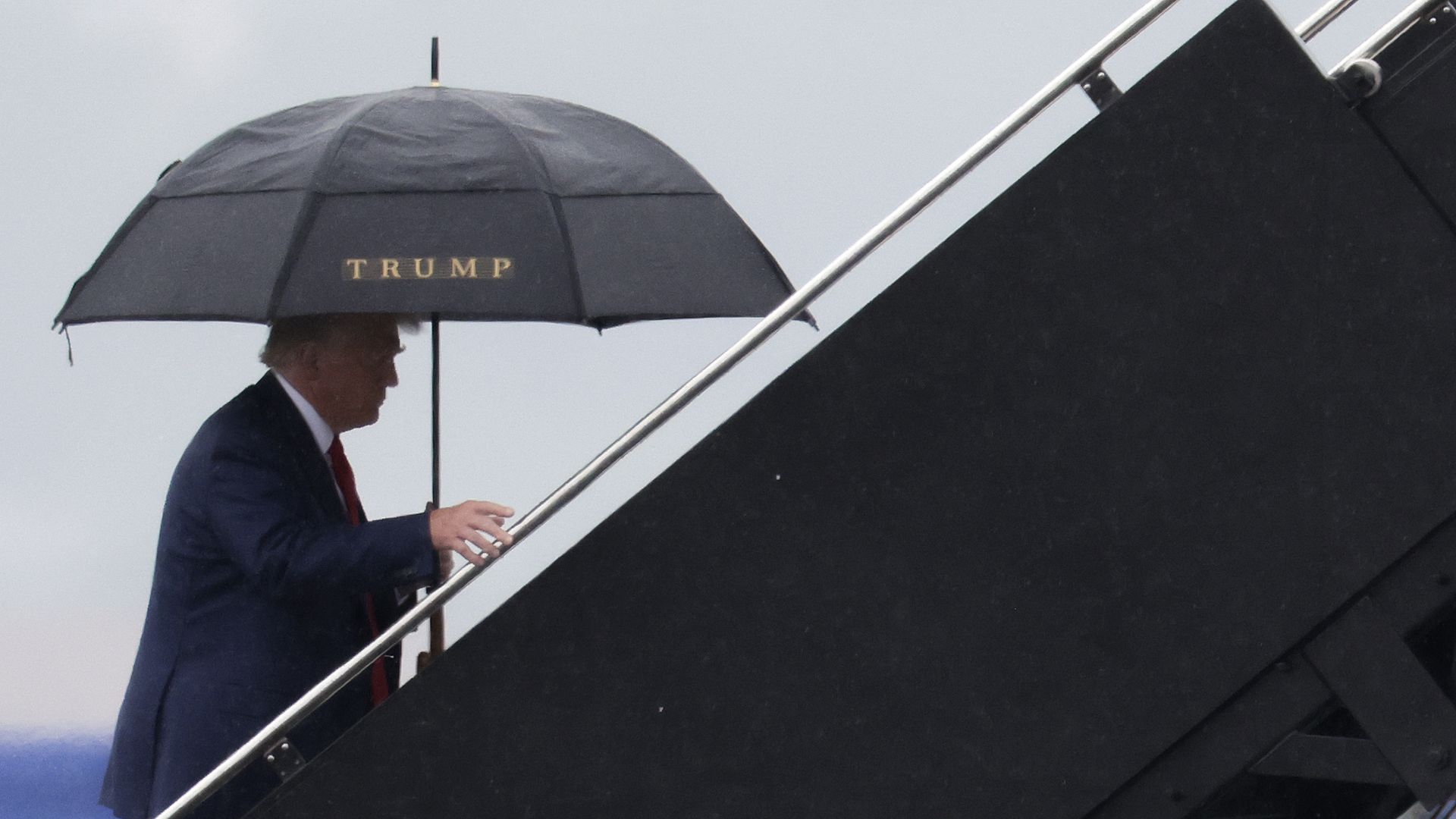 Former President Trump's choreography was familiar — angry posts on social media and a much-watched trip to a courthouse. But it was clear Thursday that his felony case in Washington is much different from his legal battles in New York and Florida.
Why it matters: For Trump — who's made a habit of turning arraignments into free campaign programming — his appearance in drizzly D.C. on charges of plotting to overturn the 2020 election seemed to symbolize why this case is widely viewed as the most serious threat he faces.
Zoom in: After a short flight to Washington from his golf club in Bedminster, N.J., Trump rode in a caravan to D.C.'s federal courthouse.
There were no big, supportive crowds along the former president's route to court — like there had been in sunny Miami in June, when he was arraigned on charges of mishandling classified documents.
Instead, many anti-Trump protestors gathered around the courthouse where hundreds of Jan. 6 defendants who'd been inspired by Trump's call to protest the election were tried and sentenced.
After he was arrested, Trump and his attorneys waited for more than 20 minutes in court before a magistrate judge arrived to hear the former president's not-guilty plea.
The next hearing in Trump's case was set for Aug. 28, an indication that Tanya Chutkan — the Obama-appointed judge who will preside over Trump's trial — is open to prosecutors' call for a speedy trial.
If prosecutors are able to secure a trial date in, say, early 2024, the D.C. case would be tried before the one in Fort Pierce, Fla. That's where judge Aileen Cannon, a Trump appointee, has scheduled trial for May.
In March, Trump is scheduled to go to trial in New York on felony charges related to hush money he paid to a porn star. But Manhattan District Attorney Alvin Bragg has indicated he's willing to push back that trial for the D.C. case.
Trump made no PR stops after leaving court Thursday, a contrast to his drop-in at a Cuban restaurant after his court appearance in Miami.
Instead, his caravan returned to Reagan National Airport, where just before boarding his plane, Trump — under an umbrella shielding him from the rain — spoke briefly to reporters.
"This is a very sad day for America," he said, before criticizing the "filth and decay" in Washington. "This is a persecution of a political opponent. This was never supposed to happen in America."
What to watch: Trump continues to counter his legal jeopardy with bravado, boasting that the indictments have helped him build a big lead in polls of GOP primary voters.
"I NEED ONE MORE INDICTMENT TO ENSURE MY ELECTION," he posted Thursday on Truth Social.
But the fundraising bump that Trump has seen as his legal troubles have increased seems to be slowing, Politico has reported.
And new polling suggests that any conviction could severely hurt Trump's chances at returning to the White House: Roughly half of Republicans say they wouldn't vote for him if he were convicted of a felony.
Editor's note: This story has been corrected to say Trump's Florida trial is scheduled for Fort Pierce, rather than Miami.
Go deeper