Scoop: Biden pushes to end remote work era for feds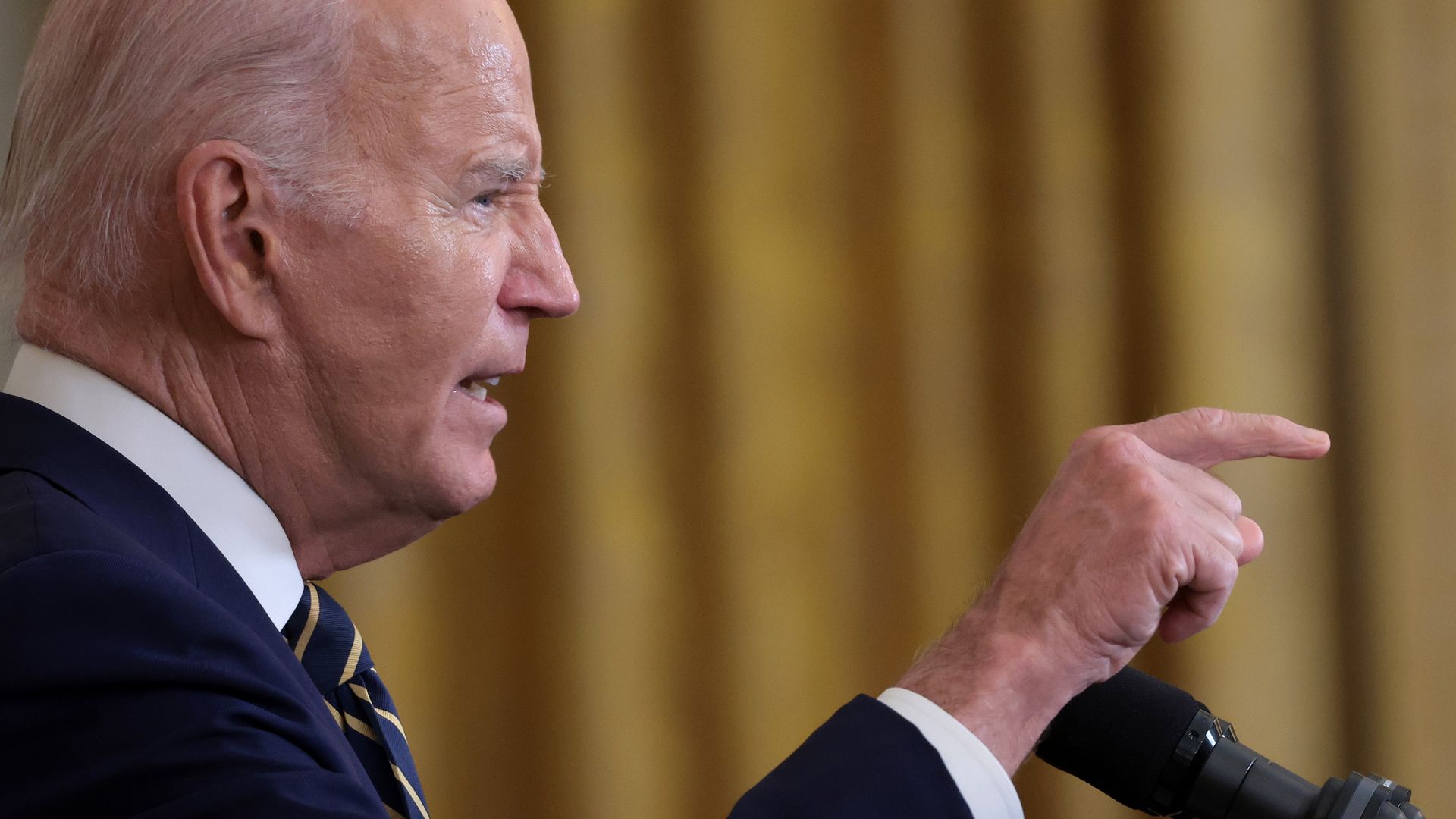 President Biden is calling for his Cabinet to "aggressively execute" plans for federal employees to work more in their offices this fall after years of working remotely, according to an email sent Friday to every Cabinet member and obtained by Axios.
Why it matters: It's Biden's most overt push yet to get federal employees to return to their offices — a dynamic many businesses also have struggled with as Americans continue to embrace remote work despite the pandemic waning.
Driving the news: In an email to the Cabinet on Friday, White House Chief of Staff Jeff Zients wrote: "We are returning to in-person work because it is critical to the well-being of our teams and will enable us to deliver better results for the American people."
He added: "As we look towards the fall, and with the end of the COVID-19 public health emergency, your agencies will be implementing increases in the amount of in-person work for your team. This is a priority of the President — and I am looking to each of you to aggressively execute this shift in September and October."
Zients wrote that the changes will not eliminate working remotely but rather combine that flexibility "while ensuring we have the in-person time we need to build a strong culture, trust, and interpersonal connections."
A Government Accountability Office report published last month found that "17 of the 24 federal agencies used on average an estimated 25 percent or less of the capacity of their headquarters buildings."
Between the lines: Zients has made returning to the office a priority for both the White House and the broader executive branch since he became chief of staff in February to improve the office culture.
In March, Zients opened the White House's Navy Mess for in-person dining for the first time during Biden's tenure.
Last week, the mess hosted a guest chef from Rasika — a popular Indian restaurant in D.C. — and there has been a push for more team-building events such as happy hours.
Zients also has started conducting in-person town halls in which lower-level staffers can ask him and others questions (there is a Zoom option for people who can't fit in the room).
Zients' senior staff meetings in the mornings and evenings also are in-person with Zoom options if needed.
Zoom in: Several current and former Biden White House officials told Axios that it was difficult to foster a healthy culture during the first year when the pandemic was still raging.
Many aides recalled being sad at having to be on a Zoom with colleagues even though they would be just a few offices over.
Some mid-level and junior aides also resented the White House's two-tier system in which some employees were deemed essential to work in the office and others remained remote.
As Zients has pushed to end remote work, some staffers have complained and resisted — a dynamic in many American workplaces.
Zoom out: Biden has been talking about bringing federal workers back to the office since the spring of 2022 with limited success.
In his State of the Union in March 2022, Biden pledged that "the vast majority of federal workers will once again work in person."
The White House has been gradually opening up since the summer of 2021 as staff returned, holiday celebrations resumed and White House tours came back. The Truman bowling alley re-opened in the fall of 2022.
In April, the Office of Management and Budget ended maximum telework and sent out further instructions for agencies to develop plans to increase in-person work. Zients' letter aims to speed up that move.
The White House declined to comment.
The big picture: The political pressure on the White House to curb remote work has included demands from Republicans in Congress, who have blamed telework for delays and backlogs in agencies' work.
Democrats, advocacy groups and some unions have largely blamed lack of funding for such issues and cite telework as a key tool in recruiting staff.
Some senior administration officials never fully moved to D.C., including former Labor Secretary Marty Walsh.
What they're saying: In her third inaugural address in January, D.C. mayor Muriel Bowser raised alarm bells about the city's rising number of vacant office spaces.
"We need decisive action by the White House to either get most federal workers back to the office most of the time or to realign their vast property holdings for use by the local government, by nonprofits, by businesses and by any user willing to revitalize it," she said.
Telework's economic impact has been significant for many cities, including Washington, D.C., where local businesses and politicians have been pressuring the White House to demand more in-person work.
This week, former New York City Mayor Mike Bloomberg penned an op-ed in The Washington Post on the topic:
"The federal government should lead by example, and the president should keep his promise," Bloomberg wrote. "Taxpayers deserve immediate action and hard deadlines — and the better service and stronger capital city that will result."
Go deeper