The fight over federal telework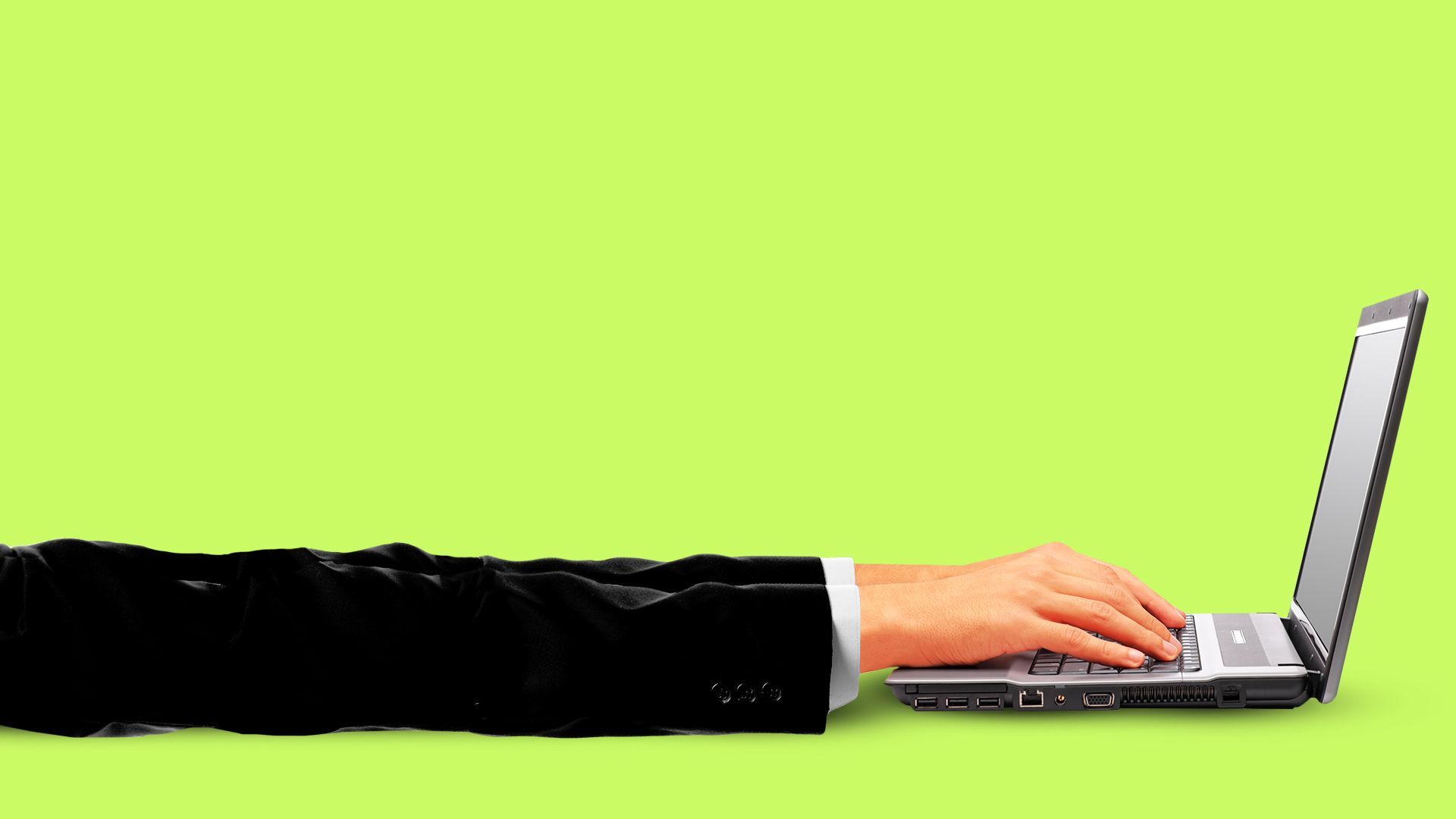 There's a behind-the-scenes fight in Washington over the future of federal teleworking.
Why it matters: As federal workers anxiously await more certainty about the future of lax telework policies, local business and political forces are putting more pressure on the White House to bring back in-person work.
What I'm hearing: The labor world is split on the issue. National heavyweight unions who rep most white-collar federal workers prefer telework, but local shops are seeking a return to the office to boost their legions of blue-collar workers like janitors.
The big picture: Federal workers like remote working. The largest federal employee union, AFGE, found in a recent survey of 3,100 members that 71% believe telework has increased productivity in their agency "a great deal."
The pro-telework side believes requiring more in-person work will make it harder for the feds to compete with the private sector in hiring, especially as younger people already stray away from working for Uncle Sam.
"People hate commuting," said AFGE's policy director Jacqueline Simon, not to mention childcare costs and expensive downtown lunches.
The other side: More in-person work helps janitors and cleaning workers whose hours have been cut as offices go empty.
About 500 janitors with livable wages and benefits lost their jobs during the pandemic, said a spokesperson for 32BJ SEIU, which represents private-sector service workers.
The union is aligned with Mayor Bowser, along with UNITE HERE Local 25, which represents hotel and restaurant workers in D.C. and endorsed Bowser in her re-election campaign last year.
Zoom in: Mayor Bowser can see sparsely used federal real estate outside her window on Pennsylvania Avenue.
She has long wanted President Biden to return more feds downtown to re-juice an economy that thrived on the spending habits of federal workers before the pandemic.
Stopping short of a new mandate, the Biden administration on April 13 released a vague memo directing agencies to develop plans with the expectation that agency chiefs will "substantially increase meaningful in-person work."
Kentucky Rep. James Comer, who as chair of the GOP-led House Oversight Committee has pushed through legislation to mandate more in-person work, denounced Biden's memo and said he would contact federal agencies to find out how many workers are teleworking.
Zoom out: Lacking a sweeping mandate, in-person policies vary widely from one federal office to another. Mayor Bowser wants a three-day-per-week in-office rule, a step Biden has so far declined to take.
The intrigue: The day before the memo was released, there was unease about the future of telework at an annual downtown breakfast held by the Partnership for Public Service, which tracks workplace happiness levels across the bureaucracy.
"I think there's a lot of pressure from business interests in D.C.," Max Stier, the head of the partnership group, told me about returning to in-person work.
"I don't think we should be creating personnel policy for the federal government on the basis of economic interest of cities," he said.
On that point, the business community says: "Cities are made up of people and federal policy must absolutely be made to benefit American people," said Kevin Clinton, a top aide at the D.C. business-heavy Federal City Council.
The bottom line: The Biden memo's call for more agency-level studies into workplace policy has bought extra time for Biden on a sensitive issue as he begins his re-election campaign.
💬 Town Talker is a weekly column on local politics and power. Are you a federal worker who is being called back into the office? Hit me up off the record: [email protected]
More Washington D.C. stories
No stories could be found
Get a free daily digest of the most important news in your backyard with Axios Washington D.C..