California's largest fire of 2023 razes Joshua trees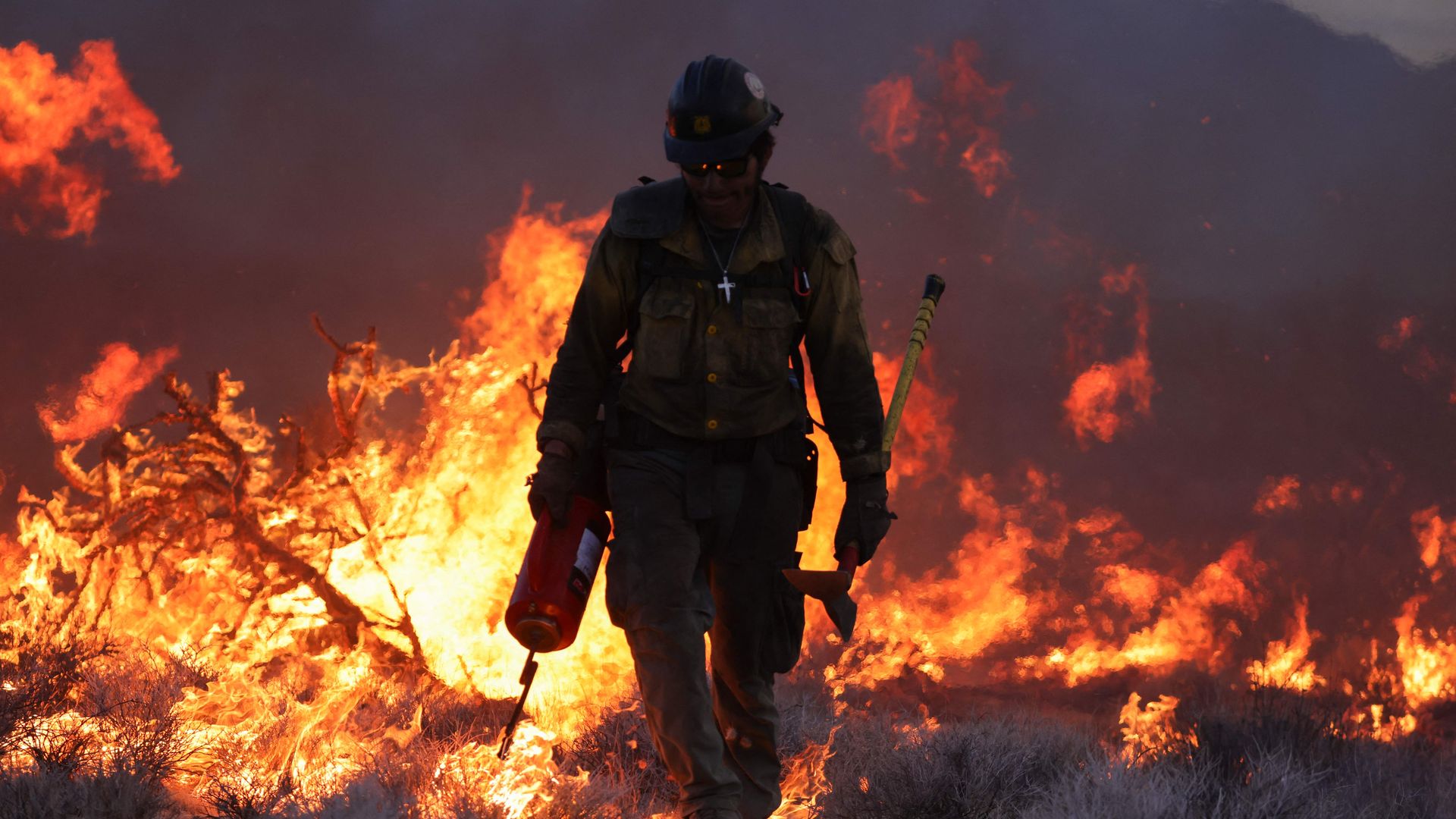 A massive wildfire in California's Mojave National Preserve that exploded in size and spilled into Nevada over the weekend is threatening wildlife and Joshua tree forests.
The big picture: The wind-driven York Fire is California's largest wildfire this year. It's burning uncontained across some 77,000 acres and was one of 64 large fires burning across nine states as of Monday.
This includes a wildfire that crossed the border from Washington into Canada and triggered evacuation orders for more than 700 people Sunday.
Threat level: Clark County Nevada officials noted smoke from the blaze impacted air quality in Las Vegas and other Nevada cities Monday, as it pushed particulate matter "into the moderate and unhealthy range for sensitive groups and reducing visibility."
Officials from the Mojave National Preserve and National Park Service told the Los Angeles Times the fire has torn through Joshua tree, pinyon pine and juniper groves and the region's endangered Mojave desert tortoises were also under threat.
The fire that was first detected Friday has destroyed at least three structures, including the National Park Service's Kousch House, which Inciweb notes had been eligible to be listed on the National Register of Historic Places.
Of note: "In some locations, firefighters on the north side of the fire observed fire whirls also known as whirlwinds," or fire tornadoes, per Inciweb.
Context: Studies show climate change is leading to larger, more frequent wildfires in much of the West.
Between the lines: UCLA climate scientist Daniel Swain said in an online post that "antecedent climate conditions" following a winter and cool spring had created a "more continuous fuel bed" than is usual for desert ecosystems.
"This is bad news for Joshua trees, which are not especially fire adapted," Swain said.
Zoom out: The wind-driven Eagle Bluff Fire that ignited Saturday had burned uncontained across more than 10,200 acres in Washington and another 3,600 acres across the border in British Columbia as of Monday.
It had caused the evacuation of over 700 homes, mostly in Canada, but most evacuation orders were lifted Monday.
It's the only large fire burning in Washington as of Monday,
By the numbers: Five large fires were burning on Monday in California, along with 14 in Arizona, 13 in New Mexico, 10 in Alaska and six in Idaho, per the National Interagency Fire Center.
Another four large fires were burning in Oregon, two in Texas and one each in Colorado, Wyoming and Utah.
Go deeper