How extreme heat hits America's hungry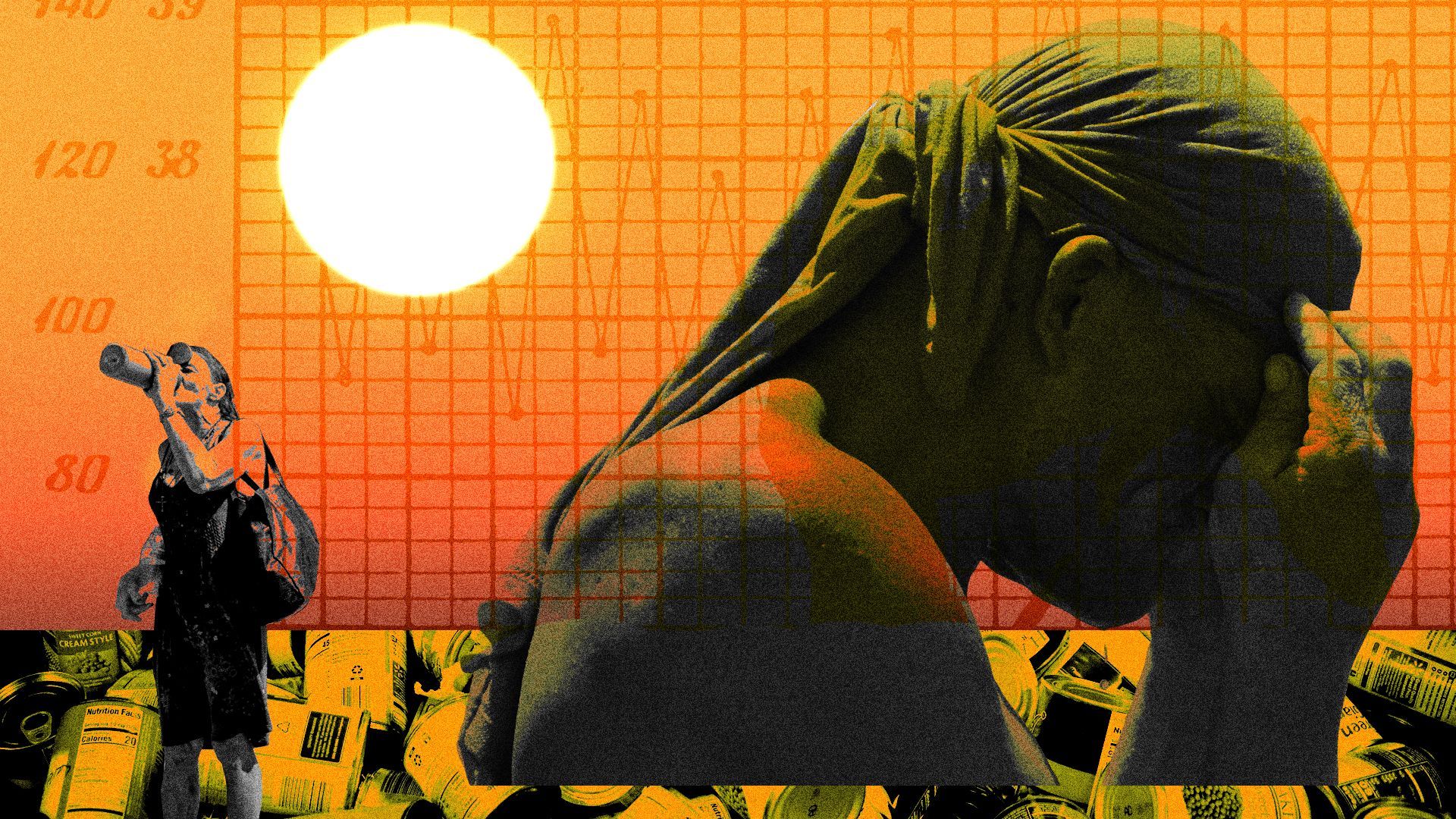 Some Americans are being hit harder than others by the extreme heat wave baking swaths of the country because they can't get enough to eat or drink.
The big picture: Food-insecure households are among the most at risk of health and financial hardships during blistering temperatures. They face unique exposure to dehydration and costly relief that further strains dwindling food budgets.
Zoom in: One way heat can immediately intensify food insecurity is by making it harder to buy food.
"It presents a cumulative burden," said Diana Hernández, a researcher at Columbia University who studies energy, equity, housing and health.
"It adds more stress to everyday life. Rather than eating enough, and high-quality, nutritious foods, people are cutting back."
Backstory: A lack of access to nutritious foods is linked to higher health care use and expenditures.
Studies have found that food-insecure Americans have a tendency to reduce dietary quality and caloric intake in colder seasons to afford utility bills.
This indicates that hotter temperatures driven by climate change could also become a source of nutrition-based health issues nationwide, Hernández said.
Meanwhile, food-insecure people face unique health complications during periods of high heat and humidity, according to W. Larry Kenney, a Penn State professor of physiology and kinesiology.
"One of the problems for people with food and water insecurities is the lack of high-quality foodstuffs that contain lots of water, like soups and fruits, and more importantly, potable water," Kenney said.
He noted that a lack of access to potable water can lead to "frank dehydration" — which makes it even harder for the body to dissipate heat to the environment and causes body temperatures to increase more rapidly.
Between the lines: The body relies on two main mechanisms of dissipating heat to tolerate high heat and humidity.
To deal with increased body temperatures, humans pump lots of blood to the skin. As more is pumped, the heat in that blood can be lost to the environment — just as long as the air temperature is lower than skin temperature.
The second mechanism involves sweat. Sweat on the skin's surface that can evaporate has a "very powerful cooling energy," noted Kenney.
But if the sweat just stays on the skin or drips off, there's no cooling effect, which just worsens dehydration.
State of play: Spikes in ER visits from heat-related illnesses have been reported amid the heat wave affecting over two-thirds of the country's population that would have been virtually impossible without climate change.
At St. Mary's Food Bank in Phoenix, where temperatures hovered at or above 110°F for most of July, the lasting toll of the pandemic and rising food costs are compounding the sweltering heat to strain available resources for hungry residents.
St. Mary's director of public relations Jerry Brown told Axios it expects to supply 1 million water bottles this summer — a significant jump from last year's 650,000 — with the organization "at our peak."
"We're no stranger to heat here in Arizona," said Brown. "But ... I've never seen anything like this."
Zoom out: Longer-term consequences of unrelenting temperatures include minimized harvests, which impacts the working poor that rely on growing their own produce, according to Octavia Lewis of Destination Tomorrow, an LGBTQ+ advocacy organization behind an Atlanta food pantry.
"A lot of people [that are food-insecure] don't have the discretionary income that others have. 'Do I stay cool? Or do I save money to buy food?' People have to make those decisions that many of us often take for granted," Lewis said.
People of color, those with disabilities and unhoused populations are the most impacted by food insecurity in the U.S.
The intrigue: A 2022 study in Nature Energy found warmer temperatures between 2012 and 2017 led to rising energy costs that resulted in an increasing number of low-income California households having their electricity disconnected.
Of note: To D.C. Hunger Solution's interim director LaMonika Jones, the need to improve safety in the workforce for farmers, producers and growers has become more obvious, along with increasing the number of hyperlocal food access points.
A Florida farmworker died earlier this month after experiencing heat exhaustion on the job, sparking a renewed call for heat-safety reforms.
And Tory Wilson of United Food Bank told Axios that during extreme-heat periods, people may be less inclined or unable to leave their homes to get food, especially if it involves waiting at a bus stop, riding a bike, or walking.
The bottom line: "It's not just making sure that we have access points for food, but it's making sure that people are able to access them," Jones said.
Go deeper