Heat wave puts over two-thirds of U.S. population under heat alerts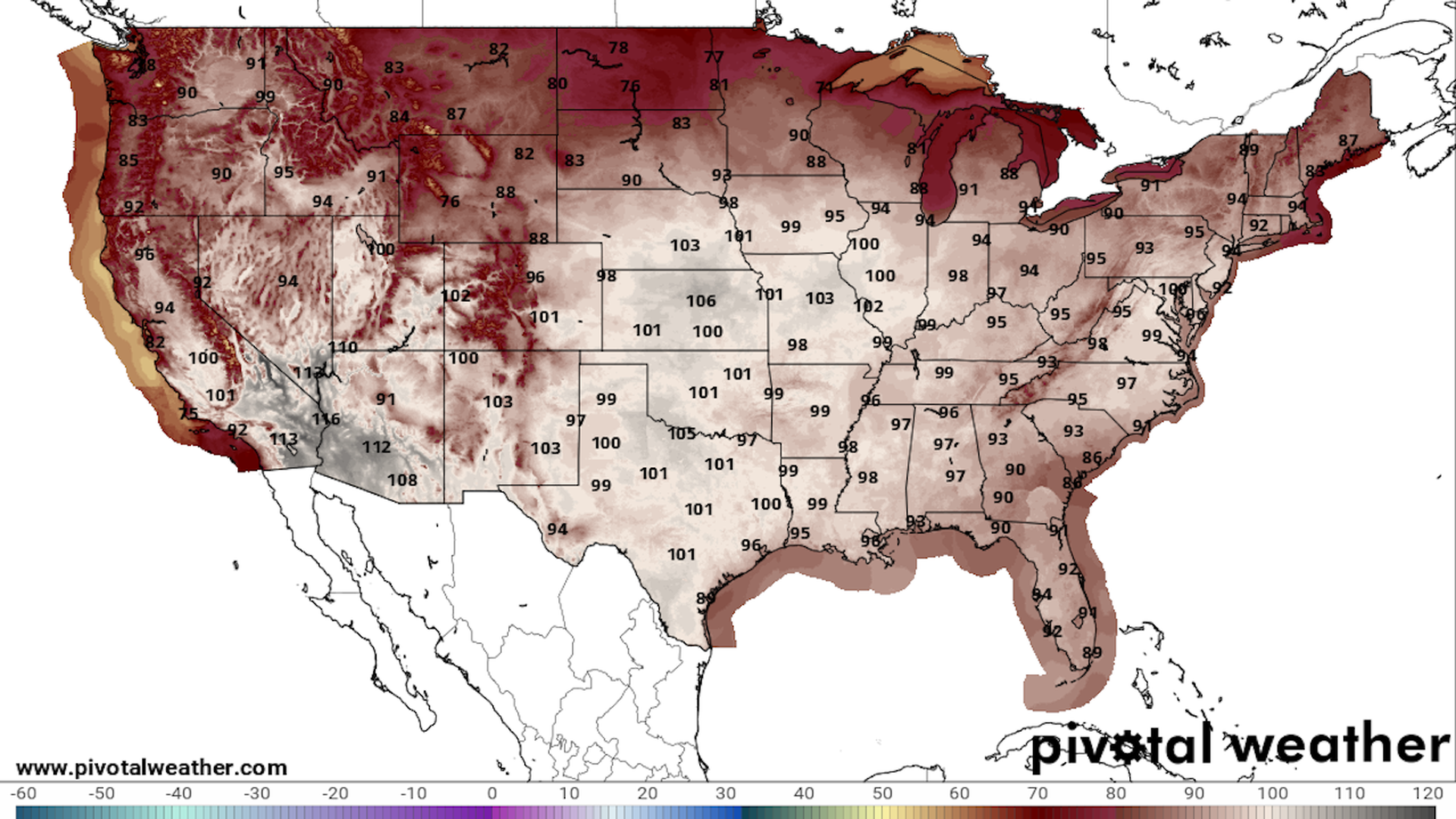 A heat wave that has stifled the southern tier of the U.S. for weeks has expanded into the Plains, Midwest and now the Mid-Atlantic and Northeast on Friday, triggering heat alerts for over 190 million people, according to the National Weather Service.
Why it matters: The extreme heat is expected to persist over a massive swath of the country through Saturday, all the while posing an immediate risk to public health.
Heat events are the top annual weather-related killer in the U.S., especially when they persist over a long period of time, as the current heat wave has in many locations.
Friday and Saturday are forecast to be the hottest days of summer so far for millions of people from coastal Virginia through Washington, D.C. northward to Boston.
Driving the news: President Biden announced on Thursday new federal heat-related protections for workers, including plans for the Department of Labor's first-ever "hazard alert" for extreme temperatures.
The latest: The NWS said "oppressive heat and humidity" is expected to build in New York over through Saturday, and parts of the city could see dangerous heat index values up to 102°F.
"Use air conditioning to stay cool at home or go to a place that has air conditioning. Check on vulnerable friends, family members and neighbors.," the NWS forecast office in New York said Friday morning.
The NWS issued an excessive heat warning for Friday in D.C., Baltimore and Philadelphia, saying "dangerously hot conditions" could push heat index values up above 110° F or above on Friday.
Extreme heat will also hit the Ohio Valley, Mississippi River Valley, southern Plains and the Southwest, where all-time record high temperatures will continue to be broken.
Threat level: Several major cities from coast to coast, including inland areas of L.A. County, Phoenix, Dallas, Louisville, New York, Washington, D.C. and Boston, are forecast to see heat indices exceeding 90°F.
Heat index is what the temperature feels like to the human body when humidity is combined with the air temperature. People are advised to take caution and look out for signs of heat-related illnesses when indices reach 80°F or above.
The high temperatures and winds and low humidity were creating critical fire weather across parts of California, Idaho Montana and Nevada, affecting over 1.6 million people.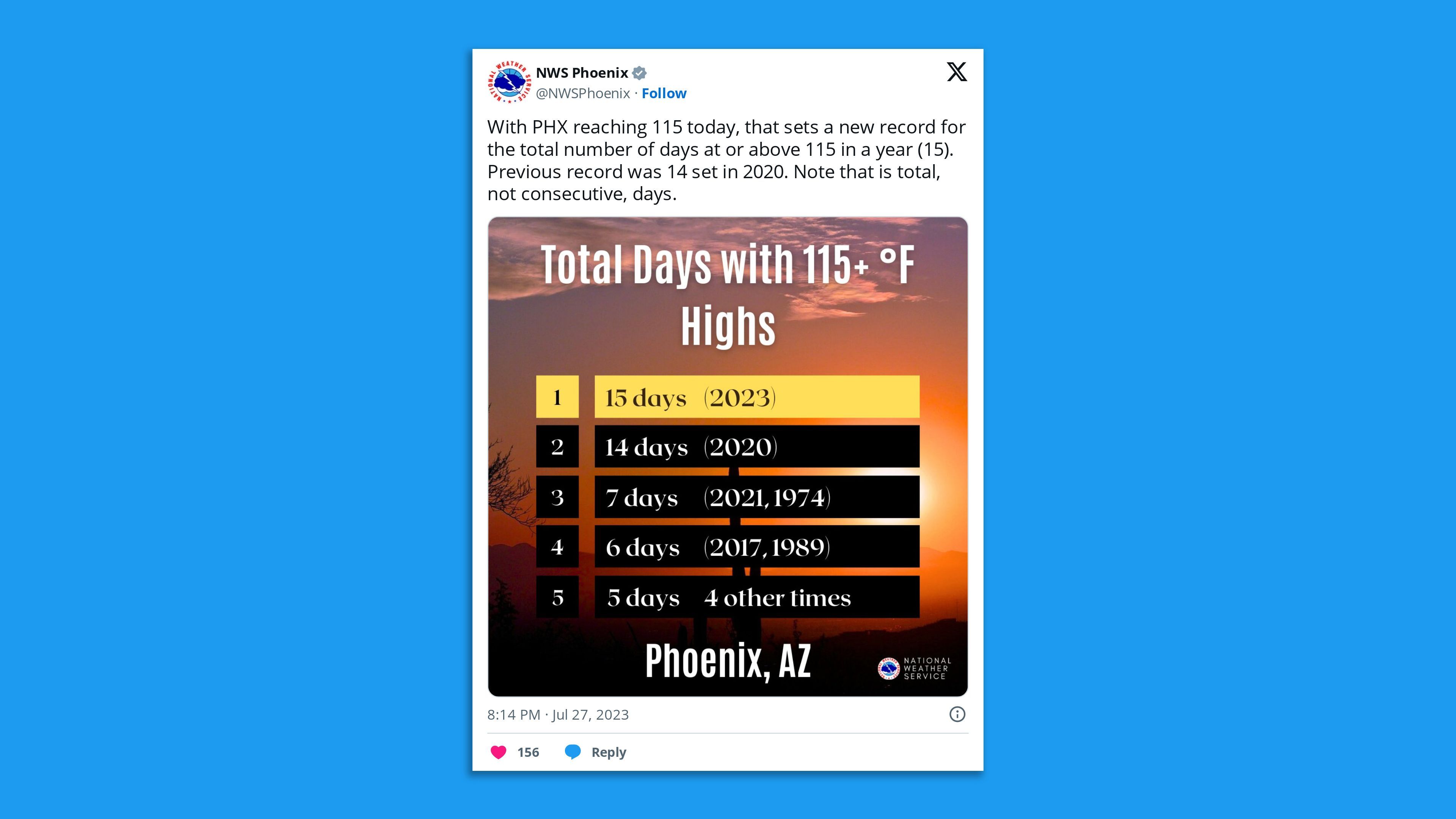 By the numbers: Phoenix on Thursday saw its 28th day in a row with a high temperature of at least 110°F — much longer than the previous record of 18 such days. The city's Sky Harbor Airport hit 115°F, which the NWS notes is "9 degrees above normal/average for the date."
The big picture: Globally, last month was the hottest June on record since at least 1940, and this month is the hottest month as well, the Copernicus Climate Change Service and World Meteorological Organization declared Thursday.
Context: Extreme heat events are the top annual weather-related killer in the U.S., especially when they persist over a long period of time, as the current heat wave has in many locations.
The extreme, record-breaking heat that has recently broiled the U.S. and Europe would have been "virtually impossible" without human-caused climate change, according to a new study published earlier this week.
The study reinforced prior research that found that greenhouse gas emissions from burning fossil fuels are making extreme heat events more likely and severe.
What's next: While the Northeast and Mid-Atlantic will see relief from the heat by Sunday, the heat dome responsible for the dangerous conditions will then build over the Gulf Coastal states, bringing dangerous conditions there next week.
Some computer models show the core of the hot weather intensifying again over the Southwest by the second week of August.
Go deeper:
Editor's note: This article has been updated to include Biden's announcement and the latest extreme heat alerts.
Axios Senior Climate Reporter Andrew Freedman contributed to this story.
Go deeper