Report: Texas' strict abortion ban linked to over 10% spike in infant deaths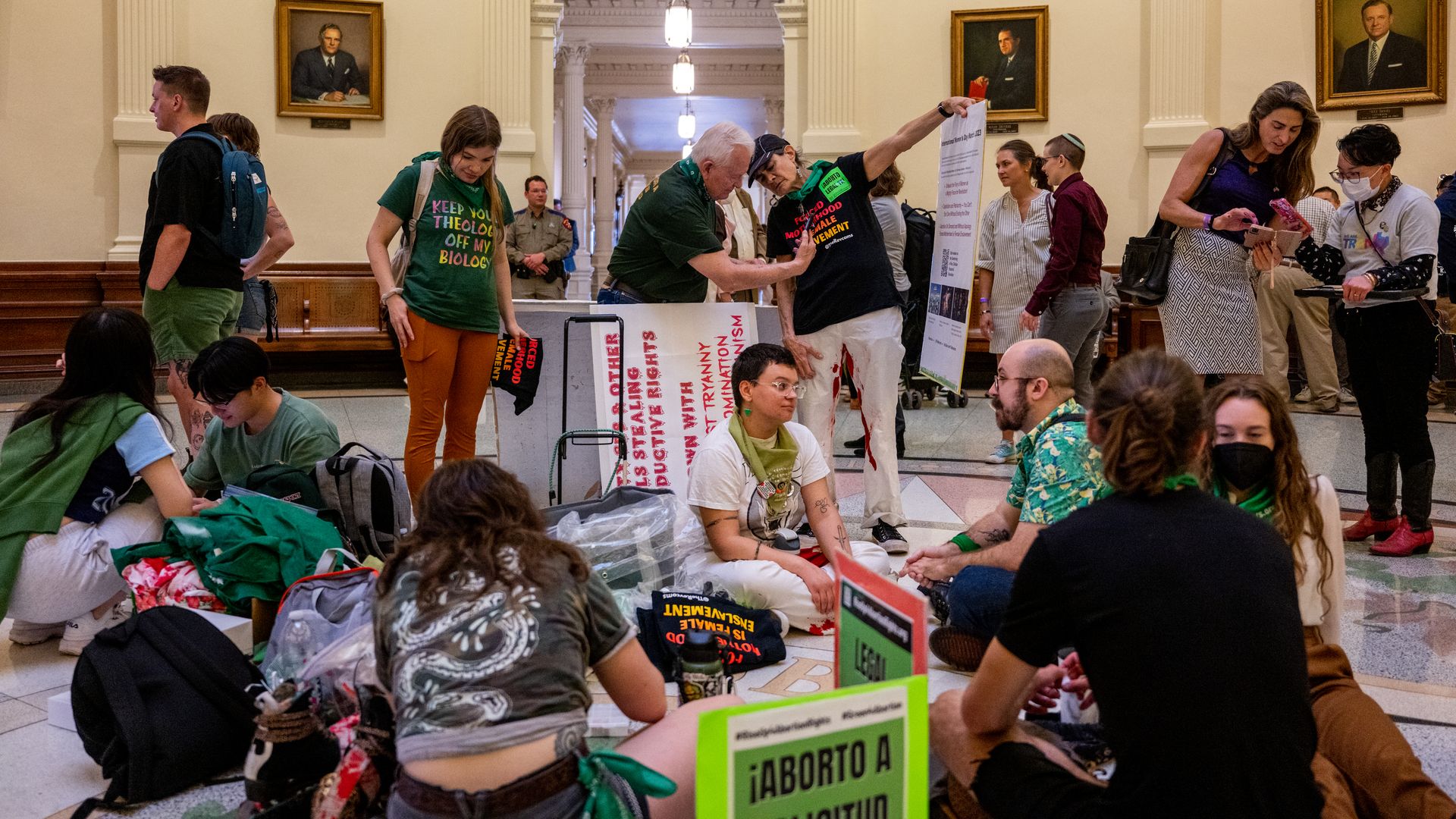 Nearly two years after Texas' six-week abortion ban went into effect, the state's infant mortalities spiked by over 10% in 2022, according to preliminary data obtained by CNN.
Why it matters: Texas' ban, which was the strictest in the U.S. at the time of its enactment, may be driving the increase in infant deaths by forcing people to carry nonviable pregnancies to term.
In 2021, Texas effectively made abortions illegal after six weeks of pregnancy — before most people know they are pregnant.
The ban, which did not include any exceptions for rape or incest, allowed private citizens to sue abortion providers and those who assist patients seeking an abortion.
Shortly after the Supreme Court overturned Roe v. Wade and ended all federal protections for abortion, the state's so-called "trigger law" went into effect. It made performing an abortion a felony, except when the procedure is necessary to save the pregnant person's life.
The preliminary data from the Texas Department of State Health Services showed that at least 2,200 infants died in the state in 2022, an increase of 227 deaths, or a 11.5% jump, from 2021.
Erika Werner, chair of obstetrics and gynecology at Tufts Medical Center, told CNN that medical professionals expected infant mortality rates to rise after the bans went into effect.
Many abortions previously permitted under Texas law "were for pregnancies that don't turn into healthy normal kids," Werner said.
Driving the news: Multiple women who were denied "necessary and potentially life-saving" abortions sued Texas officials in March.
They are asking a state court to declare that physicians have the authority to provide abortion care when they consider it to be medically necessary, per their lawsuit.
Zoom in: Samantha Casiano is one of the plaintiffs in the suit brought by the Center for Reproductive Rights.
Casiano said she was denied an abortion after her fetus was diagnosed with anencephaly, a serious birth defect in which a baby is born missing parts of the brain and skull and will die within a few hours or days, ABC News reports.
Casiano's daughter survived for just four hours after birth. She was so traumatized that she threw up in the courtroom while testifying about it.
Our thought bubble, via Axios' Oriana Gonzalez: Not only is the number of unplanned pregnancies expected to increase as more abortion bans take effect, but so is the number of life-threatening complications for both infants and pregnant people.
Health providers have said that confusion around the bans, including those with exceptions, have led them to turn away patients seeking abortions even when their pregnancies are nonviable and may require medical attention because they fear being prosecuted.
The big picture: Maternal mortality rates have also been on the rise in Texas over the past two decades, increasing from 10.3 deaths per 100,000 live births in 1999 to 21.9 in 2019.
Obstetric hemorrhages were the leading cause of pregnancy-related death in the state during those years. Ectopic pregnancies were the top underlying hemorrhage cause.
Ectopic pregnancies can cause a rupture and major internal bleeding if left untreated, but treatment requires ending a pregnancy, according to the American College of Obstetricians and Gynecologists.
Go deeper: Utah AG opposes proposed HIPAA protections for out-of-state abortions
Go deeper