Report: Abortion bans led to life-threatening health complications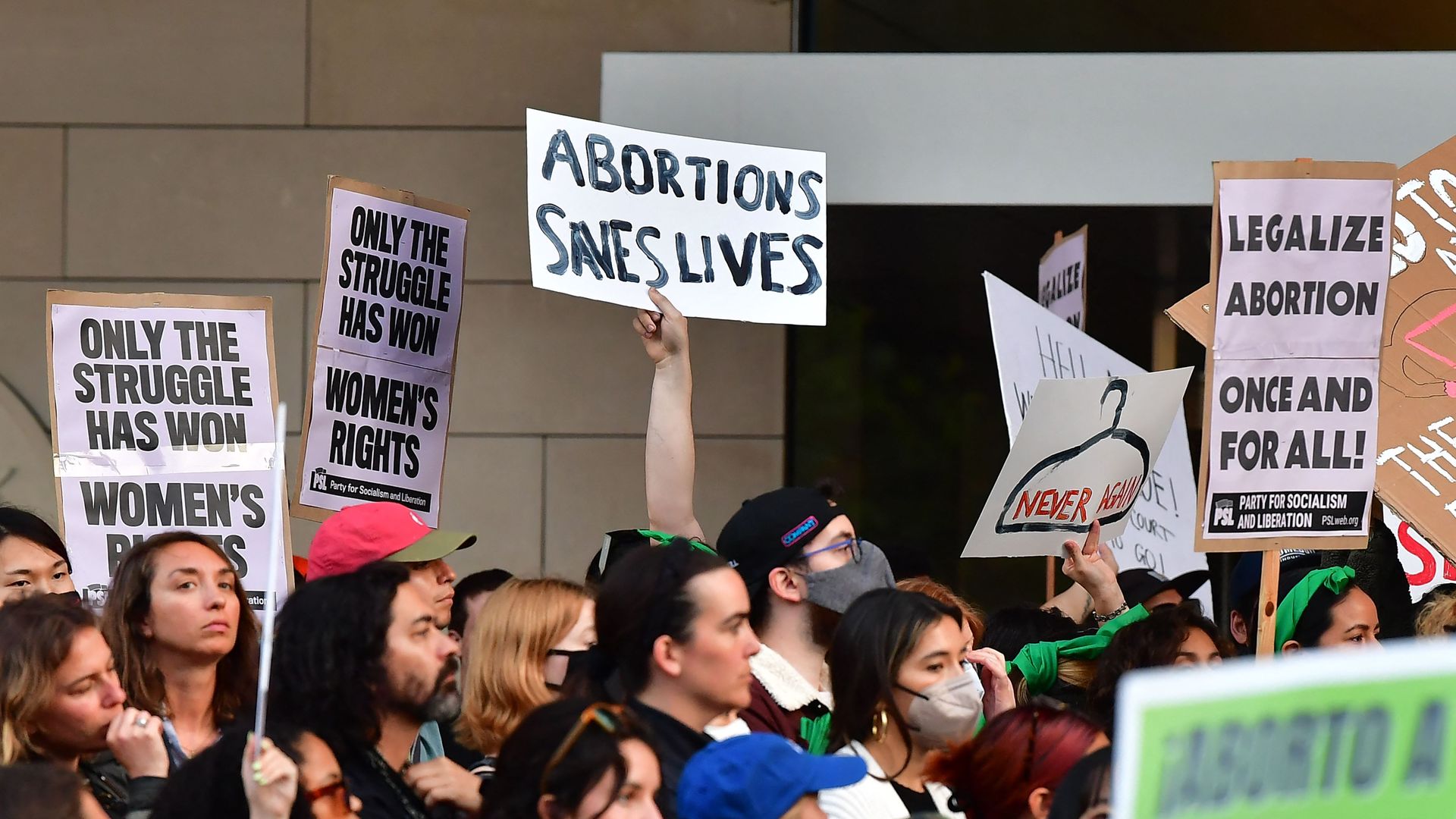 State abortion bans enacted in the months after the Supreme Court overturned Roe v. Wade led to life-threatening health complications for dozens of patients and forced providers to find workarounds, according to a new report.
Driving the news: Researchers at the University of California, San Francisco and University of Texas at Austin compiled 50 clinical anecdotes that took place between September 2022 and March 2023 in 14 states with bans, detailing "cases of care that deviated from the usual standard due to new laws restricting abortion."
The big picture: While state abortion bans usually contain medical exceptions for life-threatening situations, health and legal experts have warned it may be difficult to establish what's permissible during an emergency and be able to consult with a lawyer in real time.
Anti-abortion groups have argued that abortion bans clearly state what exceptions are allowed and that the confusion is created by abortion rights activists' "misinformation."
State of play: Health providers shared anecdotes "anonymously and confidentially, at a time when they are being forbidden by their employers or hospital leadership from speaking with the press about these cases," the report authors wrote.
The patients were from Alabama, Arizona, Florida, Georgia, Idaho, Kentucky, Missouri, North Carolina, Ohio, South Carolina, Tennessee, Texas, West Virginia and Wisconsin.
The two research groups that did the report — UCSF's Advancing New Standards in Reproductive Health and the Texas Policy Evaluation Project at the University of Texas at Austin — support abortion rights.
Details: In many cases, patients were sent home after their water broke in the second trimester and were told to return when labor started or when they experienced signs of infection. Patients who experienced severe infection had to be brought to the ICU.
Health providers spoke about several cases of ectopic pregnancies, which can be fatal, that required consultation with multiple providers about whether care could be provided under an abortion ban. In one case, the patient was referred out-of-state and had to get surgery to remove her fallopian tube.
In cases of fetal anomalies, several patients could not get an abortion because their lives were not threatened. Care was delayed weeks while they sought alternatives in states where abortion is legal.
Zoom in: In one case, a patient's water broke at around 16 to 18 weeks and the patient contracted sepsis. The fetus was delivered, but the physician had to perform a D&C, a common abortion method.
The patient bled "from everywhere" but survived, the doctor who attended her said. The patient then asked her if they'd both go to jail for the procedure: "[D]id this count as life threatening yet?"
One doctor mentioned a patient with an ectopic pregnancy who could not afford to travel and whose doctor was afraid of breaking the law, so the patient had to continue her pregnancy.
At 17 to 19 weeks, doctors saw she was developing percreta — a condition where the placenta grows into surrounding organs and can lead to life-threatening bleeding and requires a hysterectomy.
It's unclear what happened to this patient.

A doctor recounted an instance in which a patient became pregnant from rape and tried to commit suicide the day before she was supposed to meet with doctors. She decided to not get an abortion the day after because she was "too emotionally unstable" and wanted to get treated for suicide ideation first.

"I fear for her life," the doctor wrote. "I fear she could kill herself" before the abortion.
The report does not say what happened to this patient.
What they're saying: "The report paints a stark picture of how the fall of Roe is impacting health care in states that restrict abortion," said Daniel Grossman, lead report author.
"Abortion bans that block providers from offering standard medical care have the greatest impact in states like Texas that have some of the poorest indicators of maternal health," said Kari White, lead investigator.
"Pregnant people should be able to rely on their health care provider to provide the best possible care, regardless of where they live," White added.
Go deeper: Listen to the Axios Today podcast, where host Niala Boodhoo talks about the report that says abortion bans leading to life-threatening complications.
Go deeper