Red state providers' new abortion dilemma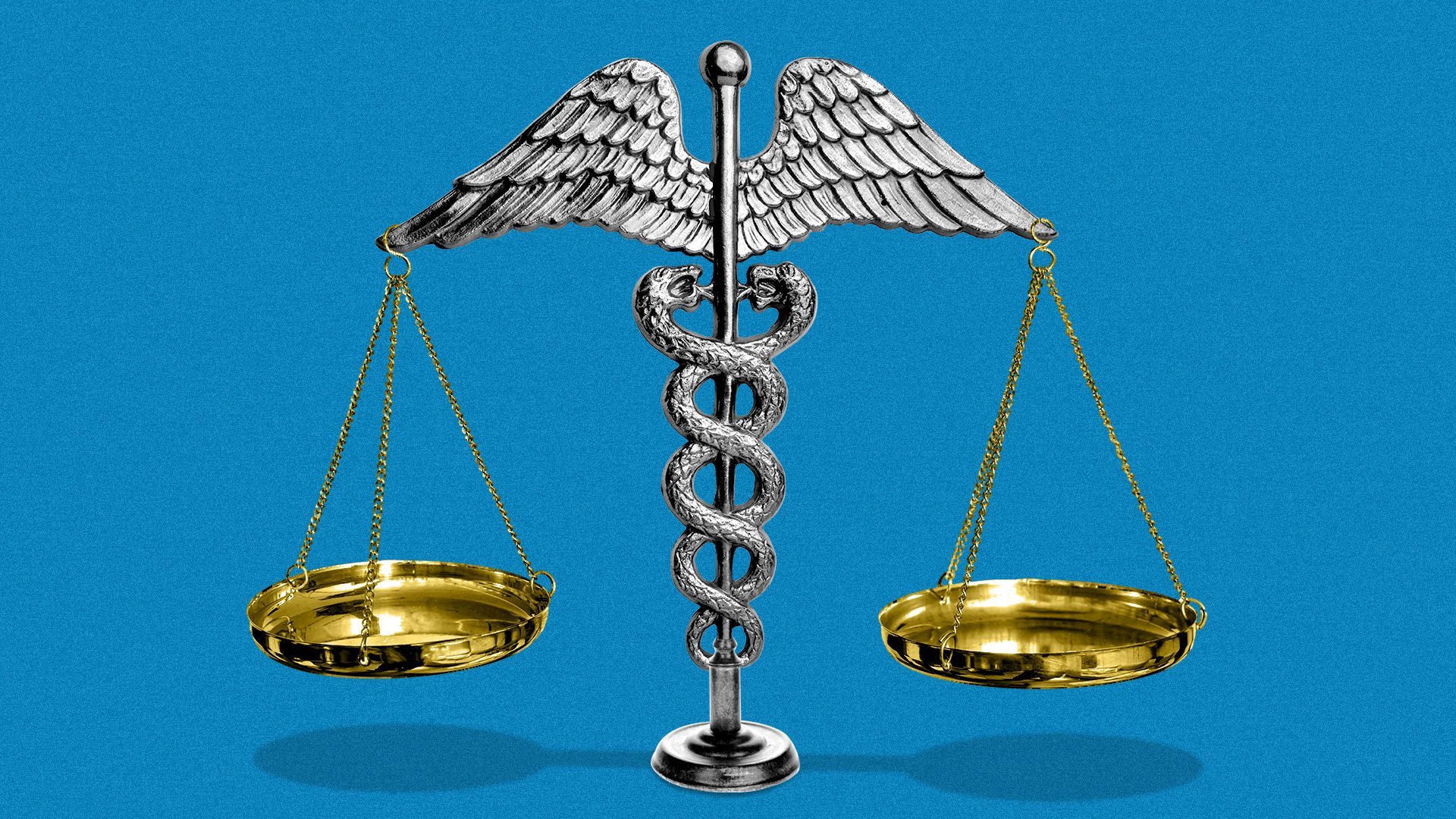 Providers in states where abortion is banned may find themselves forced to navigate conflicting state and federal laws when pregnant patients come to emergency departments for care — and face serious consequences for noncompliance with both.
Driving the news: For the first time since the Supreme Court overturned Roe v. Wade, the Department of Health and Human Services is investigating hospitals for allegedly violating a federal law that protects a patient's ability to get an abortion in emergency situations, regardless of whether a state has a ban or restrictions in place.
HHS Secretary Xavier Becerra said in a letter to health providers on Monday that the Emergency Medical Treatment and Active Labor Act, or EMTALA, requires providers to "offer treatment, including abortion care, that the provider reasonably determines is necessary to stabilize the patient's emergency medical condition."
Why it matters: When the Biden administration first issued guidance on abortions in emergency situations, experts warned that the dueling nature of state bans and federal law would put providers in a legal bind that could put their patients at risk. Now that hypothetical has become a reality.
What they're saying: "You could lose your hospital privileges if you fail to follow federal law and you could lose your license if you fail to follow state law," said Lawrence Gostin, a law professor at Georgetown University.
Health providers are "in a no-win situation — a horrible dilemma where your patient is right smack in the middle, and their health and life are at stake," Gostin told Axios.
State of play: The Centers for Medicare and Medicaid Services determined that two hospitals, one in Missouri and another in Kansas, violated EMTALA by refusing to provide an abortion to Missouri resident Mylissa Farmer, whose water broke at 18 weeks.
An HHS spokesperson said that both hospitals are taking steps to come into compliance. If CMS determines that they are not in compliance, the hospitals could become ineligible for future Medicare funding.
Alternatively, the case could be referred to the Office of the Inspector General "for enforcement action that would be for civil monetary penalties," said Alison Tanner, litigation senior counsel at the National Women's Law Center, which submitted a complaint on the situation to HHS on behalf of Farmer.
Details: Farmer was told by Missouri hospital staff that her pregnancy was not viable and that she was at risk of sepsis, hemorrhaging, loss of her uterus and death.
However, after she requested that her pregnancy be terminated, she was told that under Missouri's abortion ban, she had not yet "developed the Missouri definition of a 'medical emergency.'"
She was told she could either wait until she was at "further risk for maternal mortality" or travel out-of-state, per CMS' notice to the hospital.
Farmer traveled to Kansas, which does not have an abortion ban, and visited the University of Kansas Hospital.
While state law says abortions can only be performed in the university's medical centers in cases of an emergency, a doctor told her they could not end her pregnancy "due to the political climate," according to CMS' notice to that hospital.
Farmer ended up going to Illinois for a surgical abortion and ultimately survived.
In both cases, CMS found that the hospitals failed to provide "necessary stabilizing care" and thus violated EMTALA, Becerra said in his letter.
The other side: While experts say health providers are put in a risky position when determining what is a valid abortion exception under state bans, anti-abortion groups argue that these laws clearly state what exceptions are allowed and the confusion is created by abortion rights activists' "misinformation."
Don't forget: A federal judge last year blocked the Biden administration from enforcing guidance that EMTALA protects providers who perform abortions in emergency situations — although that ruling only applies in Texas.
The case is being appealed, and some legal experts argue that federal law preempts state law under the Constitution.
But still, the ruling sends a clear signal that providers can't assume EMTALA carries more weight than a state ban, at least not until the legal process is carried out.
Go deeper