Texas banned abortion after 6 weeks. Here's what happens next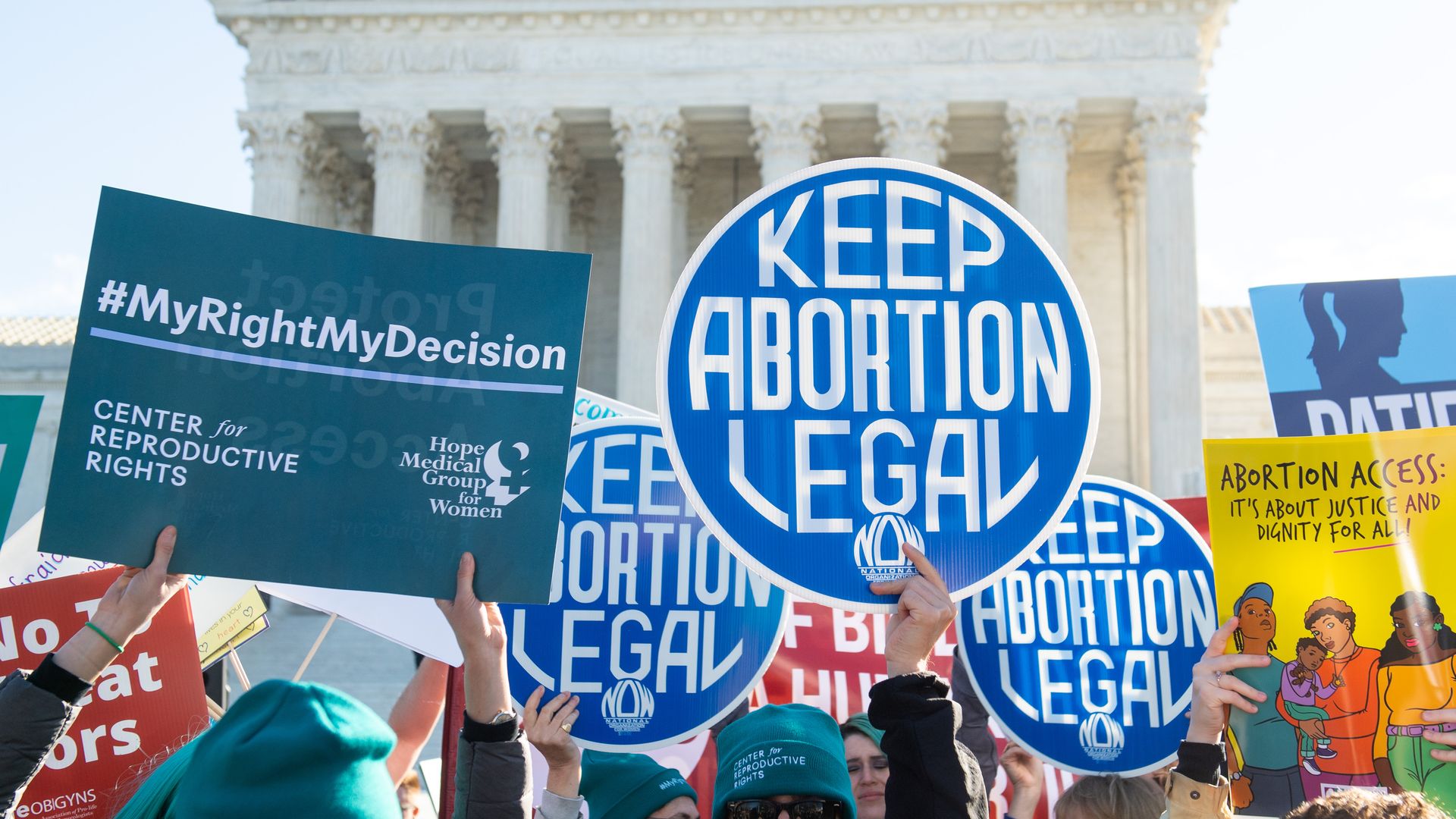 The most restrictive abortion ban in the U.S. went into effect in Texas on Wednesday, effectively making the procedure illegal after six weeks — well before many women know they are pregnant.
Details: The Texas law does not provide any exceptions for rape or incest. It also allows for people to sue anyone suspected of helping a person to obtain an abortion, regardless of whether they have a direct relationship with the person or not. Those who are successful can be awarded at least $10,000.
Texas Right to Life, an anti-abortion rights group that helped write the legislation, set up a "whistleblower" website in which people can submit tips on individuals that they believe are violating the law.
The latest: The Supreme Court late Wednesday allowed the Texas ban to continue in a 5-4 vote, rejecting an emergency application by abortion-rights groups to block the restrictive law.
The five conservative justices said in their unsigned opinion that the decision should not be read as an indication of whether the justices believe the law is unconstitutional or not. They wrote, however, the groups seeking emergency relief had not addressed "complex and novel" procedural questions in the case.
What this means: The legislation can still be challenged in the courts, and the ban's future is still unclear. If federal courts ultimately allow Texas' law to stand, other conservative states could move to pass similar bills.
There are other lawsuits still ongoing, including one from the Center for Reproductive Rights that was filed in July in Texas' Western District Court, per The 19th.
What they're saying: The court's three liberal justices — Elena Kagan, Sonia Sotomayor and Stephen Breyer — along with Chief Justice John Roberts dissented.
Roberts called the Texas ban "not only unusual, but unprecedented," and added that he would have temporarily blocked the law to allow lower courts to debate its constitutionality.
He specifically focused on the law allowing "the populace at large" to enforce it instead of the state, saying that it it unclear whether Texas "can avoid responsibility for its laws in such a manner" and courts should debate that subject.
Texas' abortion ban is hard to challenge because the state is not the one enforcing the law, private citizens are.
"The Constitution, including Roe v. Wade, only applies against the government, it doesn't apply against private individuals," Laurence Tribe, a constitutional law expert at Harvard, told TIME, referring to the landmark 1973 Supreme Court decision that established a constitutional right to abortion.
"That's what makes this really dangerous. It's a kind of vigilante justice, circumventing all of the mechanisms we have for making sure that the law is enforced fairly, and that it's not enforced in a way that violates people's rights," Tribe added.
Zoom in: Clinics across the state, including Whole Woman's Health and those overseen by Planned Parenthood, are still providing abortions in compliance with the law, per The 19th.
But the ban is already having an impact, as abortion clinics in neighboring states are getting calls from Texas residents seeking treatment, with some locations already booked out for the rest of the month, The 19th reports.
If legal abortion care was shut down in Texas, "the average one-way driving distance to an abortion clinic would increase from 12 miles to 248 miles, 20 times the distance," the Guttmacher Institute, a reproductive rights research organization, writes.
That's assuming that people can access abortion clinics in states like Oklahoma and Louisiana, "where patients already struggle to receive care and are subjected to those states' punitive and burdensome restrictions ... some people traveling from Texas likely would need to go even farther than one state away for care."
"Just looking at the average increase in distance alone, someone making minimum wage ($7.25 an hour in Texas) would have to put more than 3.5 hours' worth of earnings toward the cost of gas to cover the additional one-way cost of travel," the institute added.
The big picture: The ban follows a series of restrictive abortion laws passed by conservative state legislatures nationwide in an effort to overturn Roe.
Texas Right to Life is working with anti-abortion rights activists in other states who want to replicate the ban, NPR reports.
As of Aug. 15, at least 97 abortion restrictions — the most in any year since Roe v. Wade — have been enacted in the country since January, though many have been blocked from enforcement while they make their way through the courts, according to the Guttmacher Institute.
Don't forget: This fall, The Supreme Court will be hearing a challenge to a Mississippi law that bans nearly all abortions after the 15th week of pregnancy.
Editor's note: This story has been updated with additional throughout.
Go deeper