Huckabee Sanders' 2024 neutrality frustrates Trump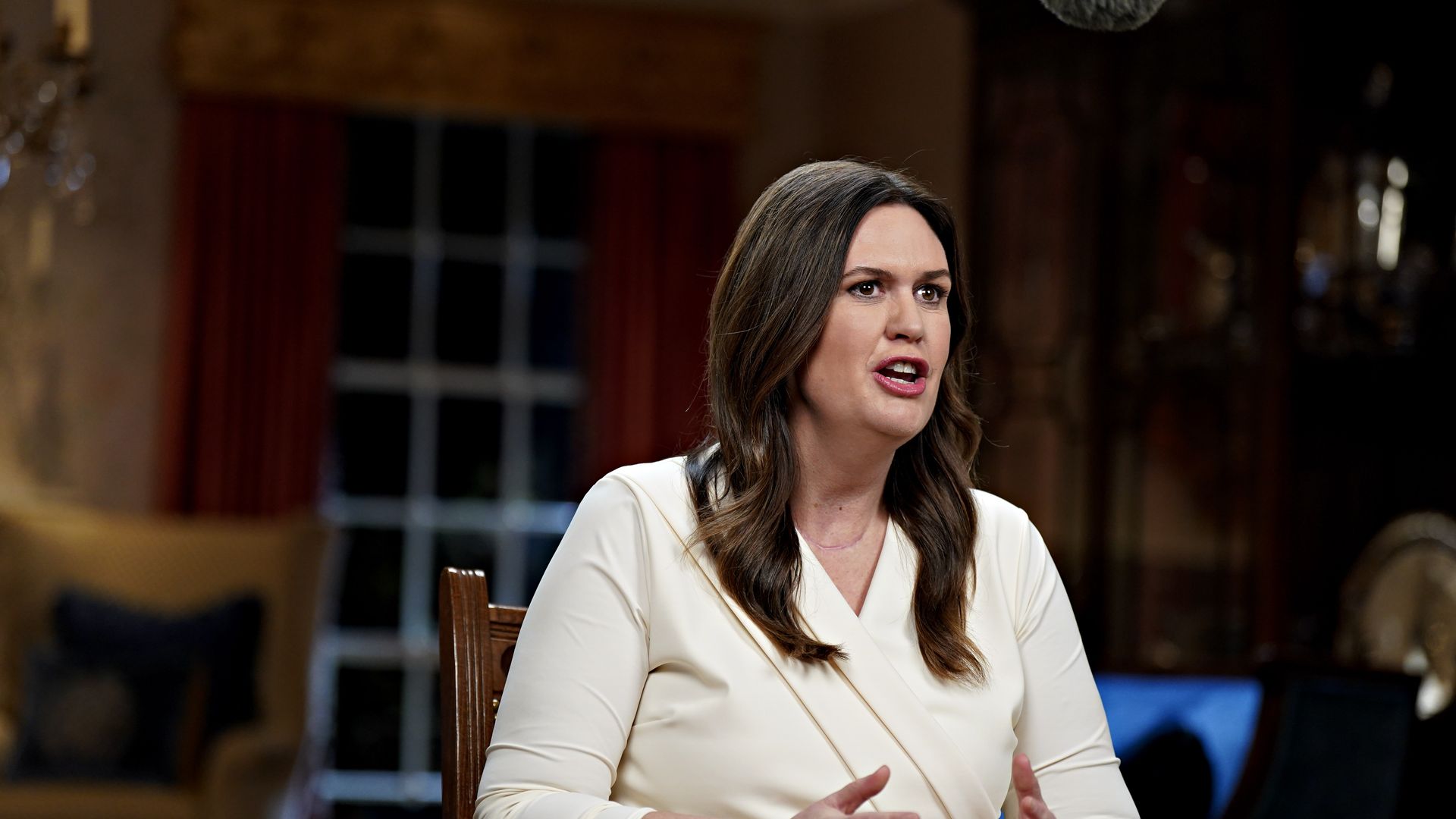 Tensions between Donald Trump and his former press secretary, Arkansas Gov. Sarah Huckabee Sanders, have grown over her neutrality in the 2024 presidential race, people familiar with the relationship tell Axios.
Driving the news: Trump's frustration has risen recently because Sanders' team had told his campaign she wouldn't make an endorsement until after her first legislative session in Arkansas, according to two people familiar with the discussions.
That session ended in May, and still, no endorsement.
Why it matters: Sanders is among several Republicans with national ambitions who are staying neutral in the presidential primary despite the former president's large lead in early polls. But Sanders' political calculation is complicated by her tenure as the voice of Trump's White House.
Potential future presidential candidates including Sens. Ted Cruz (Texas), Tom Cotton (Arkansas), Josh Hawley (Missouri), Rand Paul (Kentucky) and Marco Rubio (Florida) — along with Govs. Greg Abbott (Texas) and Kristi Noem (South Dakota) — have declined to endorse in the primary, waiting to see whether GOP voters want to move on from Trump and his legal battles.
The intrigue: Trump sees Sanders in a different category than other GOP leaders because he hired her to be his press secretary and endorsed her the day she launched her campaign for governor in January 2021.
One Trump ally described the feeling as: "You should always dance with the person who brought you."
Earlier this year, Trump asked Sanders for her endorsement in a phone call and she declined, the New York Times first reported in March.
Trump denied the report, writing on Truth Social: "I never asked Sarah Huckabee Sanders for an endorsement. I give endorsements, I don't generally ask for them. With that being said, nobody has done more for her than I have, with the possible exception of her great father, Mike!"
Three weeks after that story published, Mike Huckabee — a former Arkansas governor — endorsed Trump on his TV show on the Trinity Broadcasting Network.
Zoom in: Sanders also has developed a relationship with Trump's rival, Florida Gov. Ron DeSantis.
Last year, she attended DeSantis' retreat for his prominent donors and some fellow governors.
She hired DeSantis' senior chancellor at Florida's Department of Education, Jacob Oliva, to be her secretary of education in Arkansas.
Sanders also has become close to DeSantis' wife, Casey, since their experiences with cancer in recent years. "Sarah reached out to Casey during her treatments and the same thing happened when Sarah had her experience," said one senior Republican close to both orbits.
The DeSantis and Trump campaigns declined to comment.
Alexa Henning, Sanders' communications director, praised Trump in a statement — but didn't offer an endorsement.
"Governor Sanders loves President Trump and believes our country would be much better off under his leadership than President Biden, and that President Trump is the dominant frontrunner and our likely Republican nominee in 2024," Henning told Axios.
Between the lines: Sanders likely would have been the clear GOP frontrunner in Arkansas' 2022 gubernatorial election without her Trump connection because of her father's popularity in the state.
Sanders, 40, is the nation's youngest governor and Arkansas' first woman to hold the office. She's tried to quickly establish a national profile beyond her work for Trump; her allies believe she is focused on her home state but also positioning for a possible run for president in 2028 or 2032.
She has written op-eds in the Wall Street Journal, picked a fight with California Gov. Gavin Newsom (D), and delivered the GOP's national rebuttal to President Biden's State of the Union address, in which she called for a "new generation of Republican leadership."
Sanders leaned into the conservative backlash to Bud Light after the brand used a prominent transgender influencer to promote the beer. Sanders began selling koozies that read "Real Woman" alongside the faces of her and other GOP women governors.
She also has brought in several officials from outside Arkansas, including aides from the Trump White House.
Sanders' early agenda has focused on public education, an issue that has galvanized the conservative base in the aftermath of the COVID-19 lockdowns and fights over how schools should teach about racism and sexuality.
She signed a sweeping education bill in March that included school vouchers, increased minimum teacher pay and prohibited teaching about gender identity or sexual orientation before fifth grade — or anything resembling "Critical Race Theory."
Henning told Axios that Sanders is focused on her duties as governor and "not 2024, much less any election after that."
Go deeper